"The first thing that comes to mind when I think of
French
cuisine is gastronomy. I love the depth of French food, and the rich sauces such as Au Jus, Béarnaise and Hollandaise that take it to a whole new level", says Chef Jatin Mallick, Tres. Each dish is a result of experimenting with different flavours and textures for years and years. Eric Ripert, chef and co-owner of Le Bernardin in New York City explains, "You can never tie French cuisine down to a small box — it has too many varieties, and there's a lot of tradition involved in all of it". The French are indeed very passionate about their food and take it seriously. Though the breathtaking landscape of France works in their favour. The coastline touches both the Atlantic Ocean and the Mediterranean Sea, which makes it possible for them to choose from an exquisite range of seafood, besides fruits, vegetables, herbs and spices. It's due to this incredible diversity in terms of land and
climate
that France is also home to the finest
wines
and
cheeses
across the world - the two ingredients that have deep roots in the soul of the country.Dorothy Day once said, "Food for the body is not enough. There must be food for the soul".
(And boy, did the French listen)!
After all - To not experience the food in France, is to not truly experience France.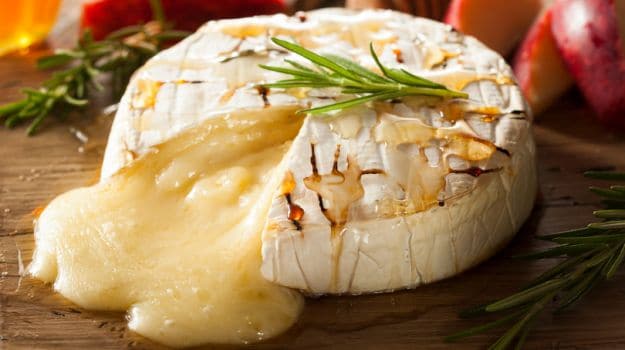 Baked Camembert
La Cuisine Française
includes three courses,
hors d'œuvre
or
entrée
(introductory course), p
lat principal
(main course),
fromage
(cheese) and fruit for dessert. The meal is meant to unfold slowly, so it's really a relaxing moment at the end of the day. It's about the pleasure of sitting down, and enjoying good food with your family, putting your elbows on the table and letting the meal flow. And contrary to popular belief,
French
cuisine isn't all that snobbish. It may conjure up images of expensive date nights and once-in-a-lifetime trips to Paris
(agreed)
, but it's not rocket science. When Julia Child introduced the world to French cuisine, she said - "You don't have to cook fancy or complicated masterpieces, just good food from fresh ingredients". Turns out, even
soupe a l'oignon
(French onion soup) is not all that difficult. You just need the patience to brown the onions. The trick is to caramelize and darken them to really enhance the flavour. The result? A dish which highlights the quality of the main ingredient.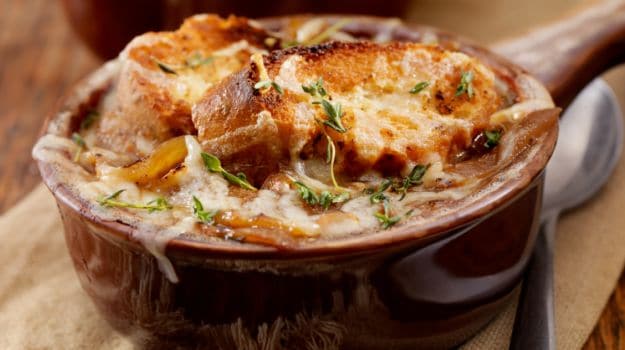 Soupe a l'oignon or French Onion Soup
And as I dream of buttery Croissants,
Coq au Vin
, Baked Camembert,
Tarte Tatin
,
Crème Brulee
while I write this; I'll let you in on a little secret... The French actually do know comfort food, and it comes in the form of Cassoulet, a heart-warming dish from Southern France which is a combination of white beans and pork."It's all about
mastering
the basic techniques, layering flavours, playing with textures and savouring each bite. And the French do that so well", says Chef Eric Ripert. Soups, stews,
et al
start with a base of
mirepoix
which is a combination of diced celery, onions, carrots and garlic. The French also cook with
wine
every now and then, but it's never sloshed into a dish like the rest of the world.
Wine
is first added into a hot pan for reduction, so that the concentrated flavor comes through. When browned meats are added, the layers of flavor intensify further, and the dish is then finished with fresh herbs for that final punch.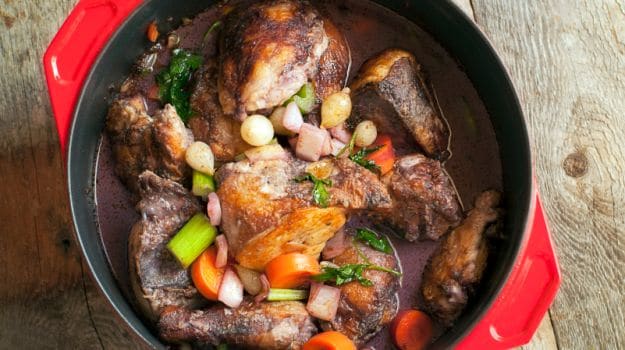 Coq au Vin
So what are the basic techniques you need to master for French cooking?
Flambé
which is to cook or finish a dish by adding alcohol over it and then lighting it on fire.
Sauté
which is cooking something in fat, over high heat. Julienne which refers to a specific type of culinary knife cut, one from which the food will appear to be as thin as match sticks. Blanching which involves a slotted spoon, a dish of iced water and a pot of boiling water.
Béchamel
for which you need to combine equal parts butter and flour and cook for a minute or two (also known as mother's sauce). To truly understand the mentality of French cooking though, you have to look beyond the exclusive ingredients and the techniques. Think of it as a way of life.