I moved to Mumbai soon after I started my career in market research, close to twenty years back.
I had spent a few months in an office in Kolkata before that. The head of the office there loved food (show me a Bengali who doesn't) and there was always great food in office - in the canteen, to order if at work after office hours and at parties. This was a completely different life after my frugal existence in college. It soon showed on my waistline. Mumbai was different. The focus was on work and just work. The office was larger and more impersonal. The office head was not really interested in food unlike his bhojon bilashi (food maven) Kolkata counterpart. It showed in the indifferent food in the canteen here.There was one dish which I liked quite a bit in the Mumbai office canteen though. It reminded me of the ghoogni I grew up on in Kolkata which was made with sprouts and what looked like yellow split peas. There was an interesting twist to this curry. They would put in a non-spicy, 'Hindustani' (anything non Bengali to a Bengali), version of chanachur, into the ghoognee or lentil curry. The Bengali chanachur is called farsan in Mumbai and namkeen or bhujia in North India, basically a crispy deep fried gram flour batter snack. This novel mix of the spicy pulse curry and crunchy farsan with some chopped raw chilies and a dash of lime juice cheered me up at my desk in my new city.
I was amused to hear that the dish was called missile!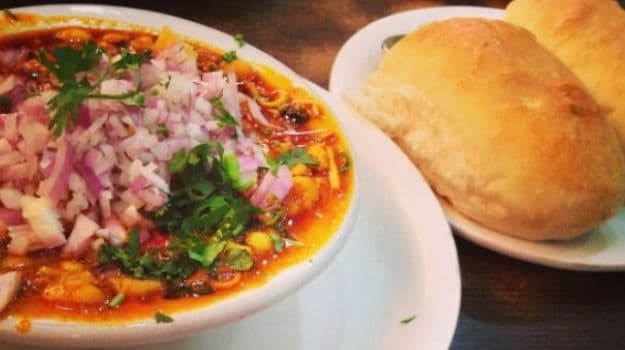 I later realized that I had heard wrong and what I had eaten was actually the famous '
misal pav
' of Mumbai. The office was at Dadar, the Maharashtrian heartland of Mumbai, and it was apt that
misal
, a Marathi favourite, was part of the daily canteen menu. I later worked in another market research office and was based at Parel, again a
Maharashtrian
dominated area of Mumbai.
There weren't too many restaurants around except one called New Sardar (not to be confused with Sardar pav bhaji). The owner, a loquacious gentleman named Vivek Prabhu, was very proud of his misal pav which had won a local award too. Quite an enterprising man, Mr. Vivek hit upon the idea of delivering misal to your desk if you couldn't go to his restaurant. He would send it in the famous Bombay dabba tiffin containers. The misal was kept in the bottom compartment, pav in the next, then the farsan and the onions in the top most one. His missal was spicy and of pretty good quality. Would cheer me up at work but never give me heartburn. I moved on after a couple of years and New Sardar is now shut too. I don't think the two events are linked even though I was quite a frequent misal customer there.
Sometime later I went with a Twitter friend to a more than a half century old Maharashtrian restaurant called Prakash at Dadar's Shivaji Park area. We tried a smorgasbord of dishes there including the misal. The misal here was very different from the ones at my office canteen or at Sardar. The gravy was a lot less spicy and oily in the misal of Prakash. The sort of dish you would expect to be cooked by someone's grandmom, not a restaurant cook. There was a higher proportion of sprouts and a bean called matki or moth beans, different from the yellow split peas of the earlier misals. They don't serve the misal with the customary pav at Prakash. On asking, I was told that this was because Maharashtrians traditionally had misal without pav at home. They take pride in serving home-like food at Prakash.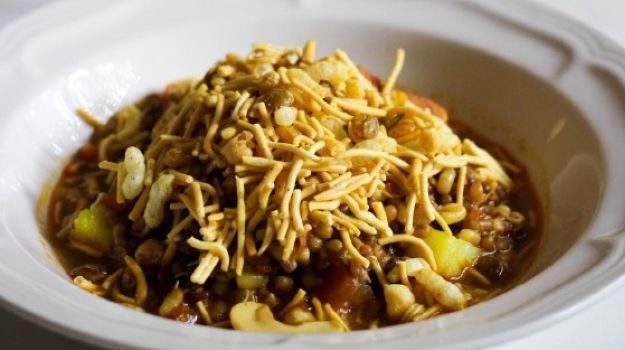 Turns out that like the batata vada, the misal, was originally eaten in Maharashtrian families by itself or with rotis or flat-breads. Pav was a Portuguese introduction. Maharashtrian food blogger, Saee Koranne Khandekar points out that pav was originally not eaten in local Hindu houses as they (pavs) were considered to be 'alcoholic', toddy being used to ferment them. It was in the latter part of the 20th century that enterprising folks served misal with pav and batata vada in pav for the mill workers of Mumbai leading to their becoming a part of the city's street food scene.
Last year I had to nominate dishes from Mumbai for the Foodie Hub Food Awards. After much deliberation, I nominated the misal pav from Suryakant Sarjoshi's 30 year old Aaswad restaurant in Dadar for the best vegetarian dish award. I did so as I feel that the misal is a dish which represents the Maharashtrian community of the city. It's versatile as it is found at home and on the streets. It's cheap, fueling the worker bees of the city. I am quite fond of the Aaswad version with its moderately spicy and non-oily misal with very fresh farsan and often stop there for misal when in Dadar. A Maharashtrian food blogger friend, who blogs at Sassy Fork, told me that Aaswad is her go-to place for Maharashtrian food. It is my favourite too now.
The misal of Aaswad went on to win the best vegetarian dish in the Foodie Hub Global Awards in 2015 and people can't seem to get enough of it since.

What is interesting is that every place serves a version of misal which is slightly different from the others in terms of spiciness, colour, thickness or even the pulses used. So your favourite misal would usually be a factor of your personal tastes and preferences for the 'best misal' varies a lot among misal fans. For example, the misal at the very popular Vinay Health Home in Girgaon is slightly sweeter than the other misals in town. One of the current owners of this close to 80 year old restaurant, Mr. Chandrashekhar Tambe said, this is possibly due to an increase in the Gujarati population in the earlier Maharashtrian dominated area of Girgaon where the restaurant is located.
In Madhura, a tiny close-to-30-year-old Maharashtrian restaurant near Dadar's Plaza Cinema, the proportion of farsan is higher than that of pulses in the misal. Possibly because they make their farsan here. Mr. Velankar, the septuagenarian owner of Madhura, will proudly show you his dog eared recipe book for farsan if you ask him to. Apart from the core misal which came to Mumbai from places like Kolhapur in the interiors of Maharashtra, you also get dahi missal with curd in it and faral (fasting foods) missal which has sago beans instead of pulses and potato sticks instead of farsan. One of the new age Indian restaurants has introduced a mutton misal too. I personally found it rather spicy. I was excited to see misal along with pohe and pav bhaji and keema pav representing local Mumbai breakfast dishes at the breakfast buffet at the JW Marriott at Juhu recently. They didn't attract the sort of crowd that the waffle, pancakes, eggs or even dosa counter did but I hope that will change.
It goes without saying, that if you come to Mumbai, you must have the misal here. If you are brave enough, then travel down to Mamledar at Thane for their legendary, super spicy, tikkhat misal. Memorable stuff.
About the author:
Kalyan loves to eat and he loves to talk about all that he eats. His wife urged him to start writing about it, otherwise she would have to hear it all. He blogs as 'finelychopped' and is the editor at large for the India Food Network.
Disclaimer:
The opinions expressed within this article are the personal opinions of the author. NDTV is not responsible for the accuracy, completeness, suitability, or validity of any information on this article. All information is provided on an as-is basis. The information, facts or opinions appearing in the article do not reflect the views of NDTV and NDTV does not assume any responsibility or liability for the same.