Trekking, rafting, kayaking, snowboarding, scuba-diving or simply traveling to a distant place for some alone time, away from the world - different people have different ideas when it comes to planning a vacation. But, these holidays call for an unbridled indulgence which one would otherwise think twice to take up throughout the year - from donning fancy beachwear, letting the adrenalin take over to eating your heart out and drinking till you drop. We're certain that you have already gotten your bags packed, stuffed with cool shades, comfy flip-flops and all other holiday essentials. But just before you take-off for your ultimate getaway, have you given one of the most important things a thought?
(Holiday Food: How to Find the Best Restaurants Abroad
)
We're talking about food here. Once you are on a move, usually it is the 'getting there' that requires some effort and can easily take a toll on your body. Whether you are on a road trip or on a flight, what you consume in-between two destinations matters a lot. It is this period where one is devoid of proper food and is likely to fall prey to food poisoning, dehydration, indigestion and so on. Keeping in mind the extreme weather conditions of an Indian summer, one needs to watch what he or she eats, and should stay hydrated enough to travel in the heat.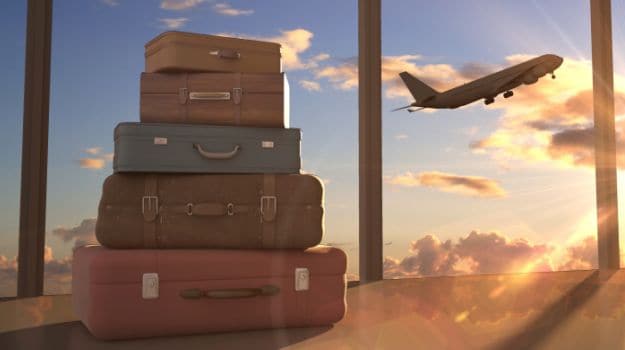 Snacking on the Way
Be extremely watchful of the kind of food items that are taken along and consumed on the way. Many items can easily get spoilt and can trigger serious health troubles when consumed. On the other hand relying on packaged and processed food throughout your travel is also not a good idea.
(4 Health Tips to Keep in Mind While on a Holiday
)So, what is the catch? How do you eat healthy, snack smart and ward off falling sick on your vacation? Home cooked food is certainly an option. You can cook and take along a few items that can last longer and have the properties to stay fresh. A few packaged tidbits picked up from the market can also be an ideal match for your on-the-go munching.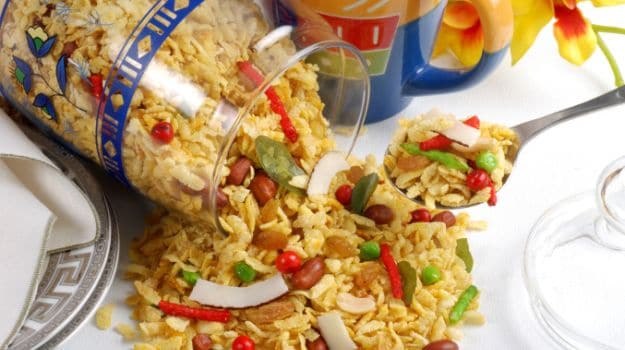 (
The Three Secrets to Snack Smart
)
According to Dr. Simran Saini, dietician, Fortis Hospital, Shalimar Bagh, Delhi, dry snacks are probably the best thing that you can take long when on a long vacation. These include very little oil and are generally baked or are in the form of a mixture. Storing and carrying your snacks wrapped in aluminum foil or air-tight containers will help manifold in preserving the quality of the food item and keeping it fresh for long.9Diet Tips: How to Stay Healthy on Your Vacation)
Another dietician, Dr. Anita Lamba stresses on the efficacy of snacking as a habit. In her opinion, periodical snacking has refreshing effects on your mood and can also help in fighting those in-between meals hunger pangs. Nuts and dry fruits are probably the best snacking options that can help keep up the energy levels, aid in digestion and help you fuel up for the rest of the day. Dr. Lamba emphasizes the importance of well portioned, nutritive, light and hydrating meals during traveling.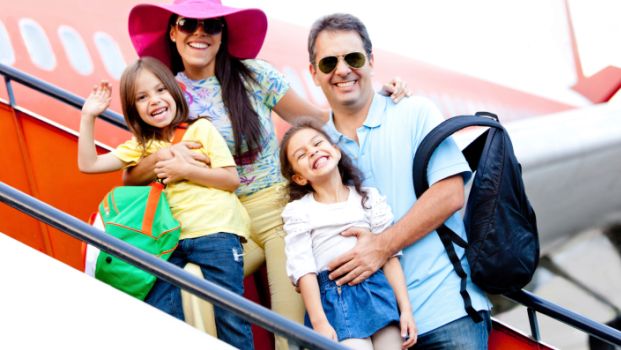 Snack Right
Here's presenting a well thought-out list of snacks that is a balanced combination of what can be cooked at home and what can be picked up from the nearest store.
Banana chips
Banana chips are easily available in the market and are simply fabulous on the taste buds. These make as a great snacking option and can also be cooked at home. All you have to do is to get some slice raw bananas into thin, fine chips and deep fry them. You can sprinkle some salt, red chilli powder or pepper atop and store them in an air-tight container for up to days altogether.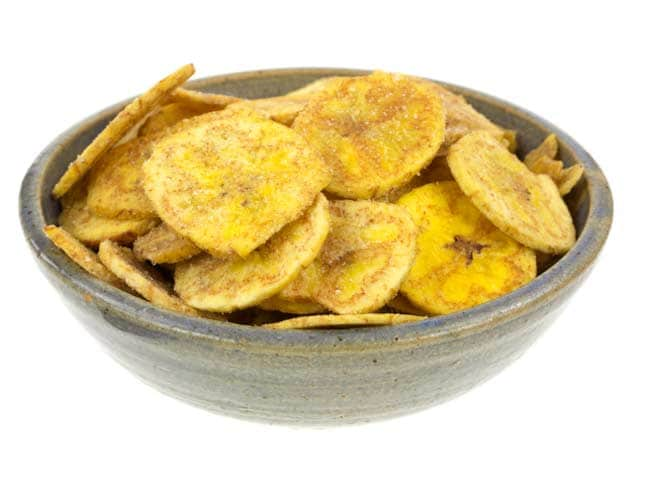 Every 100 grams of raw banana chips contain 400 calories and 2.3 grams of protein. Though this lip-smacking delight is great to munch on, one should be careful as it is very easy to get addicted to these. Banana chips are deep fried, hence eating too many of these at a time may cause health issues.
Wheat flakes nut mix
While traveling many of us resort to buying snacks sold by local pushcart vendors. You can skip those and replace them with the ones made at home. Take a fistful of almonds, peanuts, pistachios, roasted Bengal gram and nuts of your choice and toss these together with some cornflakes, lemon juice, mustard/olive oil and local spices.
(Seven Seeds for a Slimmer, Fitter and Healthier You)
Fruits
While traveling probably one of the best things to rely upon would be fruits. These are readily available and can be brought from almost anywhere. However, be very sure that you are not consuming cut fruits from anywhere. Fruits when kept cut for longer period of time and not stored properly may get contaminated and carry bacteria that may cause severe health issues. You can carry seasonal whole fruits with you and eat it on your way. They are light on stomach, easily digestible and can provide much required instant energy.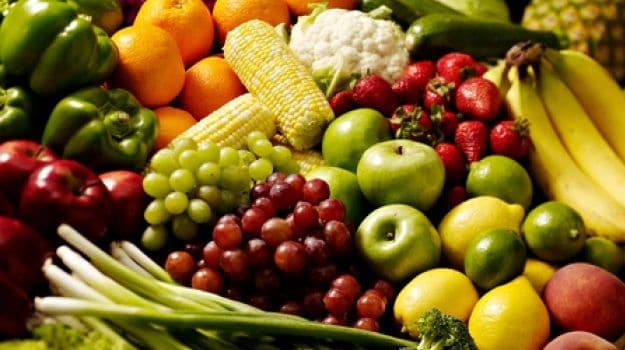 Mix Seed Power Punch
Sunflower seeds, flaxseeds, chia seeds, watermelon seeds, pumpkin seeds, melon seeds and a lot more - these days snacking on these storehouses of energy is a raging fitness trend. Most of them are energy dense - that means they have properties to satiate your hunger and keep you feeling full for longer - and serve as a great option for untimely snacking. You can make a healthy mix of different kinds of seeds yourself; throw in a few dry fruits or nuts of your choice as well as a little coconut shavings. Every time you snack on these you are assured of soaking in the goodness of omega-3 fatty acids, protein, iron, antioxidants and many other essential nutrients.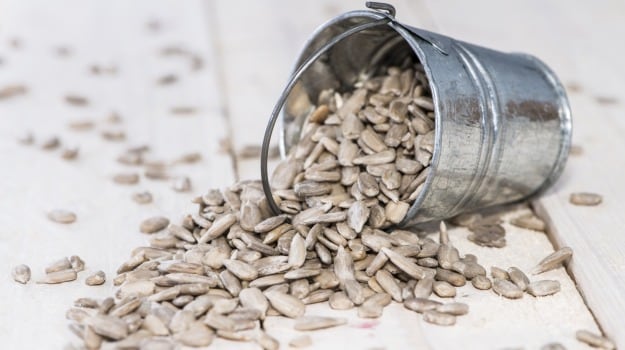 Muffin and Cookies
Just in case you are fond of baking, don't hesitate, put on your baking cap and bake away. Baked items are extremely travel friendly. From snacks like biscuits, cookies to muffins and a lot more, you can try your hand or just pick some from the store if time is a constraint. These goodies don't get spoilt easily and can last for up to a week when stored properly.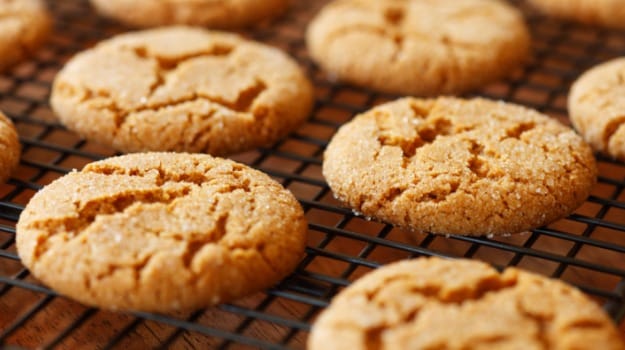 In case you are one of those who keep a strict watch on every calorie consumed, here's a calorific breakup - a small muffin will have approximately 20 calories and 4 grams of protein. Every 100 gms of cookies will give you 450 calories.
Indian snacks
Local travellers have long been relying on some of the desi snacks to give them a tasteful company while traveling. They are tried and tested over the years and can easily be stacked and taken along on a journey. Matthi with achaar, thepla, papad, khakhra, fafda, papdi and the like can add sparks to your train bonhomie. Imagine munching on these while you see the landscape changing and wind gushing through your hair - what bliss!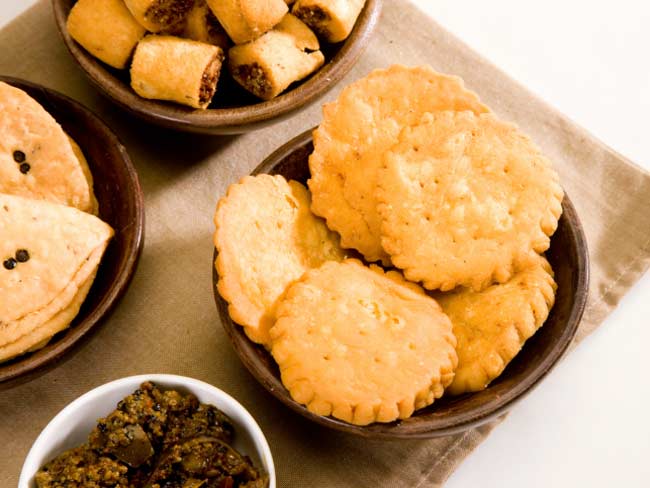 Popcorn and granola bar
When it comes to food that is easy to carry and not a burden on your stomach or health, we automatically think of items like popcorn. Popcorn is something that doesn't face the challenge of getting spoilt easily. You just have to ensure keeping it away from moisture and these fragrant delights can be had almost anywhere, anytime.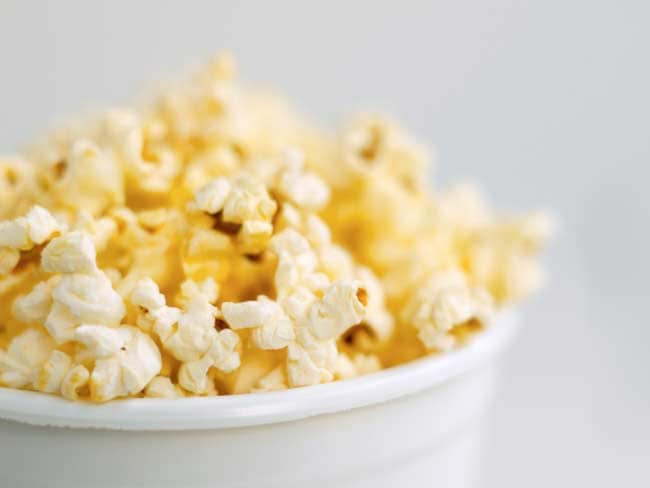 Granola bars
are easily available in the market and can be picked up to be had during the journey. You can even roll a few on your own by teaming together oats, raisins, walnuts, brown sugar along with some honey. These can be wrapped in aluminum foil and stored in airtight containers.
(Mystical Himachal: What to Eat in Mcleod Ganj)
There you go! Tuck away these fuss-free snacks in your travel bag and munch on them whenever, wherever. Not only will these keep you full and going but also energized and active. If you have some quirky snacks that you carry along whenever you are on the go, feel free to share with us.
(From Golden Beaches to Goan Recipes: Explore Goa
)