Story Progress
Back to home
Kuttu ki Puri Recipe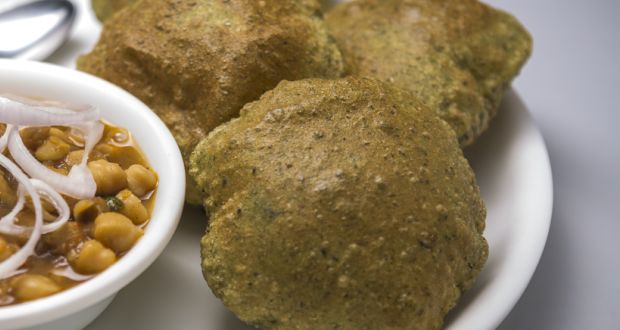 How to make Kuttu ki Puri
About Kuttu ki Puri Recipe | Puri Recipe: A staple food during fasting occasions like Navratri, Shivratri or Ekadashi and many festive ocassions. These crispy and tasty puris are made with buckwheat flour or kuttu ka atta and goes very well with curd as kuttu tends to generate warmth in our body. It is the perfect Indian bread during the fasting period and delicious enough to prepare on normal days as well. This puri is best served with aloo rasedar and curd.
Ingredients in Kuttu ki Puri Recipe
: Made with 'sendha namak' or rock salt, which is specially used in making vrat food. Kuttu ki puri has buckwheat flour mixed with potatoes and salt and deep fried till crisp.

Ingredients of Kuttu ki Puri
240 gms kuttu ka atta
125 gms potatoes (peeled and mashed smooth), boiled
1 tsp sendha namak (rock salt)
Water (to knead)
Ghee (to deep fry)
Dry flour (for dusting)
1.
Mix atta, potatoes and salt together and knead into stiff dough, with the water. Cover and leave to rest, for at least 30 minutes.
2.
Break the dough into 10-12 pieces, and shape each into round, smooth balls, smearing your hands with some ghee, if it sticks.
3.
Take a ball, and with a rolling pin, roll into a thin round. Roll all the balls, and keep ready for frying.
4.
Heat the ghee in a `kadahi' or frying pan, and when a small piece of dough comes up at once, put the rolled `puri' into the oil.
5.
Press gently with a slotted spoon in the centre, so that it puffs up. Turn it over and fry till a little darker on both sides.
6.
Remove from the fat with the slotted spoon, drain and place on an absorbent paper, before transferring on to a serving dish.