Story Progress
Back to home
Litti Recipe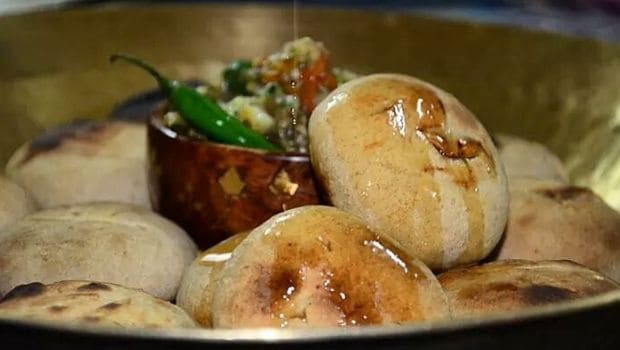 How to make Litti
Litti is a popular snack of Bihar made with sattu. This version is filled with spices and baked. It is served with baingan ka chokha.

Ingredients of Litti
Oven temp: 400 F- 200 C
2 cups whole wheat flour
1/4 cup ghee
1 tsp salt (in cold water to mix) and oil for deep-frying
For the filling:
1 cup sattu (powdered roasted gram)
2 tbsp oil
1 tsp cumin seeds
1/8 tsp asafoetida
3/4 tsp garam masala
3/4 tsp chilli powder
2 tbsp fennel seeds, powdered
2 tsp coriander seeds, powdered
2 tsp salt
1 1/2 tsp aamchoor (dried mango powder)
1.
Mix the filling ingredients together and keep aside.
3.
Mix in the flour, salt, ghee and enough water to make a stiff dough.
4.
Cover and leave to rest for at least 15-20 minutes.
5.
Make about 20 smooth balls from the dough.
6.
Roll into 1/4" thick rounds.
7.
Pinch edge all around and wet.
8.
Place a ball of the filling in the center, and bring the wet edges together, covering the filling completely.
9.
Press together to seal. Roll between palms to smoothen.
10.
Bake in a pre-heated oven for 10 minutes, then lower the oven temperature and bake another 20-25 minutes, till brown and cooked through.
11.
Note: You can serve these hot with ghee poured on top.