Story Progress
Back to home
Pachmela Dal Recipe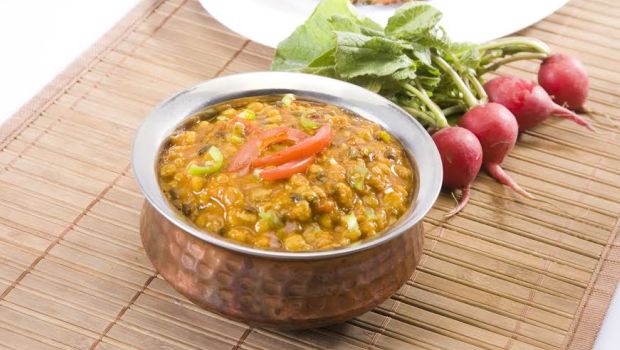 How to make Pachmela Dal
About Pachmela Dal: Panchmela Dal is a Rajasthani preparation. A beautiful blend of five types of dals.

Ingredients of Pachmela Dal
3 Tbsp Moong ki daal (chilkewali)
3 tbsp Dhuli moong
3 tbsp Arhar ki daal
3 tbsp Dhuli urad
3 tbsp Channe ki daal
2 tsp Salt
1/2 tsp Turmeric
1 tsp Sugar
2 tbsp Ghee
1 tsp Cumin seeds
A pinch of Asafoetida
1/2 tsp Fenugreek seeds
1/2 tsp Onion seeds
1/2 tsp Fennel seeds
1 tsp Ginger, finely chopped
1 tsp Coriander powder
1/2 tsp Chilli powder
1 tsp Amchoor powder
1 tbsp Coriander leaves, chopped
1.
Cook the dals with salt, turmeric and sugar till well blended into a thin pouring consistency.
2.
Heat ghee, add the cumin seeds, asafoetida, fenugreek seeds, onion seeds and the fennel seeds.
3.
When the seeds splutter, add ginger and saute to a light brown colour.
4.
Add the coriander powder, chilli powder and the amchoor powder, followed by the cooked daals, blending well.
5.
Bring to a boil and then simmer for about 5-10 minutes.
6.
Serve hot, garnished with coriander leaves.