Story Progress
Back to home
Sesame Seed Pulao Recipe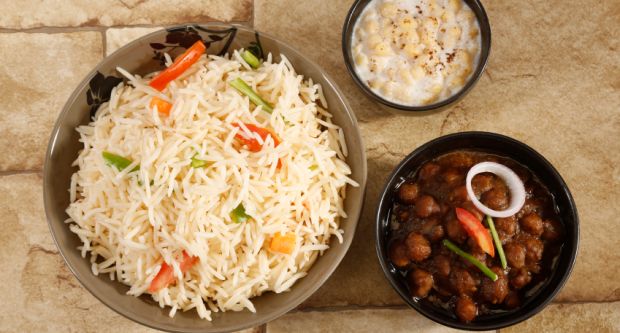 How to make Sesame Seed Pulao
About Sesame Seed Pulao Recipe: A rich nutty flavored pulao from the land of Nizams, Hyderabad. Full of flavours and spice, this pulao recipe has the goodness of sesame seeds, peanuts, cashew nuts along with the fiery red chilli and a delectable tempering of butter and cream. Perfect for a lunch menu.
Total Cook Time

1 hr 05 mins

Ingredients of Sesame Seed Pulao
2 Cups basmati rice
4-5 Red chillies
2 tbsp sesame seeds
1/2 cup peanuts
1/2 cup cashew nuts
Oil
For tempering:
2 tbsp butter
1/2 cup cream
For the rice:
2 tbsp desi ghee
2 tsp mustard seeds
10-12 Curry leaves
1 cup uncooked urad dal
A pinch of salt
1.
Wash the rice with water until it stops becoming cloudy. Leave it to soak for a while.
2.
Dry roast the red chillies in a pan. When they roast slightly add the sesame seeds.
3.
Once they brown take them off heat and grind them. Keep aside.
4.
Now once again heat the pan with oil. Add to that the peanuts and cashew nuts and fry them.
5.
These would take a couple of minutes to turn brown and once they do take them out. Keep aside.
For the tempering:
1.
Heat some butter. Add cream. Mix well.
2.
Add the fried nuts to this mix.
3.
Let it cook for a minute or two and then pour it out in a bowl. Pour this over the rice once it is cooked.
For the rice:
1.
For the rice you can use a flat bottomed pan or a lagan.
2.
Heat some desi ghee. Add the mustard seeds, curry leaves and urad dal.
4.
Once the urad dal turns nice and golden add the ground sesame seeds and red chillies to it.
5.
Mix well. Add some water (2 cups or more).
6.
As soon as the water starts boiling put in the rice.
7.
Stir gently. Add a pinch of salt.
8.
Let it cook on low heat. Till the water evaporates and the rice is cooked through.
9.
When the rice is almost done put in the nut and cream mixture that you made a while back for tempering.
10.
Mix well. Now cover it with foil paper and let it cook for 2- 3 minutes.