Weight loss is perhaps one of the trickiest things to do in the world of health and fitness. With almost every second person trying to shed some kilos and maintain a healthy lifestyle, there is a swarm of tips that one can find online or from experiences of people who have achieved their weight loss goals. But what makes it confusing is that the goal isn't the same for everyone and there is no one particular diet or food that can help everyone since each body type is different from another. Turns out, one fad diet that suited your best friend might not suit you too!


The only way out is to consult an expert before following a diet. Besides that, one must always try to keep it natural, as much as they can and opt for all the goodness that nature has in store, and can be easily found in your kitchen cabinet too! Certain herbs that we use across our curries, salads, drinks and more are full of antioxidants and other nutrients that might aid our weight loss journey.


(Also Read: 10 Dried Herbs You Must Have in Your Kitchen Cupboard)
Here are 5 herbs that one can use to aid weight loss:
1. Sage
Brimming with vitamins such as A, C, E and K along with antioxidants, including polyphenols, sage is a low-calorie and low-carb food that can boost weight loss and also replenish our body with essential nutrients. While it is used across different cuisines in various ways, the most effective way is to add it in your tea and other drinks. Here is a honey-sage lemon fizz recipe that you can try. The recipe uses alcohol as well, but you can avoid it if you wish to.
2. Coriander
Coriander leaves are known to be incredibly beneficial for metabolism. As per experts, coriander helps detox your body naturally along with flushing out toxins that help you feel light. It is also loaded with chlorophyll, which has been associated with greater weight loss benefits. You can simply top your salads, Indian dishes and other foods with a handful of coriander leaves or blend them with fruits and veggies. Here are two coriander-based recipes to try at home.


3. Mint
One of the most popular herbs, mint is known to be a powerhouse of health benefits. Brimming with antioxidants, mint has volatile oil called menthol that boosts digestion and facilitates absorption of nutrients from food. When the body is able to assimilate and absorb the nutrients properly, there is better metabolism which leads to faster weight loss. Besides topping your juices, detox water and salads with mint leaves, you can also make lassi and smoothies with it. Here are two mint-based recipes to try at home:


4. Rosemary
Rosemary herb is most commonly used for flavouring soups, salads, pizzas, grilled meats etc. and comes with a host of nutrients including antioxidants that aids digestion and may promote weight loss too! Add a sprig of rosemary to your soups or make fresh rosemary chicken for a high-one protein dinner!


Roasted Carrot, Rosemary, White Bean Hummus
5. Oregano
Yes, you read that right! Oregano is much more than just a topping on your pastas and pizzas. An active component called carvacrol present in in oregano sprigs is known to dissolve fat, aid digestion and reduce bloating. Top your meals at the end with some oregano to retain its oils. Here is an amazing oregano popcorn recipe to try at home!


(Also Read: These 5 Kitchen Essential Indian Spices May Help You Manage Weight)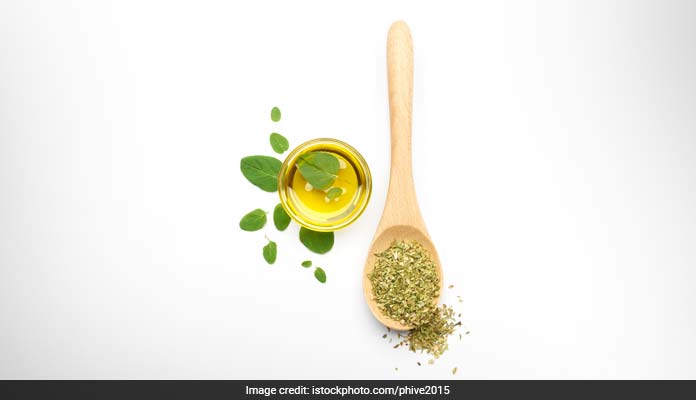 Adding herbs to your diet is one of the most natural ways to aid your weight loss journey. However, it is best to consult your doctor if you have a pre-existing medical condition.


Disclaimer: This content including advice provides generic information only. It is in no way a substitute for qualified medical opinion. Always consult a specialist or your own doctor for more information. NDTV does not claim responsibility for this information.
About Aanchal MathurAanchal doesn't share food. A cake in her vicinity is sure to disappear in a record time of 10 seconds. Besides loading up on sugar, she loves bingeing on FRIENDS with a plate of momos. Most likely to find her soulmate on a food app.