Indians are fond of their masaledar dishes that comprise the quintessential melange of flavourful spices, which also includes nutmeg or jaiphal. Native to Indonesia, this spice has long been known for its medicinal and culinary properties. Nutmeg refers to the seed or ground spice that comes from the species Myristica Genus. This is dark-leaved evergreen tree cultivated for its fruits - nutmeg and mace. Renowned food historian K.T. Achaya, in his book 'A Historical Dictionary of Indian Food', stated, "The nutmeg is shredded for use, while mace is pressed flat, dried to a translucent red-brown and cut into strips for sale." Xuan Zang, Chinese Buddhist monk, scholar, traveller, and translator who travelled to India in the seventh century, as per K.T. Achaya " was provided with twenty nutmegs daily during his stay at the Nalanda monastery in the seventh century." Nutmeg provides a slightly sweet flavour to the delicacies and is known to have many essential nutrients that make it a healthy spice. It is also known to come packed with a fewer calories, which makes it good for losing weight. What is it that makes nutmeg an excellent spice to shed kilos? We have some answers.
Nutmeg refers to the seed or ground spice

According to Nutritionist and Physiologist, Ritesh Bawri, "Nutmeg is widely used as a flavouring agent in food. It shows up in Indonesian, Indian, Mughlai and European cuisines. It is commonly used in potato dishes, soups, sauces, baked goods, rice puddings and also while preparing vegetables and tortellini. Nutmeg is an excellent source of fibre, which is a good source to lose weight. However, it is also high saturated fats, which can be harmful; therefore, using nutmeg in large quantities is not advised."

(Also Read -7 Incredible Nutmeg Benefits: From Inducing Sleep to Relieving Pain)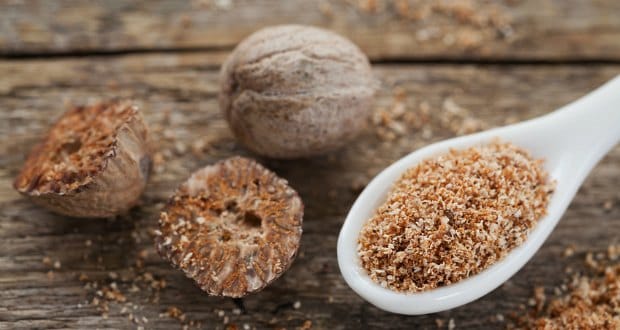 Nutmeg is an excellent source of fibre

Nutmeg is high in fibre content, which can help you feel fuller when you are cutting on calories. As per USDA data, 100 grams of nutmeg contains 21 grams of dietary fibre. Other nutritional features of nutmeg are low sodium and low cholesterol, which makes it great for your use. In fact, it is an excellent source of manganese that is responsible for breaking down fats and cholesterol, an important process in losing weight. Nutmeg or jaiphal is said to be soporific, which means it is sleep inducing. Calling an early night may help you keep off untimely cravings and binge-eating, thus saving on to some calories. The only drawback of nutmeg is that it has saturated fats; if eaten in large quantities, it can reverse the effects leading to health problems.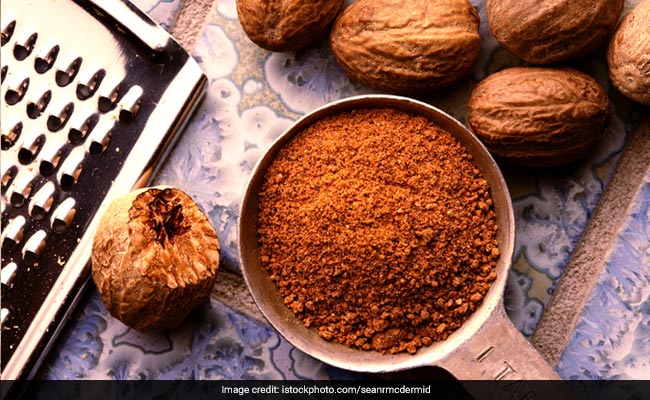 Nutmeg are low in sodium and low in cholesterol

How To Use Nutmeg For Effective Weight Loss?
Add nutmeg as a complementary spice to your diet to lose weight, however, depending on it completely is not suggested, plan a regular exercise along with it in order to lose weight.
Here's How You Can Use Nutmeg In Your Diet:
Sprinkle nutmeg onto raw or cooked apples, bananas, peaches, pears, pineapples or mango. Take a bowlful of fresh fruit salad, dust the fruits with nutmeg and squeeze a fresh lemon evenly on the dish.
You can also add a dash of nutmeg on to your breakfast goods like scrambled eggs, omelettes, oatmeal, quinoa or any other breakfast cereal, pancakes and even muffins.
Nutmeg can be used on vegetables like carrots, potatoes, cabbage, broccoli, cauliflower, pumpkin and spinach. Along with nutmeg, add some butter and olive oil to the vegetable for an exceptionally amazing flavour.
Add nutmeg to desserts like cookies, custard and cakes too.
Sprinkle some nutmeg into a mug or cup of hot coffee and hot tea. It provides a mild sweet flavour to the concoctions
Bowlful of fresh fruit salad, dust the fruits with nutmeg
Here Are Three Recipes That Have Use Of Nutmeg In Them:
Spinach and Potato Soup
This thick creamy soup is not only easy in stomach, but also works as a perfect starter for any exotic dinner. This soup, made of potatoes, spinach, leek, garlic and onion, is seasoned with salt, pepper, some cream, thyme and a hint of nutmeg. Click here for the complete recipe.
Jamaican Jerk Chicken Drumsticks
This dish is all about flavourful mix of herbs and spices. This smokey, chargrilled chicken drumstick is made with spices like pepper powder, nutmeg powder and cinnamon powder, fresh thyme, naga chilli and several other easily available ingredients. Click here for the complete recipe.
Spanish Artichoke And Spinach Dip
This dip is easy to make and works perfectly as an accompaniment with any baked chips. Other than the use of nutmeg, this dip is filled with goodness of spinach. We need ingredients like spinach, artichoke, onion, cream, nutmeg, garlic, lime juice and salt to prepare this dip. Click here for the complete recipe.
Nutmeg may be good for weight loss, but remember to not over-consume it as it is high in saturated fats that may not be good for your overall health.