If you are looking out to shed some extra kilos, it is imperative to maintain a healthy lifestyle, which not only includes regular workout but also clean eating. Inculcating the habit of clean eating can come to a great help in your weight loss journey. Since what we eat can make or break the deal, let's focus on one wondrous food item that could possibly boost weight loss - oatmeal. According to the book 'Healing Foods' by DK Publishing, "Oats contain multiple nutrients and a gummy, water-soluble fibre and beta-glucan, which helps reduce unhealthy (LDL) cholesterol. They are also known to be a natural sedative, and excellent for easing indigestion." Rich in protein and fibre, oats help you remain full and prevent binge-eating. The soluble fibres in oats tend to absorb water in your stomach and become gel-like. They eventually swell up and take longer to digest, keeping you satiated for long. Having oats in breakfast can give a nice kick-start to your day. Here is a list of five nutritious oats recipes that you can easily make in the comforts of your kitchen.Low-Calorie Oats IdliRecipe By Ramya Parameswaran
Are you fond of south Indian food, especially idlis? If yes, then this delicious yet healthy recipe is just for you. Made with the goodness of oats, this idli recipe is not just healthy but quite easy-to-make as well. It is a perfect weight loss recipe as it is low in calorie count. The grated carrots in idli add a nice crunch to the recipe. A must try!

Oats KhichdiRecipe By Chef Reetu Uday KugajiThis oats khichdi recipe is perfect for lunch or dinner. Light yet filling, oats khichdi is a full meal on its own. It makes for a great comfort food and is loaded with nutrition. It will save on a lot of your time and effort as well. Serve it with yogurt and a dash of roasted cumin.


Organic Oats PorridgeRecipe By Priyam KumarThis delicious recipe with organic oats, apples, cinnamon, flax seeds and a pinch of honey is a perfect way to kick-start your day. It is sure to keep you satiated for long, which will in turn help you avoid bingeing on high-calorie foods.(Also Read: Oats Porridge: Four Exciting Recipes to Spruce Up Your Breakfast)


Cinnamon Oatmeal PancakesRecipe By Canola InfoIf you're short of evening snack ideas and are looking for some variations, then bring this oatmeal pancake recipe to your rescue. Made with honey and no sugar at all, oatmeal pancakes are power-packed with nutrients and are the perfect solution for your hunger pangs.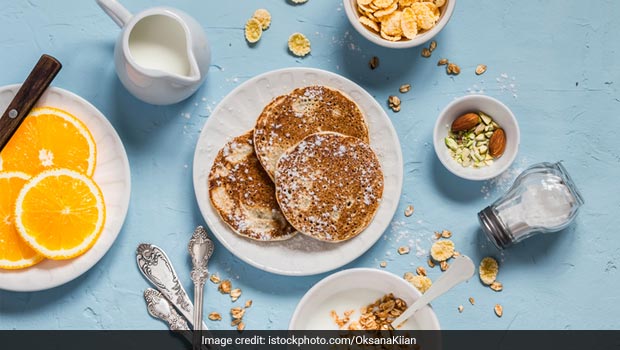 Oatmeal DaliaRecipe By Niru GuptaEasy-to-cook and light on stomach, oatmeal dalia can be prepared using just four ingredients. You can savour it as breakfast and pair it with an apple or banana for a nutrition-packed meal. Dalia is an incredibly popular breakfast dish in Indian households. Many children start their day with a bowlful of dalia as it helps keep them full and energized, it is time to go back in time it seems. Try this yummy and wholesome dish at home and let us know how you liked it. (Also Read: Can You Eat Oats For Dinner?)


Now that we've shared with you a list of easy-to-make oatmeal recipes, try them for your weight loss journey and get in shape.

About Deeksha SarinAn eccentric foodie and a die-hard falooda lover, Deeksha loves riding scooty in search of good street food! A piping hot cup of adrak wali chai can make her day bright and shiny!