Be it the creaminess of coconut milk or the splutter of mustard seeds and curry leaves, South Indian cuisine never fails to impress our taste buds with its distinct dishes. With a variety of regional dishes within South India, the cuisine together has mouth-watering curries both vegetarian as well as non-vegetarian curries to relish, that goes beyond piping-hot sambar! On one hand we have zesty and flavourful cuisine of Kerala - which is predominantly non-vegetarian, on the other hand, we have Tamil Nadu cuisine that boasts of many vegetarian delights. And if you like your curries bursting with flavours, then Andhra curries will be a treat for you.


So for all the fans of south Indian cuisines, we have got some of the most delicious curries from the southern region that you can try at home.


(Also Read: 13 Best South Indian Recipes)
Here Are 11 Best South Indian Curries That You Can Try At Home:
A fiery Andhra curry is cooked with ginger-garlic paste, curry leaves, cinnamon, chicken masala and a delectable cashew and poppy seed paste. Pair with crispy appams or rice! Find the full recipe here.
A delicious mix of vegetables in a light, delicately spiced yogurt gravy, avial curry is perhaps Kerala's favourite dish, especially in the summer season! Perfect for a light lunch meal and even when you have some leftover veggies such as drumsticks, carrots, pumpkin and beans. Find the recipe here.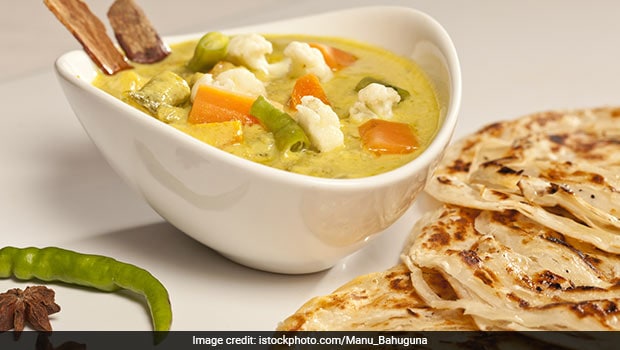 Chicken cooked in the goodness of fenugreek seeds, pepper, curry leaves that make up for the bold flavours of coorgi masala. Find the recipe here.
Shallots cooked in a rich coconut gravy full of tamarind extract, curry leaves, fenugreek and red chillies! Aren't you slurping already?! Go ahead and cook it at home with this simple recipe here.
A delicious fish curry, made with sardines made with tamarind, coconut, shallots and red chillis, comes from the backwaters of Kerala and is sure to impress your taste buds! This would go well with steamed rice. Click here for the recipe.
Enjoyed as a side dish across Kerala, erissery is a stellar dish made with pumpkin and coconut in just about 30 minutes. It is more often prepared on festivities such as Onam and special occasions like weddings. Find the recipe here.
A delectable combination of coconut milk, tamarind and chicken pieces, Kori gassi is sure to be a royal treat on the table! Find the recipe here.
Love okra? This absolutely delicious curry of okra in tangy tamarind gravy is a perfect dish from the Andhra region to try next. Click here for the recipe.
A host of bold spices tossed in chettinad masala, this dish is perhaps one of the star dishes of Tamil Nadu. A delectable melange of onions, tomatoes, cloves, cinnamon sticks, cumin, curry leaves and a rich coconut-y paste, chicken chettinad is perfect for some special occasions! Relish this as a wholesome meal with a bowl of rice. Find the full recipe here.
A mind-blowing meat delicacy, gongura mamsam is a hearty mix of cinnamon, cardamom, onions, garlic and chilli with gongura leaves and lamb, this one is a meat lovers' delight! Find the recipe here.
Right from the region of Malabar, this juicy curry full of prawns cooked in a coconut curry is sure to tantalise your senses! Pair this delicious curry with steaming hot rice and soak in the goodness of this wholesome meal. Click here for the full recipe.
Try these sumptuous South Indian curries at home and share your experience with us in the comments section below.
About Aanchal MathurAanchal doesn't share food. A cake in her vicinity is sure to disappear in a record time of 10 seconds. Besides loading up on sugar, she loves bingeing on FRIENDS with a plate of momos. Most likely to find her soulmate on a food app.