Among the different kinds of meat dishes across India, mutton preparations have always garnered a bigger fan following. The red meat when cooked carefully results in a buttery and tender treat, the flavour of which blends delightfully well with the myriad spices that go into its preparation. No wonder then it's regarded as a prime delicacy, and reserved for special occasions, festivals and get-togethers. In some cultures, it is even taken as an offense if one is invited for a meal and not served a mutton curry regardless of the other dishes laid out on the table.


Cooking mutton, of course, requires a little skill as you discover the tricks to acquire tender and moist meat with practice. While some prefer the shoulder cuts to cook, others look out for the raan - the hind legs. Most recipes call in for a marinade, which also makes use of meat tenderisers like raw papaya, vinegar, buttermilk, pineapple and other acids. Then there are the numerous spices which different cultures play around with to arrive at their own regional speciality.
Here are 11 of the most popular mutton curries across India -
1. Rogan Josh
One of the most loved dishes of Kashmiri cuisine, Rogan Josh also features in the Wazwan, the celebratory 36-course meal. The meat is braised in a gravy made of caramelised onions, yoghurt, ginger, garlic and a handful of spices like bay leaves, cardamom, cinnamon and dried red Kashmiri chillies. It is said to draw its origin from Persian cuisine, and the Mughals are credited to have introduced the dish in Kashmir where they frequented to escape the hot summers in Delhi. The Kashmiri chillies lend the dish its rich colour without adding too much heat, unlike other chillies found across the sub-continent.
For the recipe, click here - Rogan Josh
2. Laal Maas
The fiery mutton curry from Rajasthan is a favourite among spicy food lovers. It is bound to make you sweat as the heat from Mathania chillies used in its preparation takes over your palate. It is said that originally Laal Mass was cooked using game meats like wild boar and venison. However, now, tender mutton is the preferred choice of meat. Laal Maas makes use of mustard oil, and traditionally, a bowl with burning pieces of charcoal along with cloves and ghee was placed on top of the preparation, which was then sealed to develop render smoky flavours to the curry.


For the recipe, click here - Laal Maas
3. Pasanda
Visit a Mathur-Kayasth household in UP, and if you chance upon Badam Pasanda then consider yourself very lucky. This delicacy is rarely seen in restaurants, which makes it even more special when served a loving, home-cooked portion. The painstaking recipe is not everyone's cup of tea. Tender strips of mutton, particularly from the thighs, are marinated first and stuffed with slivers of almonds and pistachios, then rolled and tied with a string. The meat rolls are then placed carefully in the bubbling gravy when the meat automatically curls up to enclose the filling. It is then left to slow cook till the meat is tender and the gravy rich and flavourful. Back in the days, only the most renowned chefs would make this dish, and it was reserved for the royalty or upper class.


For the recipe, click here - Pasanda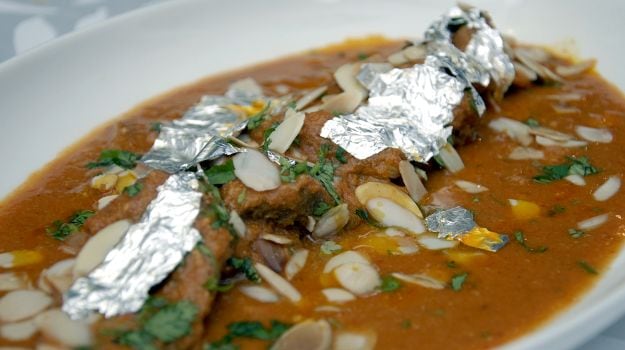 4. Kosha Mangsho
There are very few things that can beat the pleasure of relishing a plate of piping hot luchis with Kosha Mangsho, the Bengali mutton curry. Come Sunday, and most Bengali households prepare mutton curry for lunch, taking all their time to pound the spice mix and cook the meat till tender. Don't miss the addition of potatoes in the meat curry. Soaked with the lip-smacking flavours of the curry, they too are immensely satisfying to team with rice or luchi. Kosha Mangsho requires a range of spices to acquire its deep red colour, but it isn't outrageously spicy. Cardamom, cinnamon, cloves and bay leaves are a must.


For the recipe, click here - Kosha Mangsho


5. Nalli Nihari
No Eid celebration is ever complete without indulging in a plate of Nalli Nihari with Khameeri Roti. The buttery gravy with delicate pieces of mutton falling off the bone is supposed to be a breakfast treat. As per expert chefs, the nihari is perfect when the meat cooks so much so that it blends with the gravy, acquiring almost the same texture. The slow-cooked dish (traditionally cooked overnight) uses a handful of spices like kewda water, screw pine, cardamom, mace and others, and is usually garnished with ginger julienne, green chillies and coriander leaves.


For the recipe, click here - Nalli Nihari
6. Andhra Gongura Mamsam
Andhra cuisine is known for its love for spices, particularly chillies, but not all dishes are fiery hot. The Andhra-style mutton curry called mamsam is a delectable curry which is made with a range of local ingredients in the households of Andhra. Gongura, belonging to the Hibiscus family, comes in two varieties - green and red stemmed. These leaves lend a distinctive flavour to the mutton curry, when it is slow-cooked in a spicy gravy.


For the recipe, click here - Gongura Mamsam


7. Mutton Kuzhambu
Tamil Nadu is more popularly known for its vegetarian fare, ranging from idli and curd rice to pongal and poriyal. But head to the Chettinad region and you will be surprised with the wide spread of non-vegetarian dishes which are said to have been introduced during the Maratha invasion. One such popular Chetinnad mutton curry is Mutton Kuzhambu. This spicy meat curry is made with freshly ground spices that include fennel seeds, cardamom, cinnamon, peppercorns and star anise, as well as grated coconut. It is served with idiyappams, parotta or rice.


8. Mutton Korma
A popular Mughlai dish, korma is known for its delicate flavour which is developed by slow cooking mutton in its own fat, yogurt or cream and a handful of spices. The word 'korma' is derived from an Urdu word which means 'to braise'. There are of course variations to the recipe, but some of the most commonly used ingredients include almonds, cashew, mace, nutmeg, cloves, cardamoms, kewra water and grated coconut.


Here's a recipe for you to try - Mutton Korma.


9. Sali Boti
The Parsis' love for meat is well known, and Sali Boti is a cherished treat, particularly on Sundays. What makes this dish a delight to dig into is the pairing of crunchy potato straws with a tarty mutton curry. Sali refers to the fried potato straws served atop the meat curry, which also features in various other Parsi dishes and is a popular side too. The mutton curry is prepared in a tomato base, along with jaggery and vinegar to lend to its sweet and tangy flavour.


Here's a recipe for you to try - Sali Boti


10. Yakhni
Unlike most other mutton curries, Yakhni doesn't have the rich red hue that develops from red chilli powder or the silky yellow colour from turmeric. It looks like a creamy broth, which is prepared using yogurt and sans chillies and turmeric. Aromatic spices such as cloves, cardamoms and bay leaves are used to spruce up the flavour. Although a traditional Kashmiri dish now, it is said to have made its way from Persia.


Here's a recipe for you to try - Kashmiri Yakhni.


Talk about Keralan cuisine and the first thought that comes to mind is Malabar mutton stew with appams. The most loved comfort food of the locals, Kerala mutton stew is a delicately flavoured dish which teams very well with fluffy, piping hot appams. Only a handful of spices are used in preparing the stew - cloves, cardamom, cinnamon, ginger and black peppers.