One thing that I have learnt being married into a Parsi family, is that food forms a big part of all happy occasions for the community. This holds true for their new year celebrations as well. I asked my wife, a Parsi, about the traditional dishes which would be a part of her childhood new year memories. "Chinese food," she replied with a smile. Wait, what?She would go with her parents for a Parsi play on new year's eve, while growing up, and follow this with a Chinese meal. Being a Dadar girl (an area in Mumbai), Gypsy Chinese Restaurant was the venue for most celebrations in her life. And China Garden. My mother in law talks fondly of the time when Nelson Wang, the legendary owner of Mumbai's China Garden, stepped out of the kitchen on Parsi New Year and announced that the meal for all the Parsi guests in the restaurant that day was on the house. What's the big deal, you think? Well, the restaurant was packed with only Parsis that evening. And not just here. Come Pateti or Parsi New Year, no matter how regular a customer you are, nothing can guarantee you a table at Ling's Pavilion, the Chinese restaurant in Mumbai's Colaba district. That day is reserved for the Parsis, they will firmly tell you.I asked Rukshana Kapadia, a food blogger from Kolkata and a Parsi too, about her new year plans. "I will go to watch a Parsi play with my parents and then dinner." "Wow, a Parsi meal in Kolkata?" I asked. "No baba, Chinese!".
Does this mean that Parsis don't eat traditional Parsi dishes on the Parsi New Year or Pateti?Of course they do.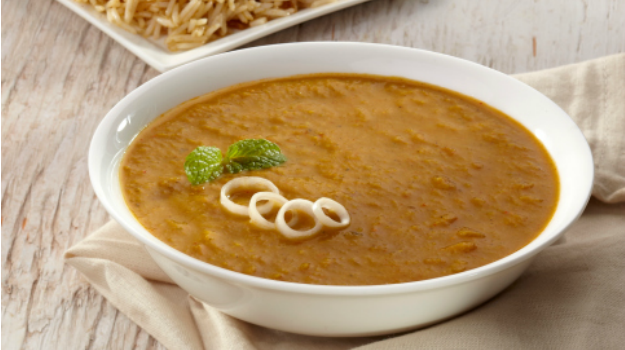 Parsi New Year 2018: Know what you can cook during Pateti

I had been to places like Elphinstone Club near Sterling Cinema, and the Parsi Gymkhana, with my in laws on Parsi New Year in the past where caterers served a Parsi spread for all. RTI does a Parsi New Year spread for takeaway. As does the rock star of Parsi caterers, Tanaz Godiwala. On the morning of the Parsi New Year, after their fire temple visits are done, many Parsis head off to Albless Baug at Charni Road, on their scooters with empty vessels to get Tanaz's food home. You have to book with her in advance, go to her at Albless Baug (a Fire Temple cum wedding hall) to pick up your order and you have to take containers to get the food in too. Swag, and deservedly so.Things have become easier in recent years for non-Parsis, who want to get a taste of the Parsi festive food. Caterers such as Katy's Kitchen (set up by the late Dr Katy Dalal) and the Bawi Bride (run by food blogger Parzen Patel) have embraced social media and have made it easier for the rest of us, and not just their Parsi clients, to have a Parsi meal on the New Year and all year long. Then there are the Parsi restaurants of South Mumbai where you can go to on this festive day. Moreover, a number of five star hotels and non-Parsi run new restaurants in Mumbai have introduced Parsi menus for this special occasion. The love for Parsi food is growing across the city, thanks to these efforts and hopefully will inspire the community to grow too and turn back the tide on their depleting numbers.One of the things that upset my usual affable mother in law, is the fact that years back, a contestant on Kaun Banega Crorepati couldn't identify Dhansak as a dish belonging to the Parsi community.

Dhansak, a dish consisting of mutton (goat meat) cooked with a mixture of dals and served with caramelised brown rice, vinegar and finely chopped onion, cucumber, tomato, chillies and coriander-based salad called kachumber, is perhaps the most famous Parsi food. It is the first Parsi food that I had ever had. This was thanks to a lady named Roshan who had got it to an office potluck when I was new to Mumbai. Dhansak is a dish had on Sunday afternoons in most Parsi households along with some chilled beer and is traditionally followed by a Sunday afternoon nap.Interestingly, almost every Dhansak that I have had so far, has been different in consistency or colour, depending on the house or restaurant I have had it in, or the caterer we have ordered it from. Like the Butter Chicken, and almost every other landmark Indian dish, there are variations from house to house on how Dhansak is made. So when you come across a Dhansak, don't judge it by the last Dhansak that you might have had. Just try to love it for what it is. If like me, you occasionally find it to be a bit low on salt, that is because you are meant to add the kachumber to it, suggests Perzen Patel.Now here's the thing. If you do get your hands on a Parsi New Year bhonu (feast), you won't find Dhansak in it. Don't fret and fume about this. There is a reason for it.You see, Mutton Dhansak, apart from being a Sunday favourite, is also served on the 4th day after someone passes away in a Parsi family. Due to the unfortunate funeral associations, Dhansak is never served on an auspicious occasion in a Parsi family. So, don't wish your favourite Parsi, 'Happy New Year,' and follow it up with, "Where's my Dhansak?". It is not the equivalent of biryani on Eid.So what can you expect instead of Dhansak on the Parsi New Year? Mutton Pulao Dar. Here, the pulao has meat in it unlike in the brown rice served with Dhansak. In a Dhansak, it is the dar (dal) which has the meat. This dar, sans the meat, is served with the pulao in Pulao Dar. The kachumber is constant. You do get chicken versions of Dhansak and vegetarian ones too. So don't let people bully you and say that if it's not mutton, it's not Dhansak. Food should be about whatever makes you happy.Parsi cuisine itself has evolved over time. Its festive food, for example, reflects the journey of the Parsis from Iran to India and the story of their making India their home. I was chatting about this with Dr. Kurush Dalal the other day. Kurush, with his wife Rhea, a fellow Bengali, run Katy's Kitchen, which was set up by his late mother, Dr. Katy Dalal. Kurush, apart from being a caterer, is also an archaeologist, an academic, a food historian, and above all, a raconteur. The Parsi Pulao is definitely a memory of the Iran they left behind, says Kurush, as is evident in the lamb and rice combination that is its base and the dry fruits and birista (fried onions) toppings.Goat meat instead of lamb is an Indian influence, I guess. I lived in Iran when I was a kid. My mother used to make me the Persian Pulao when we were there. That had something called tahdig, a burnt and crispy rice crust at the bottom. I loved that. I have never come across tahdig in the Parsi Pulao in India.The festive fish dishes of the fish loving Parsis are examples of how the community has adapted to local customs. "The Patrani Machhi with its use of pomfret and green (coconut, chilli, coriander and lime juice) chutney to marinate the fish, and the method of steaming the fish in banana leaves (think Gujarati panki) is 'purely local' (India)," says Kurush.

The Sahs ni Machhi is the mother of fusion dishes, points out Kurush. The use of pomfret is an influence from the west coast of India of course. The egg custard on which the sauce is based, is a British influence. The use of vinegar, Portuguese, while the fried onion and crispy garlic topping is purely Indian.The Sahs ni Machhi is one of my favourite dishes and I actually prefer it to the Patrani, though my wife is a die-hard Patrani Machhi loyalist. We used to live at Rasht, by the Caspian Sea in Iran, when I was a kid. My mother said that fish was eaten commonly there, but the fish would usually be grilled with a simple coating of sea salt, lime juice and minimal spices as far as she remembers from the late 1970s. Nothing like the elaborate Patrani Machhis, Sahs ni Machhis, Tamatar Machhis (fish in a tomato gravy) or Machhi Curry (desiccated coconut and crushed red chilli based curry) of the Parsis of India.The famous Parsi dessert, Lagan nu Custard (wedding special custard) is British influenced says Kurush, and the elaichi jaiphal flavouring is Iranian according to him.

So here's my suggestion, go out on Parsi New Year and try all the other wonderful celebratory Parsi dishes on offer. As for the Dhansak, invite yourself over to a Parsi household on a Sunday, and do take some chilled lager with you. They will never say no.Here's wishing all Parsis a very Happy New Year!About the Author:
Kalyan loves to eat and he loves to talk about all that he eats. His wife urged him to start writing about it, otherwise she would have to hear it all. He blogs as 'finelychopped' and according to a 2016 report published by Indian Cuisine RR, Kalyan has also been rated as 'top Indian food influencer on Twitter'.
Disclaimer:
The opinions expressed within this article are the personal opinions of the author. NDTV is not responsible for the accuracy, completeness, suitability, or validity of any information on this article. All information is provided on an as-is basis. The information, facts or opinions appearing in the article do not reflect the views of NDTV and NDTV does not assume any responsibility or liability for the same.