Snack time is one of the most vulnerable times of your day when you are on an edge to grab a packet of crispy chips or bite on some greasy pakodas to satiate your cravings. And while you might be craving a lot more, it is these crucial times when you must opt for a healthier alternatives that can be delicious too. Many nutritionists also recommend healthy snacking between meals to keep your metabolism up. Nuts are said to be a great snacking option during such hunger pans. According to many health experts, nuts have gained the reputation of superfoods and one of the most popular nuts of all are almonds.


Now we all have seen our parents running after us to eat soaked almonds right in the morning, right? But little did we know that these crunchy delights are brimming with multiple health benefits. Packed with omega-3 fatty acids, almonds help improve heart and brain health. Not just that almonds are rich in protein along with tryptophan, a hormone with a soothing effect on the brain that helps you sleep better. Moreover, the low glycaemic index in almonds makes it ideal for diabetics too.


(Also Read: Almond For Weight Loss: Include These Three Almond-Based Recipes In Your Diet To Manage Weight)
Almonds aren't just known for their potent health benefits but are also famous as a versatile ingredient. They can be healthier snack alternatives to all your hunger pangs and yet be delicious! Almonds are also known to facilitate weight loss; it is because of the presence of fibre, which is beneficial for digestive health. It prevents constipation and the insoluble fibres act as probiotics in improving the gut flora. But while you are at preparing those utterly yummy almond snacks, keep in mind that anything in excess may be bad for your health; a handful of almonds might be just enough. We've got you some of the best almond snack recipes to prepare at home easily and quickly to satisfy those untimely hunger pangs.
5 Best Almond Snack Recipes To Make At Home:
Stuffed with mashed potatoes, almond, egg and spices, baked almond kofta is a crunchy almond snack rolled in breadcrumbs and baked to perfection. Serve them with your favourite dip and you'll have a perfect dinner party starter.
Almond Recipes: A light and delicious snack to savour at a dinner party or a family get-together.
A perfect combination of healthy, filling and irresistibly delicious almond biscuits, these are made with whole wheat flour, packed with oats and almonds and baked to crispy biscuits. Make a batch and relish every day with a cup of piping hot tea.


(Also Read: 11 Best Easy Snack Recipes | Popular Snack Recipes)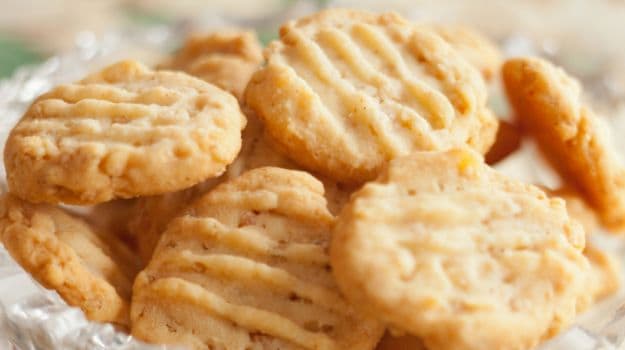 Almond Recipes: Almonds and oats fused together for a perfect combo of healthy and tasty.
With just about a few ingredients and less than an hour, here is a delectable almond snack recipe for your next get-together. Flour, eggs, sugar, butter and almonds, this is all you need for a yummy treat at home.
Almond Recipes: Crispy and tasty almond snacks for your next party.
A fiery hot treat to savour as mid-day snacks, sweet chilli almonds has almonds coated in egg white and mixed with spicy masala. It is roasted and cooked for about 10 minutes; you can store it in an airtight container.
Almond Recipes: Almonds coated in chilli masala, an interesting snack recipe to keep you satiated.
A vegetarian delight, almond pearls has the goodness of toasted oats tossed with mustard, cumin, and ajwain seeds, corn flakes and blueberries along with toasted almonds. This is a super nutritious bowl with tangy flavours of lemon on top, perfect for your next breakfast or mid-day meal.
Almond Recipes: A nutrient-rich, tea-time snack that can help you keep going throughout the day.
Since almonds are a great source of protein and fibre, these almond snacks recipes are great to keep you full and energetic throughout the day. Prepare at home and relish away!
About Aanchal MathurAanchal doesn't share food. A cake in her vicinity is sure to disappear in a record time of 10 seconds. Besides loading up on sugar, she loves bingeing on FRIENDS with a plate of momos. Most likely to find her soulmate on a food app.