Gujarat is famously known as the land of
khakras, phapras
and
thepla
but there's a lot more to explore. When we talk about Gujarati cuisine, the wholesome
Gujarati thali
comes to our mind that makes for a satisfying lunch. The breakfast meal in Gujarat is equally popular and delicious. The Gujarati concept of
'farsan'
or
'namkeen'
finds its way into their morning meal too, you will see that most of their breakfast dishes can double up as evening snacks accompanied with a hot cup of tea.
1. Dabeli
The word 'Dabeli' literally means pressed and this dish is known to have originated in the Kuchchh region of Gujarat. Also known as Kutchi Dabeli or Double Roti, it comprises of a boiled potatoes mixed with a special
dabeli
masala and placed between
pavs
or buns also with a spicy chutney made with tamarind, garlic and red chillies. This is probably the best start to your day. Here's
a brilliant recipe to try at home
.
2. Handvo
Handvo is a delicious and healthy Gujarati breakfast dish that is made with an assortment of whole ingredients such as bottle gourd, protein rich lentils and buttermilk. It resembles a savoury cake that can be baked and stored and only needs to warmed and topped with a tempering of curry leaves and mustard seeds before serving. Try this
recipe by Sushmita Chauhan
.(Also read:
10 Most Unusual Breakfasts in India
)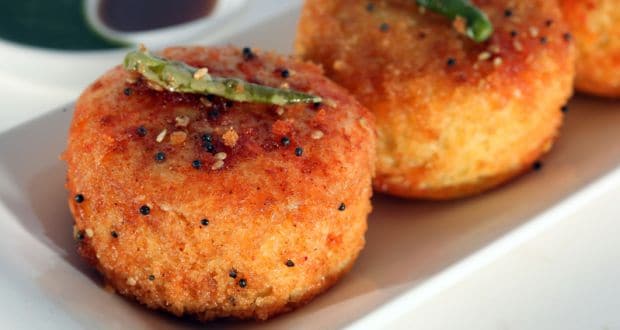 Handvo is a delicious and healthy Gujarati breakfast dish
3. Batata Poha
Poha is one dish that is synonymous with breakfast in most Indian states. From the Punjabi Chidwa to the
Maharastrian Kandha Pohe
, Poha-Jalebi from Indore and Batata Poha in Gujarat, every state has its own favourite version. Batata Poha makes for a light and healthy breakfast meal with fluffy rice flakes, boiled potatoes, soft onions and ginger-garlic paste. Pomegranate seeds, tomatoes and
sev
are also added which makes it different from the other versions.
4. Khaman Dhokla
Breakfast, lunch or tea time,
dhokla
is great for anytime of the day but the Khamam Dhokla is specially enjoyed as a morning meal. Dhoklas can be made in several ways. The Khaman Dhokla is made with ground
chana dal
or
besan
. Khaman
dhokla
is different from the Khatta Dhokla which is made with a fermented batter of rice and split chickpeas. It is soft and spongy but a little dry. Khaman is very easy to make at home.
Try this recipe.
5. Gujarati Pudla
The Gujarati Pudla is a type of
vegetarian omelette
made with
besan
or chickpea flour. It resembles a soft and thin pancake made with a mix of
channa
flour
(besan), suji,
green peppers, ginger, coriander and yogurt. It is made just like an omelette and is great for a vegetarian breakfast. You can even try a sweet version with whole wheat flour and jaggery.
6. Panki
Panki makes for a quick and easy weekend breakfast dish that offers lovely flavours. It consists of a thin and delicate pancake made with rice flour and placed between bananas leaves before being shallow-fried. The aromatic Panki goes best with freshly made coriander chutney. Some people also experiment with the pancake and make it with ground corn or
moong dal.
If you ever plan to visit Gujarat, try these traditional breakfast dishes for an energetic start to your day.