Photo Credits: Instagram/SivaKumarVenkataChalam
One of the many ways by which Gujarati food has lassoed my heart is through its veritable wonderland of
street food
. Although not as lauded as Mumbai or Delhi's street scene, Gujarat still offers many edible treasures to the interested. On a recent visit to Ahmedabad, Surat and the Kutch area of the state, I drove by busy streets that were swilling with people, all clustered around food carts with elegantly-displayed wares. Big streets and narrow lanes were all paved with vendors selling a flurry of food -
pao bhaji
and
sev puris
, of course, but also
fafda jalebis
, the salty, savoury crunch of the
fafda
taming the sugary charms of the
jalebi
; crisp
ganthias
; cold, creamy
kulfis
. But most of all, there were
dabeli
stalls dotting the roads, the vendors setting up their stalls before the city starts its workaday thrum, and staying open until the wee hours of the night. My friend (who I was travelling with), who thus far had claimed to be impervious to the charms of Gujarati food, was fascinated with the profusion of
dabeli
stalls. "It is sort of like
vada pao
but different," I clumsily explained. In the end, I gave up all attempt at explanation, and steered her towards a
dabeli
vendor. It wasn't the best
dabeli
I had eaten, but for my friend, it was an absolute revelation. "Why haven't I tried this before?" she marveled. In that moment, she became a fan for life.
Like so much Indian street food,
dabeli
has that genius blend of softness and crunch, sweetness and salt. Each vendor insinuates his own special flavours into the dish, but by and large, a
dabeli
is made of buttered
pao
, grilled on a
tawa
, split open and stuffed with a spiced potato mixture, onions, pomegranates and sweet- tangy- spicy
chutneys
. My friend's
dabeli
mixture was generously dunked in sweet date and tamarind chutney, tinged with a smidgen of garlic and sprinkled with sev
ganthia
for the element of crunch. But I have had spicier versions, versions with
peanuts
smothered in chilli that singed my lips, even versions with grapes. There is
dabeli
served with lashings of coriander,
dabeli
with the addition of delicate shavings of
coconut
, even
dabeli
with cheese, for those looking to further augment their waistlines. There are almost as many versions as there are vendors! (Also Read:
10 Local Dishes in Mumbai You Need to Bite Into
)
Where to Eat Dabeli
Thankfully, for those of us unlucky enough not to be living in Gujarat, dabeli is available across the country. In Pune, I have tasted Cheesy Kucchi Dabeli at Manisha Bhel Pani Puri Snacks Centre, and an unfortunate
mayonnaise
-flecked one at the uniquely named WatsApp Dabeli Centre (in Pimpri), which also offers schezwan and cheese options, and the immensely popular Butter Kadak Punch.Mumbai has my favourite dabeli outside of Gujarat of course, by way of the popular Swati Snacks -- I think the restaurant has the ideal ratio of sweet to spicy flavours. But of course, there are plenty of other places to partake of it. A friend swears by a tiny
thelawala
in Nalasopara called Famous Dabeli, another travels to Matunga
dabeli
that specializes in
dabeli
and
vada pao.
The
dabeli
comes laced with
garlic
, slathered with cheese and butter, as a Jain version, or just plain, which is the least piquant of all the choices. Firki, in Lower Parel, has gussied up the
dabeli
by topping toast with the stuffing: it is named Dabeli Bruschetta and described as "Juicy
dabeli masala
served on top of toasted bread" on the menu. In Delhi, I coughed up Rs 90 for a fairly decent one at INA's Maharashtra Food Stall, with a little
cashew
embedded within. And Amdavadi, in Chennai's T Nagar, offers it, too.In Bengaluru, the dabeli is especially popular in Marathahalli's Eat Eroo, a small place famous more for its
vada pao
than anything else. I read about Delite Chaat House, a small eatery in Indiranagar, which serves not just the plebian regular,
butter
, cheese varieties of dabeli, but also a jammy version, a dry fruit -infused one, and the intriguingly named Delite Special. The regular version is not very spicy, and is very close to the dish she used to enjoy in her home town of Bhuj, but she has also tried the extra buttered bread which she found pretty decadent.
How to Make Dabeli
I am no expert, but I do sometimes make
dabeli
at home with leftover
bhel
chutneys
. The rest is mostly assembly, tweaked to my taste.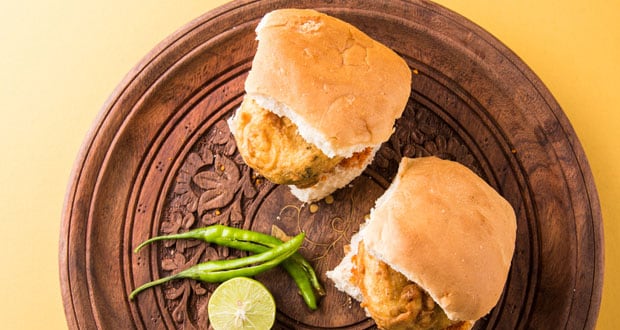 Ingredients:
6 soft white
paos
Butter
1 onion, chopped
2 potatoes, boiled and mashed
2 tbsp coriander leaves, chopped
A handful of pomegranate seeds
A handful of toasted peanuts
3 tsp
sev
Garlic chutney
Date tamarind chutney
A pinch of salt, hing, and jeera powder (during the cooking of the potato mixture)
Dabeli masala:
1/4 tsp cumin powder
A pinch of cinnamon
2 tsp red chilli powder
2 tsp dhania powder
Method:
1. For the
dabeli masala
, first roast the
masala
lightly, then mix thoroughly and set aside. 2. Next, heat a little oil in a saucepan, and add in the potato mixture, with the pinch of hing,
jeera
, and salt for seasoning. Stir and if need be, add a little water, to soften the mixture. (At this stage, you may choose to add in some desiccated coconut.) Add in the
dabeli masala,
then take off the heat and form into six patties.3. Toast the
paos
on a tawa, then butter them thickly. Slather with as much chutney as you like, and stuff with the potato patties. Sprinkle over the chopped coriander leaves,
sev
,
onion
, peanuts, and pomegranate. Enjoy!
About the Author:
Meher Mirza is an independent writer and editor, with a focus on food and travel. Formerly with BBC Good Food India, she loves anime, animals and artsy things but also comics, technology and death metal.Disclaimer:The opinions expressed within this article are the personal opinions of the author. NDTV is not responsible for the accuracy, completeness, suitability, or validity of any information on this article. All information is provided on an as-is basis. The information, facts or opinions appearing in the article do not reflect the views of NDTV and NDTV does not assume any responsibility or liability for the same.