When it comes to quick and yummy breakfast dishes, pancakes top the charts. Be it sweet or savoury, pancakes taste the best in all forms. Not only are they easy-to-make but are also quite scrumptious and healthy at the same time. They undoubtedly make for a great breakfast option and you can even savour them as an evening snack. However, if you're bored of having those regular sweet pancakes and want to experiment with your taste buds a bit, then we've certainly got your back. In this article, we have curated a list of pancake recipes that are savoury and yet too delicious. Savoury pancakes are perfect for health freaks who do not want to indulge in sweet cravings.
Here are some recipes of savoury pancakes which you can easily make in the comforts of your kitchen:
Recipe by: Meher Mirza
Quinoa pancakes are perfect for your breakfast and are quite healthy for your body. Apart from being easy-to-make, they are too delicious as well. For making quinoa pancakes, you need to have quinoa flour, light brown sugar, baking powder, milk, salt, honey and eggs. You can top this quinoa pancake with some fresh fruits as well.
Recipe by: Canola Info
Cinnamon oatmeal pancakes are ideal for an evening snack. These pancakes are loaded with the goodness of oats, which makes them immensely healthy. For making cinnamon oatmeal pancakes, you need to have rolled oats, buttermilk, wheat flour, baking soda, cinnamon, salt, eggs and honey.
3. Ragi Pancakes With Sausage Filling And Yogurt Dip
Recipe by: Plavaneeta Borah
These savoury pancakes are made with goodness of ragi flour and have a filling of sausages, which makes them extremely appetising. They are topped with yogurt dip which is made up of fresh yogurt, garlic and black pepper. For making its delicious stuffing, you need to have onions, sausages, baby corn, beans, mushrooms and red bell peppers.

Recipe by: Gouri Patwardhan
Start your day with these savoury and healthy pancakes. Oat and soya pancakes are rich in fibre and protein, which can give you a good dose of essential nutrients. This healthy breakfast option is easy-to-make and won't take much of your time and effort.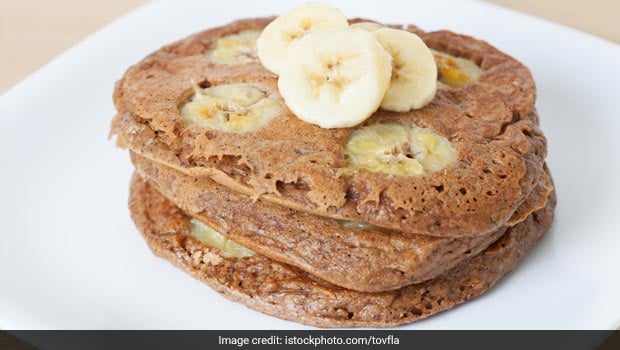 Recipe by: NDTV Food
If you're one of those who cannot have spinach in its raw form, then bring this delicious recipe to your rescue. Spinach pancakes are made up of flour, spinach paste, egg, curd and nutmeg. The delectable filling of cheese and mushrooms make this pancake a hit. Pair it with tomato salad and you're done for the day.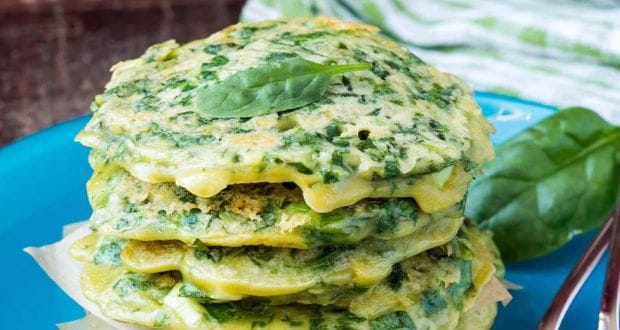 Recipe by: Muhammad Ikram
This pancake is different from all other savoury pancakes. It has a potato filling in it and it is grilled on the charcoal and wrapped with crispy rice flour. Potatoes wrapped in crispy rice pancakes are really delicious and for making the same, you need to have potatoes, cream cheese, ginger-garlic paste, urad dal, rice flour, maida and eggs.
7. Gluten-Free Buckwheat Pancakes
Recipe by: NDTV Food
Gluten-free buckwheat pancakes are healthy and easy-to-make. What makes them healthy is the addition of various types of flours. It is a great meal to start your day with. For making gluten-free buckwheat pancakes, you need to have skimmed milk, yogurt, buckwheat flour, rice flour, cornmeal, baking powder and eggs. It is best served with marmalade or honey.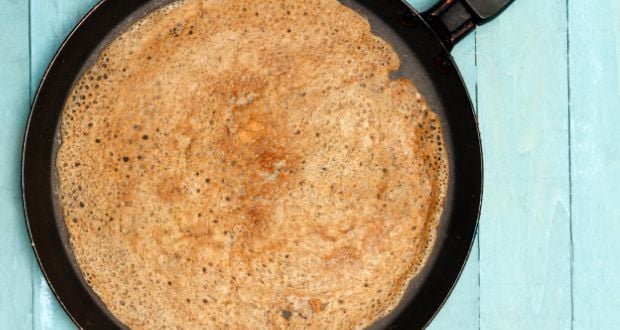 So, these were the top best recipes of savoury pancakes which you can easily make at home. Try these recipes and let us know in the comments section below if you liked them!