Just like onions, tomatoes and potatoes, coriander (dhaniya) is also present in almost every Indian kitchen, at all times. Even if we don't really need it, we don't buy vegetables from local vendors without the complementary bunch of coriander leaves. We'll get different vegetables every day, but they all have to be accompanied by some dhaniya, and oftentimes, this leads to too much dhaniya in our fridge that we can't use it all for garnishing our dishes. Before the bright green coriander wilts and goes bad, use them to make some delicious dishes that won't limit the role of the herb to that of just a garnish.
Here Are 9 Coriander-Based Recipes You Must Try:
1. Green Coriander Rice - Our Top Recommendation
This is by far the best way to use your coriander leaves. Just combine with mint leaves and chillies, and make a paste. Then cook rice with the coriander paste and some yogurt and you'll get a cracker of a dish ready in no time. Click here for the recipe.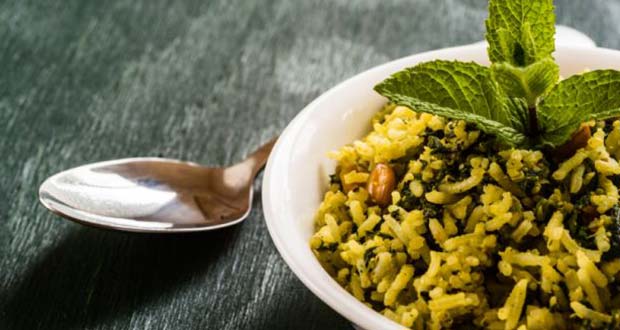 This green rice is infused with refreshing flavours of coriander.
2. Dhaniye Ki Chutney
Talk about coriander recipes without any mention of its chutney? Not possible. This is the easiest way to use excessive coriander leaves. Just throw them in a blender with green chillies, garlic salt and lemon juice, and you have the perfect accompaniment for all your meals. Click here for the recipe.
3. Coriander Mutton Fry
This south Indian mutton dish is cooked in a racy paste of coriander leaves, coconut and green chillies. To add to the flavours, lots of whole spices are also used to make the base for the mutton to cook in. The final tempering of mustard seeds and curry leaves makes it a delight to eat. Click here for the recipe.
4. Coriander Garlic Rice
This light but delicious meal comprises coriander-flavoured rice mixed with different vegetables, eggs and some burnt garlic for a piquant taste. It is also very easy to make. Click here for the recipe.
5. Coriander Hummus
This dip is one of the most popular ones, worldwide. Not only does it taste good, but it is also very healthy. This recipe just adds in the strikingly fresh flavour of coriander to make your hummus better than ever. Click here for the recipe.
6. Cucumber-Coriander Smoothie
A refreshing smoothie works like magic to brave the sweltering heat. And if the smoothie is made with fresh cucumber and coriander leaves, there's nothing else that can top it. Click here for the recipe.
Cucumber-coriander smoothie is a perfect summer beverage.
7. Dhaniya Murgh
Chicken lovers can't get enough of this dainty dish. Succulent chicken pieces dunked in coriander and yogurt gravy, seasoned with different spices are a must-add to your list of coriander recipes. Click here to see how to make it.
8. Coriander And Avocado Dip
Another coriander-based dip that may not be as popular as basic dhaniye ki chutney but doesn't lag behind when it comes to flavours coming from coriander, avocado, yogurt and lemon juice. Click here to get the recipe.
9. Lemon and Coriander Soup
What better way to use coriander than to make a healthy, weight-loss-friendly soup? Onions, vegetable stock and lemon are added to this bowl of healthful soup that brims with lots of vibrant coriander leaves. Click here for the recipe.


No more wasting the precious coriander leaves by letting them die in your refrigerator. Use these recipes every time you find a bunch just lying idle.


We all love to garnish our meals with a few sprigs of coriander, all because we love its taste. Imagine how these coriander recipes will turn out!