Remember Vinay Pathak and Rajat Kapoor's movie Bheja Fry released in 2007? Bheja Fry is a common slang used in parts of Mumbai and Andhra Pradesh, often to describe a person or a situation who is so irritating or perplexing that he /it almost fries your brains, hence the term 'bheja (brains) fry'. Many of you may have used the phrase in your day to day conversations too. But did you know the phrase is derived from a popular dish which actually uses brains of goat, sheep or lamb cooked in a spicy masala? A famous street food in Hyderabad and Mumbai, the dish is quite literally mind blowing.
While it is a popular dish in several households across the sub-continent, the credit of Bheja Fry goes to the Muslim inhabitants of medieval India. According to A Historical Dictionary of Indian Food by Food Historian K.T. Acharya, "Islam enjoins that no food be wasted, even left overs being saved and eaten", which basically means that every part of the animal is worthy of consuming, be it the tender leg cut, or its brain.

Bheja fry is also known as Maghaz or Magaj, which also means brain. The offal dish is a significant part of Indian Muslim, Bangladeshi and Pakistani cuisine(where it is called Maghaz Bhuna). The brain of a goat or sheep is fried, and cooked in a gravy. Next time when you are in Hyderabad, do try and explore beyond the heavenly Hyderabadi Biryani, Saalan and Haleem, and try their signature Maghaz Masala, a deep-fried goat brain dish sautéed in hot spices. To make the gravy richer, almonds and pistachios are often added in the preparation. The 'fried brains' are slightly spongy in texture, which is well complemented by the hot spices.
Celebrity Chef Akshay Nayyar, Co-Owner of Kopper Kadai, Delhi and Bangalore says, "Bheja Fry typically translates into pan-fried brain cooked with Indian spices. It is primarily a famous street food originating from Hyderabad where it is also eaten with Khameeri Roti or a pao. It is a star dish on the streets of Mumbai where a more spicy Konkani version is served. If you travel up north then a more earthy-style Tawa Maghaz recipe is available where they use more of coriander, chilli paste and garam masala, cooked with grated egg. I have also heard locals say that apart from being a delicious treat, it is good for your nervous system, eyes and brain function."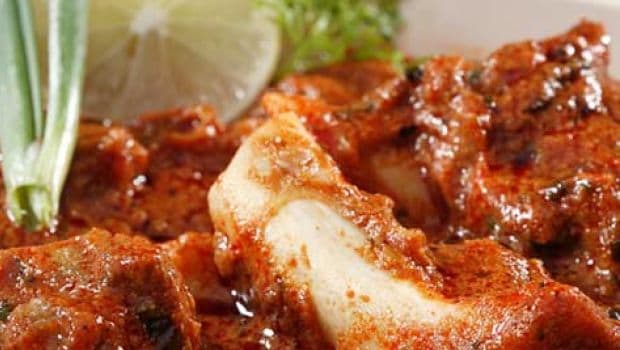 Chef Akshay Nayyar also shares his special recipe of Bheja Fry with us -
Bheja Fry Recipe
2 pcs goat brain
1 Tsp Ginger garlic paste
2 Tsp Green chillies - 2 Tsp
1/2 Tsp Black Pepper Crushed
1/2 Tsp Lemon juice
1/2 Tsp Garam masala powder
1 Tsp Red chilli powder
1 Tsp Coriander powder - 1 Tsp
4-5 leaves Curry leaves
1/2 Tsp Turermic powder
2 large Onion - 2 large
4 Tbsp Tomato Puree
2-3 pcs Cloves
1 Tsp Cumin
2 pcs Cardamom
Oil - as required
Salt - to taste
Method:
1. Clean brain by blanching in hot at least 2-3 times. Remove veins and clean as needed and cut into equal pieces.
2. Take a pan, heat oil and add cumin, cloves, cardamom, chopped onions, tomato puree, cook till it becomes light brown colour.
3. Now add turmeric, ginger garlic paste, green chillies, curry leaves, crushed pepper, coriander powder, red chilli powder
4. Add brain pieces to this masala and cook for 5 minutes.
5. When consistency is thick and creamy add coriander leaves and lime juice.
You can also try this recipe Bheja Masala Dry by Chef Aditya Bal, or Bheja Masala with Roomali Roti by Chef Karan Suri and enjoy the treat at home. Do tell us how it turns out.
About Sushmita SenguptaSharing a strong penchant for food, Sushmita loves all things good, cheesy and greasy. Her other favourite pastime activities other than discussing food includes, reading, watching movies and binge-watching TV shows.