There are people who will tell you how they get home tired after a long day of work and then cook a reasonably elaborate meal for themselves. There are also those I have met, who live alone but insist that they plate up every meal Masterchef Australia style, regardless of the lateness of the hour or dipping energy levels. The best people are those, however, who confess candidly that they do nothing of the kind, giving no one a complex! The best
evening meal
, the only that I am inclined to rustle up post a working day, is a stir fry. Though often regarded as a winter exercise, stir frys are great any time of the year: nutritious, quick and with the potential to be as imaginative as your veggies and bits of
meats
, sauces and seasoning permit.Stir frying is of course a
Chinese
method of cooking food fast on a high flame. Any one who has ever entered the kitchen and tossed things into a wok will be cognizant of a few basics. Nevertheless, no harm in repeating these: You need to cut the
vegetables
small and evenly. This aids the cooking—but also makes the stir fry so much more appetizing! The beauty of food such as this is also in how it looks. The second thing which is again obvious is that you shouldn't put too much into the wok or pan. Allow the
veggies and meats
to get a coat of oil. If there is no room for brisk frying and movement of the spatula, there can be no stir frying, after all. Then, of course, there are tips you are not told often enough. Of these, what I find the most useful is to have the veggies absolutely dry before you fry. Else, moisture cooks it in entirely different (and disfiguring) ways.(Also read:
10 Most Popular Chinese Dishes
)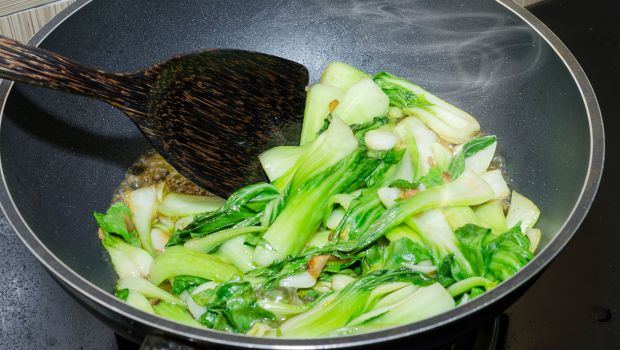 Of the ingredients to stir fry—virtually anything can be, including all the lovely local greens available in different parts of the country. But having grown up with a fascination for Chinese (and
Indian-Chinese
), one of my all-time favourites is the pok choy, or bok choy as it is alternatively called.A type of Chinese cabbage, that doesn't form a head, this is a mildly sweet green (with a creamy whiteness!). What makes it such a star though is the texture—the crispness, that usually gets retained unless you botch up the stir fry completely. No one should cut up bok choy (though I have heard of that); just separate the stems, wash, pat dry and lightly cook. You can add an array of condiments to flavour this one up—from salty soy to sweetish miso, to a creamier
almond
sauce, and it all works quite well. In fact, the pok choy can be the perfect side dish to a meatier meal too—especially saltier meats that get contrasted quite well with its sweetish flavour..
Like all other
cabbages
, this one is ideal for those going on a diet. More than 90 per cent of it is water, there's just 2 per cent carbs and 1 per cent fat. What you have instead is
fibre
, as well as those micro-nutrients like
vitamin
A, C and K, folate and even moderate amounts of calcium. So it is quite a nutrient rich food overall.In fact, Chinese medicine has used it traditionally in various cures. It was regarded as having cooling properties and thus used to treat stomach ailmets and
fevers
. Because of the vitamin C perhaps, it was also used to cure colds.It's one of the oldest cultivated vegetables in the world – having been known in China since the 5th century. That it is still regarded as exotic in our midst is somewhat a mystery, especially because it is so easy to grow.
About the Author:Anoothi Vishal is a columnist and writes on food for The Economic Times and NDTV Food, and runs the blog a moveablefeast.in. She tracks the business of restaurants and cuisine trends and also researches and writes on food history and the cultural links between cuisines. Anoothi's work with community-based cuisines led her to set up The Great Delhi Pop-Up three years ago, under which she promotes heritage, regional and community-based cuisines as well as researched and non-restaurantised food concepts. She has also been instrumental in reviving her own community's Kayastha cuisine, a blend of Indo-Islamic traditions, which she cooks with her family and has taken across India to a diverse audience.Disclaimer:The opinions expressed within this article are the personal opinions of the author. NDTV is not responsible for the accuracy, completeness, suitability, or validity of any information on this article. All information is provided on an as-is basis. The information, facts or opinions appearing in the article do not reflect the views of NDTV and NDTV does not assume any responsibility or liability for the same.