The art and sophistication of
Mughlai
preparations have caught the fancy of food lovers throughout centuries. For India, the Mughal era officially began with Babur's rule in 14th century A.D. The word "Mughal" means "Mongol" in
Persian
, and Babur adopted the term 'Mughal' to refer to his Mongol heritage. But it turns out that the 'Mughlai' culinary influence reached the Indian shores much before Babur step his foot in Delhi. For instance the Chicken Changezi, a popular chicken delicacy popular in the Northern part of the country, is said to have its link with the Mongolian ruler and invader Ghenghis Khan.
MasterChef India 2016 contestant Chef Sadaf Hussain says, "History of Chicken Changezi is very mixed and nobody really knows the reason why this dish is named so. It is believed that this dish is named after the formidable 13th century Mongolian warrior, Genghis Khan or as Indians would like to call him Changez Khan. He was very particular about his dish and the amount of spices that was used. One of his chef experimented with the chicken dish to suit his taste buds, which resulted in impressing the king. This dish was prepared in milk and cream which cut the spicy flavour of the food. Chicken Changezi is made with roasted chicken in tomato-based gravy and can be enjoyed in several culinary hotspots of Purani Dilli.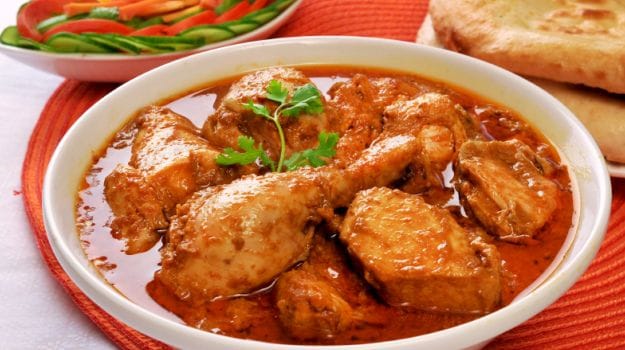 Chicken Changezi is made with roasted chicken in tomato-based gravy
He adds," However, the other side of the story makes the conjecture pretty doubtful. It says that Genghis Khan or (Changez Khan) never happened to visit Delhi; he did come pretty close though, making it as far as the Indus, but never really to the walled city. This dish uses a lot of Indian spices which was alien to the Mongol army and hence there might not be a direct connection to the King."
It is said that the Mongols kept threatening to invade Delhi, going even as far to sack Lahore, but the wise administration and politics of the Delhi sultanate kept them from ruining Delhi. This constant point of contact led many Mongol residents to take shelter in the suburb outside the city walls, which was known to be called 'Mughalpura', (somewhere near Paharganj today). Mughalpura may not have survived the tides of time, but their culinary practices stayed. Chicken Changezi is often dubbed as a brainchild of those marvellous cooking techniques. Interestingly, 'Changezi' is a popular surname across Pakistan and Afghanistan; people with this family name claim descent from the Mongolian ruler Changez Khan.
The subtle gravy made with a handful of Indian spices stood its own among the host of spicy Mughlai gravies that followed. In the streets of Old Delhi, Chicken Changezi makes for one of the most popular Iftar dishes during Ramzan.
Chef Sadaf says, "The best place I have ever visited to enjoy the delicacy has to be Al-Jawahar in Old Delhi or Changezi Chicken in Daryaganj. Chicken Changezi primarily comprises rich gravy made of milk and cream with ginger garlic paste, tomato paste, coriander powder, chilli powder and garam masala. Chicken is first roasted and later cooked with gravy to give it the perfect taste."
Chicken Changezi is best enjoyed with Roomali Roti or Naan, however, teaming it with rice is also not a bad option. Have you had the lip-smacking curry yet? Do share with us the experience.
About Sushmita SenguptaSharing a strong penchant for food, Sushmita loves all things good, cheesy and greasy. Her other favourite pastime activities other than discussing food includes, reading, watching movies and binge-watching TV shows.