Custardy Pumpkin Flan Pays Homage To Portuguese Sweets
Thomson Reuters | Updated: November 18, 2016 12:55 IST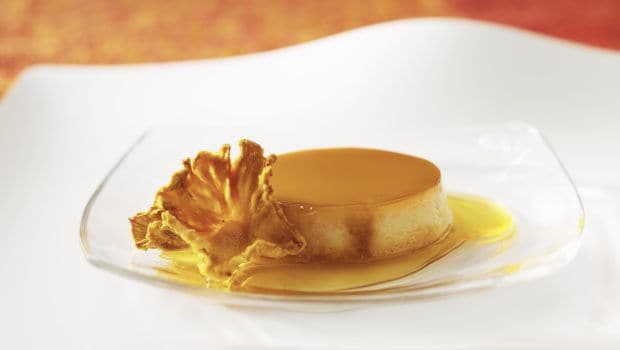 pastry shop and you might think you've walked into a lab where a mad scientist had been imprisoned for years with nothing to experiment with but sugar and eggs.

And that analogy may not be so off the mark -- many of the country's best-known desserts may have originated in convents, where intelligent, educated women were cut off from the world around them. If necessity is the mother of invention, boredom is doubly so.

The Portuguese have a mind-boggling repertoire of egg-based desserts -- they make dozens of flan-like preparations, puddings and egg-filled pastries. Some bakers add almonds, others candied fruit or marmalade, and many use a form of caramelized sugar.

The national dessert -- pastel de nata -- is a caramelized custard tart. Recipes calling for 16 or even two dozen egg yolks are not uncommon. One classic convent recipe for ovos-moles de Aveiro (a candied pastry filled with custard) calls for a pound of sugar and 30 yolks! Why so much sugar and so many eggs?

Raw sugar + extra egg yolks = Portuguese custards

The little country on the edge of the Atlantic had an outsized influence on the course of history, first in opening up the spice trade routes to the east, but perhaps more important, it established sugar colonies on islands in the Atlantic and then in Brazil. While the rest of Europe was using sugar as an expensive spice, the Portuguese concocted confectionery with the sweet white gold pouring in from Brazil.
And it just so happened that the convents received tribute from the local peasantry in the form of eggs.

In the early days of the trans-Atlantic trade, sugar was raw when it arrived in Europe and required refining. This was done by boiling it with water and then stirring in some form of protein that then coagulated, carrying the impurities with it. Blood was often used for this, but a more refined approach was to use egg whites, which left hundreds of leftover of yolks.

A perfect opportunity for the nun-mad scientist. The result? Scores of egg and sugar recipes, of which perhaps the oddest is fios de ovos. For this concoction, egg yolks are cooked in syrup, which creates a texture that's like sweet, shredded tempeh. (Thai cooks later adopted this and renamed it phoi tong.)

Given this history of egg mania, it's hardly surprising that the Portuguese custard repertoire is especially prolific. Most Americans are familiar with the Spanish flan, a custard baked in caramel-lined pan and turned out just before serving, with the caramel sauce poured on top.
Varieties of Portuguese flan

The Portuguese call this pudim flan, and I've eaten versions that were as smooth as crème brulée and others that were denser than a New York cheesecake. But that's just the beginning. In a yolk-free rendition called a Molotoff, the baker cooks a meringue in a flan dish and tops it with liquid caramel. There are pudims made with almonds, pumpkin, bread crumbs, lard, even chopped up blood pudding!

Unlike some of Portugal's more extreme pudims, the concept of a pumpkin flan fits nicely into an American autumn repertoire. After all, a traditional pumpkin pie is no more than a pie shell filled with baked custard.

The following recipe is inspired by a holiday dessert from northern Portugal that includes two types of winter squash jam (a local staple) as well as lard and ham. In the absence of pumpkin jam, I've adapted the recipe to focus on the winter squash and almonds. You'll get a far superior flavor and color if you use kabocha squash. If you want to use fresh pumpkin, make sure to buy a beige cooking pumpkin (sometimes called a "cheese" pumpkin). If you're short on time, use canned pumpkin.

Cut the squash or pumpkin into large wedges, discard the seeds, wrap the wedges in foil and bake in a 350 F oven until very soft, about 2 hours. You'll need about 1 1/4 pounds of the squash and double the amount of pumpkin for this recipe. If you use the kabocha squash, purée it and you're ready to go. If you use pumpkin, drain the puréed flesh overnight in a coffee-filter-lined sieve or colander until it's as thick as Libby's. The Portuguese cook their flans in a ring-shaped mold, a little like an angel food cake tin, but all of a piece. You can certainly use an 8-inch cake pan instead.

Portuguese Pumpkin Flan with Almonds

Prep time: 1/2 hour
Baking: about 1 hour
Cooling: 4 to 6 hours
Total time: 7 1/2 hours
Yield: 8 servings

Ingredients

Caramel:

1/2 cup granulated sugar
2 tablespoons water
Butter for greasing pan, if needed
Custard:
1/3 cup water
1/2 cup granulated sugar
2 slices lemon (with peel), each 1/2 inch thick
5 ounces (about 1/2 cup) almond paste
3 large eggs
3 large egg yolks
14 ounces (about 1 2/3 cups) pumpkin or squash purée
3/4 teaspoon ground cinnamon
1/4 teaspoon pure almond extract
Almonds, sliced and lightly toasted for garnish

Directions

1. Preheat oven to 350 F.

2. To make the caramel: Combine 1/2 cup sugar and 2 tablespoons water in a small saucepan. Bring to a boil over moderate heat and cook until sugar turns a golden brown. Do not stir.
Handling the pan with oven mitts, pour the caramel down the sides of a 5-cup flan pan or 9-inch cake pan, and tilt the pan to cover all surfaces. Once cool, grease exposed surfaces with butter.

3. To make the custard: In a small pan, combine 1/2 cup sugar, 1/3 cup water and lemon slices. Bring to gentle simmer over moderate heat and simmer 5 minutes. Allow this syrup to cool, then discard the lemon slices.

4. In a food processor, pulse almond paste until broken up. Add one egg at a time, puréeing the mixture after each addition until smooth. Add the squash purée, egg yolks, cinnamon and almond extract and process until smooth. Finally, stir in the cooled sugar syrup.

5. Place the caramel-lined pan in a larger baking pan with at least 2-inch sides. Spoon the custard mixture into the flan pan and transfer both pans to the middle shelf of your oven. Carefully pour boiling water into the outer pan so it comes about halfway up the outside of the flan pan. Bake until a toothpick inserted into the center comes out clean, 45 to 60 minutes.

6. Cool to room temperature and then chill at least 2 hours. To unmold, place a large serving plate over the flan pan and invert. Spoon caramel sauce over the top and garnish with sliced almonds.


(This story has not been edited by NDTV staff and is auto-generated from a syndicated feed.)


Enter a Portuguese