Many cafes and Lebanese restaurants today feature mezze platters on their menu. This attractive 'snack' board has many elements: dips, breads, crackers, veggies, cheeses and sometimes even fruit. Together, these mini appetisers form the perfect beginning of a meal. Have you wondered if you can make this platter at home? Do you feel that it looks too fancy to be easy? The truth is, the individual components of a mezze platter are made using simple, everyday ingredients. Cooking them is not too complicated and many of them have great shelf-life (so you can prepare them in advance and store them for future use). Whether you want to amp up your party or simply try something new for Sunday dinner, a mezze platter is the way to go! Here's how you can put one together at home:

What To Add In A Mezze Platter | Main Components Of A Veg Mezze Platter
This platter can have as many elements as you wish, but it is important to maintain a balance. Here are some of the most typical choices:

1. Hummus
This is one of the most common elements on a mezze platter. Even if you don't have any of the other spreads on this list, do ensure that you include hummus. Why? Firstly, because it goes with everything - breads, crackers, veggies and more. Secondly, traditional hummus has a subtle flavour and a smooth mouthfeel that makes it perfect as an appetiser. It also helps balance the spicier elements on the platter. Hummus is made using chickpeas (white chana), garlic, sesame, olive oil and basic seasonings. You can also choose to give your own twist to it by using red peppers, black beans, avocadoes, carrots, etc. Click here for the full recipe.

(Also Read: 6 Of Our Favourite Hummus Recipes For You To Try)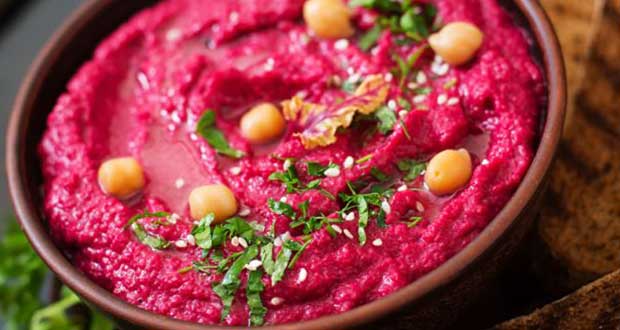 Hummus can be prepared in different ways. Image Credit: istock


2. Baba Ganoush
Another popular spread of Middle Eastern origin, Baba ganoush is made of eggplant (brinjal or aubergine), garlic, sesame and seasonings. This dip has a smoky flavour as the eggplant is roasted before it is blended with the other ingredients. Including baba ganoush on your mezze platter brings a whole new flavour to be enjoyed. Click here for the full recipe

3. Pita Bread
Many people would consider a mezze platter incomplete without pita bread. This is an important soft component of the platter and is light to consume. You can easily bake it at home or opt for a store-bought one. Make sure to cut the pita bread into small slices and warm it slightly with olive oil before serving it. Click here for the full recipe.

4. Lavash crackers
Crispy lavash crackers are the perfect accompaniment to the dips on a mezze platter. To make them, all you need is flour, olive oil, salt, sugar and sesame seeds. You don't even need yeast! You have to combine the ingredients to form a dough and later cut it into thin triangles. Top with seeds of your choice and bake - it's that simple. Click here for the full recipe.
Lavash crackers add crunch to mezze platter. Image Credit: iStock
5. Falafel
Falafel are small fried patties made of chickpeas and/or broad beans. They are flavoured with a range of seasonings and can be a good way to introduce spice to your platter. These melt-in-the-mouth snacks can be baked, shallow-fried or deep-fried. Click here for the full recipe.

6. Cut Veggies
A great way to add some freshness to your platter is to add veggies like lettuce, carrot, radish, cucumber, etc. The point is to add slices of vegetables that can be used to scoop up the spreads on the platter. You can also keep a small bowl of cherry tomatoes and olives for a pop of colour as well as flavour.

7. Tabbouleh
Tabbouleh is a grain salad made with bulgur wheat, herbs (especially parsley), tomatoes, lemon juice, and olive oil. It is very simple to make, but adds an impressive texture to your platter, along with the lovely freshness of the herbs. Click here for the full recipe.

Tips for the perfect mezze platter

Invest time in presentation:
Think about how you want to place each component on the platter. Keep the colours of the veggies and dips in mind to combine them attractively. Don't just spoon the spreads into a bowl. Garnish them with herb leaves or spices to make them look fresh. Use colourful pieces of crockery wherever possible.



Put in extra efforts:
Adding a dip like a spicy Muhammara, a flavourful labneh or a creamy Tzatziki takes your platter to the next level. These dips sound complicated but they are actually easy to make at home. Another touch that you can add to your platter is a sweet element in the form of cut fruits like figs or grapes. Do something beyond the expected.


(Also Read: How To Make Labneh - This Spicy Mediterranean Yogurt Dip Spells Indulgence)



Be mindful of convenience:
Not all the components of the platter can be eaten by hand. Even if they can, your guests might be more comfortable using a toothpick or small fork. So keep those handy, along with tissue papers. Additionally, be careful not to overcrowd the platter. Ensure that others can easily pick the elements up and enjoy them.



Prepare in advance:
Most of the elements of a classic platter can be prepared well in advance. You can make and refrigerate the dips, while the breads and crackers can be stored in a cool place. Plan in advance so that you can cook the components earlier and have more time for presentation later.



So, what are you waiting for? Start preparing to make this platter for a special meal this weekend!
About Toshita SahniToshita is fuelled by wordplay, wanderlust, wonderment and Alliteration. When she is not blissfully contemplating her next meal, she enjoys reading novels and roaming around the city.