To call Durga Puja a five-day long carnival for Bengalis may not be an entirely wrong assessment. From wearing the best of clothes or participating in the many cultural events like poetry recitation, singing and dancing events, to the simple joy of 'adda' with friends, old and new, and binging on piping hot Mutton Chops, Egg Rolls, Mughlai Paratha and Fish Cutlets - if this is not carnival, we don't know what is!
My earliest childhood memories of a festival has been that of the feasting, merry making and pandal hopping of Durga Puja. Deciding what to wear on the three main days of Durga Puja- Saptami, Ashtami and Navami, has been a puja highlight of its own, preparations for which begins months in advance. But as I grew up, I realised that Durga Puja is much more than just drowning yourself in the festive opulence these three days. The puja dedicated to Goddess Durga and her epic battle against the invincible demon Mahishasura, is symbolic of the inevitable triumph of good over evil. Each day of Durga Puja has its own significance, and each ritual and celebration associated to that day holds importance.

For instance, the Ananda Mela, the tradition usually celebrated on the fifth (Panchami) or sixth (Shashti) day of Durga Puja, where a host of local women offer home-cooked food on the evening before the puja begins. They put their specialties out on display in the stalls and sell it to all those fond of good food and feasting. And this feasting also has relevance. We believe that for these couple of days, Maa Durga visits earth, which also happens to be her maternal home. And like any daughter who comes to visit her maternal family, she is pampered with the best of delicacies, prasad and bhog. Her devotees too then partake in the feasting and make merry till the time she departs for heaven.
"Anandamela is one of the first rituals of Durga Puja," says Mr. Shymashis Bhattacharya - President, Maitree Cultural Association for the Sarbojanin Durgotsav 2017, at Swagat Park Link road Malad West.
"Anandomela, the food festival is above all traditional pop-ups aimed at bringing the best of home chefs with delicious and mouth-watering delicacies. We primarily insist on home cooks to set up a stall at the pandal. The idea is to promote whatever they cook. This year we had around 15 stalls, which will consist of authentic Bengali cuisines. From Egg Chops and
Chicken Kebabs
to
Rosogollas
, Gokulpithe, Pathisapta, Lancha, Ghugni, Jhal Moori,
Kosha Mangsho
, Rosbora, Dahi Bara, Chicken Keema Pav,
Chicken Biryani
, Sandesh and a lot more. We really appreciate the efforts put in by all the homemakers and their families who lend them a helping hand in putting forth a good show, " he adds.
Mr. Ashok Chakrabarti, part of the Antaranga Puja Samity-Mayur Vihar says, "We have been conducting the Ananda Mela for past 20 years. Each year the turnout is only growing, about 10-15 women participate with their delicious home-cooked food foraying several specialities like, biryani, kosha mangsho, mutton chops, and home cooked bengali sweets made of coconut, chenna and jaggery."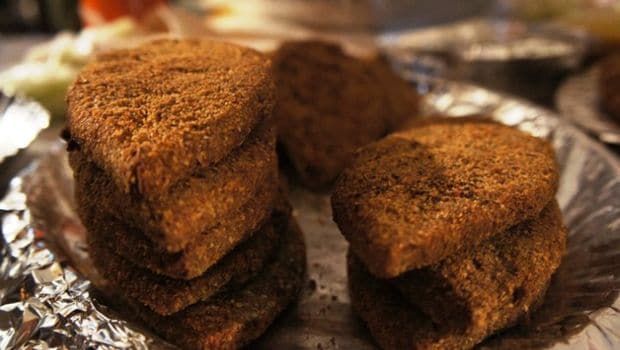 I happened to visit the Ananda Mela that took place at B- Block, C.R Park, Delhi on Tuesday and was awed by the many stalls and delightful home cooked preparations. Choosing from the 30-40 stalls lined across the field was quite a task, and with the variety of mouthwatering traditional Bengali food we stuffed ourselves with, we would like to believe, we made good choices. Here are certain foods that impressed us the most.
Prawn Cutlet:
We started our binging session with the Prawn Cutlet, which was priced at INR 50 each. Crispy on the outside and tender on the inside, the Cutlet was the best start to our hogging-trail
Nonta Bada:
Next came the Nonta Bada, a vada made of dal which was served with a delicious accompaniment of
kasundi
(a pungent mustard sauce).
Mutton chop:
Next we set our eyes upon the spice loaded Mutton Chop, which was again priced at INR 50 per piece. The wholesome chop was filled with minced mutton and a spice mixture which raged an instant explosion of flavours.
Mutton Ghugni
: After devouring the Mutton Chop, we went straight to the counter selling Mutton Ghugni. Ghugni is a spiced chickpea or Bengal gram-based curry which can be enjoyed by itself or as a meal with hot
luchis
. While it is essentially a vegetarian dish, some people like to add minced mutton (keema) or mutton chunks to it. The Mutton
Ghugni
that we tried was flavour packed and had a generous adding of mutton chunks.
Chicken Biryani: Next we went to the counter of Ms. Sumita Chakrabarty, who is a veteran in participating at Anand Mela. Ms. Chakrabarty has been preparing and selling her delicacies at the B Block Anand Mela for over 10 years.

This year she was offering Chicken Biryani and Ghugni. She was selling Chicken Biryani at INR 220 a plate. We took half a plate and instantly fell in love with the delicious biryani with perfectly cooked rice and succulent pieces of chicken.
Shammi Kebabs: With so many options around, it is only natural for the eyes to wander (despite being stuffed till the neck). So our next stop were the tender Shammi Kebabs.
Patishapta: Lastly, we dug into Patishapta (a popular Bengali dessert,). Patishapta are thin crepes made with refined flour, rice flour and semolina, which are stuffed with a coconut and jaggery filling) to close our wonderful trail of feasting.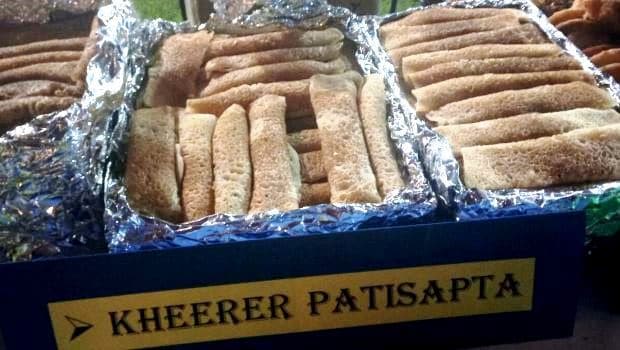 In this season of festivals, if you are looking to feast till your heart's content, make sure you visit one of these Ananda Melas. There are plenty of pandals who would be conducting it today too. Make sure you grab a bite of some amazing home cooked food at these pandals.
Happy Durga Puja 2017!
About Sushmita SenguptaSharing a strong penchant for food, Sushmita loves all things good, cheesy and greasy. Her other favourite pastime activities other than discussing food includes, reading, watching movies and binge-watching TV shows.