Feasting in God's Own Country: 5 Dishes Worth Trying in Kerala
Anoothi Vishal | Updated: July 19, 2017 12:00 IST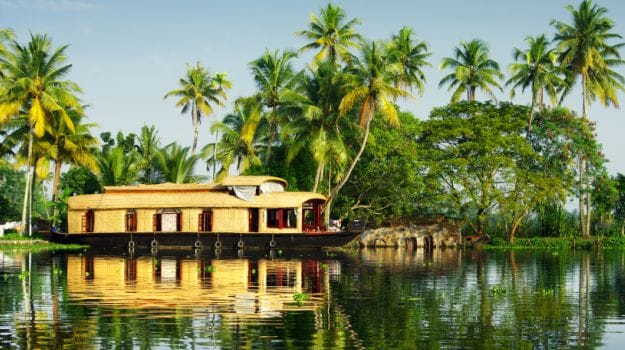 It is the month of the "temple festivals". That is what I discover as I drive down, at dusk, from Tiruvananthapuram to Kollam, the ancient trading town by the Ashtamudi Lake. The beautiful, distinctive local temples that dot the way, standing sentinel to so much history, are all lit up. A thousand lamps have set one in particular aglow; a bunch of dancers standing in picture postcard perfection in the periphery, ceremonially praising the good lord.

(A sweet, sweet temple: Where God and devotees get chocolates)

If a moment could be frozen in time, it may be this. Such is the beauty and splendour. It was almost as if orchestrated by campaign-makers for "God's own country." But this is no ad shoot; merely an annual ritual, where families from the local villages return from "the Gulf" or wherever else they've migrated to and propitiate the family deities in these beautiful ceremonies. I am smitten.

('Ethiopian Coffee Ritual Great For Bonding'​)

The Lesser Known

Despite its reputation as a port (it was mentioned by Ibn Batuta in the 14th century as a prominent one), today's Kollam is quieter, non-touristy compared to its flashier cousin Kovalam. Much of tradition exists away from the beaches, including Ayurveda. And should you decide to tuck yourself away far from the madding backwaters crowd, this could be your ideal retreat.
At the Welcomhotel Raviz, when I check in, that is the general plan. To sleep, eat and repeat. It is executed to perfection. The land is bountiful; there are mangoes fresh from the trees on the premises, star fruits and many veggies, and there is fish got fresh from the local market, where the catch of the day is sold, no, not by Japanese trawlers, but by the small, local fisher folk, returning home after, perhaps just a few days out in the sea. And all these are fashioned into exquisite local dishes by chef Satyan Pillai, who has a home nearby, and is rooted firmly in this land of his people despite having roamed the wide world. With each meal, I discover, there is so much more to Kerala than "fish" curry, and that, of course, local micro-cuisines exist as they do all over India.

As part of the Travancore kingdom, Kollam has had a mixed culture — parts of it are known to be the hub of the Syrian Christian community, even though this was also the traditional Brahmin area, abounding in vegetarian food. Trade with the Chinese (you can still see some Chinese fishing nets on the Ashtamudi), the Arabs, the ancient Romans et al have meant that cuisine is as exciting as it gets in a cultural melting pot. You can go on eating for days without having to repeat yourself. But if you do check in for some R&R, here are the most unusual meals you could try:

(Indian food will taste better with our top 5 unusual pickles)

1. Sadya: This is the ceremonial vegetarian meal cooked on weddings and festivals like Onam. At my hotel, local Kollam women come in to cook the feast which consists of almost 20 dishes eaten off a banana leaf in different courses. We sit on a lovely terrace overlooking the lake as the leaf is spread out before us and dishes served according to a strict protocol.

The dishes are laid out as thottu curries (flavourful curries in small quantities) and ouuicha curries or "pouring" curries. Tea spoonsful of salt, mango, lemon and ginger pickles are followed by banana chips, papad, sharkaravuruty (crispy banana in jaggery) and kondattam (dried salted chilli). The thottu curries include: kichadi (yoghurt and cucumber), pachidi (sweet form of kichadi, made with pineapple, beetroot, grapes and coconut), Madhura curry (yellow pumpkin and dal), chammanthi (grated coconut and raw mango), thoran (dry cabbage or mix vegetables with dal and coconut), avial (mixed vegetables stewed in grated coconut and cumin), kootu curry (gourd with chana dal), and olan (white pumpkin with coconut milk and gram dal); which are all to be eaten with the red Kerala rice.

But you can't be overwhelmed just as yet. Ouicha curries (ladle-full) follow, to be eaten with more red rice. These include parappu with ghee, sambar, pulisheery, rasam, and mooru (buttermilk). And finally there is dessert. Typically: Ada pradhaman (jiggery-based ghee payasam) and semiya payasam (milk-based). It is a meal to remember.

(10 Best Onam Recipes)

2. Kappa biryani

So everyone knows about the Malabar or Thalassery biryani of the northern part of the state. Locally grown Khaima rice is used, and the way the biryani is cooked is pretty distinct from how it is done in northern India. Ghee rice is first cooked, which is then topped with chicken masala (cooked with browned onions and spices) and is finished with rose water, mint and dried fruits like cashews, also abundant in the region.

The Kappa Biryani is made on the same lines, but with tapioca instead of rice. So it really is tapioca and chicken mash, flavoured with spices. And it is addictive. If rice is a staple in Kerala, the hardy tuber tapioca is a fair substitute, especially in this region, where typically kappa and fish curries are served, fresh. But try the kappa biryani for the most unusual treatment of tapioca. (From Staple to Delicacy, Tapioca Comes of Age in Kerala)

3. Khozikode Haluv

If the biryani came to Kerala through trade interactions with the Arab world, the haluva came similarly. A common sweet at all Kerala bakeries, this is different from what you may find in north or central India, and hence not immediately recognisable for what it is. Made from maida (instead of semolina) and cooked in diverse flavours – banana, ghee, coconut, cashew, dates, tender coconut, even jackfruit— the texture is distinctive. In fact, it resembles the Karachi halwa closely. Apparently, the Europeans dubbed it "sweetmeat' because of the texture (a street in Calicut was named Sweet Meat Street, S.M. Street), says chef Satyan.

A variant of the haluva is the karutha haluva, a black haluva made from rice and is a speciality of northern Kerala's Muslim homes.

(Karachi Halwa)

4. Karimeen pollichathu and Netholi Peera

Local gastronomy is big in a land as fruitful as Kerala. And if you are by the Astamudi, you should certainly try some local fish. I try the Karimeen Pollichathy, a speciality from here; the pearlspot fish native to the backwaters. The fish is marinated in dry spices, shallow fried to make the skin crisp and then wrapped in a banana leaf and cooked with a local masala of shallots and kodampuli (a tamarind-like fruit, used to sour the Travancore fish curries).

Netholi, on the other hand, are fresh sardines, cooked with grated coconut, fresh chillies, curry leaf, and a hint of turmeric.

(Karimeen Pollichathu)

5. Puttu and pathiri: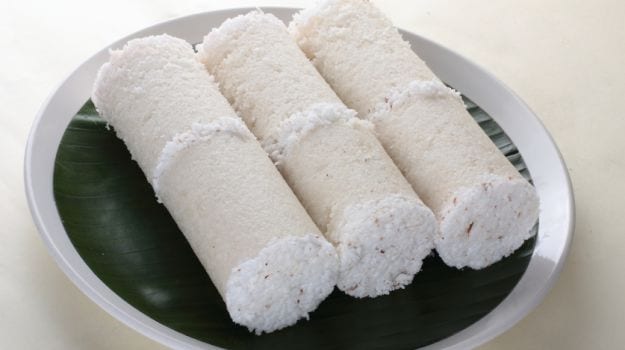 So we all know appam, but these are the more elusive rice eats. Puttu is rice powder with grated coconut steamed in cylindrical moulds, and eaten with kadla curry and black grams for breakfast. Pathiri is thin rice pancakes from the Malabar, usually eaten at dinner with fish or meat.

(Puttu)