Images via Pappadavad/Facebook
There exists a mechanism of imbalances around us. These imbalances are numerous, affecting almost every strata of the society and millions across the globe. Uncontrolled usage by few leads to scarcity for many. Our water was already impure, now it is so scarce that many regions around the world are facing acute
water
shortage. Climate change is messing with the regular ebb and flow of seasons, playing around with and often devastating the annual
harvest
.While man is encroaching and spreading his tentacles into the earlier untouched territories of mother earth, green cover is decreasing at an alarming rate. And where there is no scope of horizontal expansion, lives are rapidly piling up on each other to what we call as 'high rises'. While we buy another car and add to the already worsened state of
air pollution
, we also go ahead and buy devices that clean that very same air (albeit only for us). And, as we speak of people sleeping on an empty
stomach
, someone just trashed their leftover
biryani
in the bin behind me!
Let's face it, resources were always scarce, but the present situation is more than grim. In the wake of such circumstances, the least that can be done is to keep a check on our resources, use as much as needed, conserve and be watchful of wastage.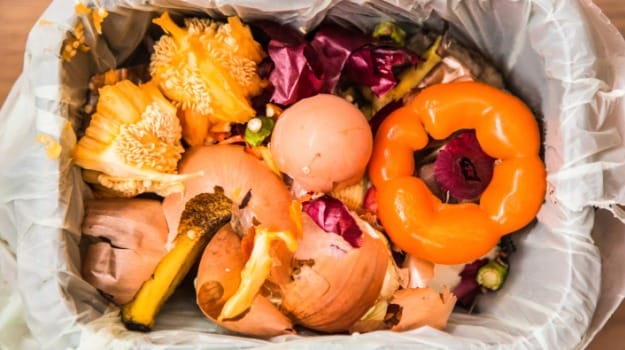 Minu Pauline, owner of a restaurant in Kochi, Kerala, has set a brilliant example by devising a novel way to check food shortage. "Every day there was a huge quantity of food getting wasted at my restaurant. I was shocked to see the amount that went into trash cans. One day as I was heading back home, I saw a homeless person looking for bits of food in the garbage can, I felt so guilty I can't even begin to explain. I then thought of a way to check food wastage at my end," shared Minu.
Minu Paulline worked as a banker with an international bank but quit her job back in 2013 to start her own restaurant Pappadavada at M.G road, Kochi. "Though my first restaurant was a very small eating joint, the day still culminated into seeing large quantities of food getting wasted. As I opened another outlet at Kallur, the problem of food wastage worsened and so did my guilt," she added.
After a brilliant flash of genius, Minu decided to install a fully-operational refrigerator outside her Kallur restaurant wherein all her leftover food can be picked up by whoever is hungry. Caste no bar, age no bar, class no bar. "My patrons also get food and put it in the refrigerator. People have been extremely supportive of the initiative. I keep a strict watch at who is putting in the food, what kind of food it is and who is accessing it," she explained.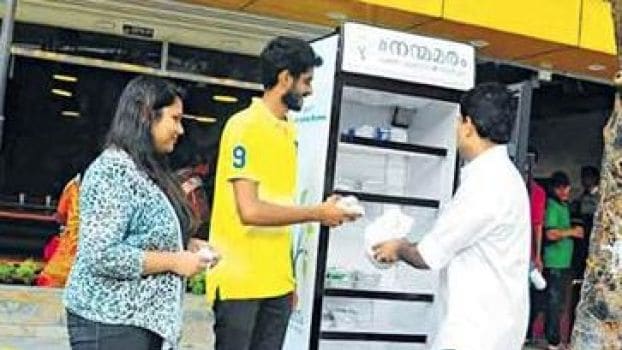 But, does the food actually go to the needy? Since we're dealing with leftovers, chances of food spoilage also loom in - "Till the time the food is going to someone and not in the garbage can, my purpose is achieved. I know there are people who aren't actually needy, who can buy food for themselves, they come and take food from here, but it is food, my initiative is directed toward the poor and needy and 9 times out of 10 times my purpose is served," said Minu.
According to Minu, family parties or gatherings usually end with tons of food getting wasted. Many of her patrons neatly pack these food items and keep them in the refrigerator. She has everyone mark their food parcels with the date when the food was cooked, so that food spoilage can be kept into consideration. "Usually all parcels are finished within hours, at the end of the day it is free food, why will it ever get carried on to the next day? I usually keep at least 50 food packets from our end, then there are others who contribute and all of this gets picked up in just a span of hours," noted Ms. Pauline.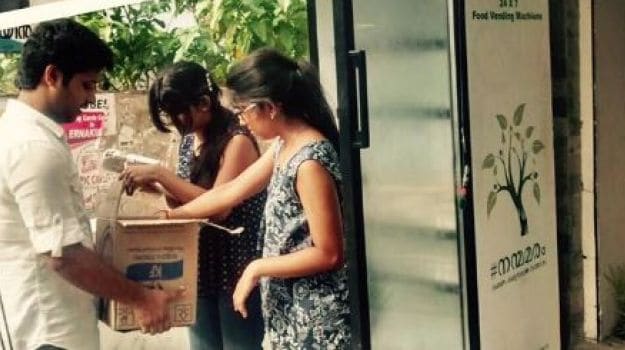 Minu's initiative kicked off on March 23rd 2016, ever since there has been no looking back. "I used to spot an old nanny with a baby every day, wandering and looking for food, now they depend on us, I feel extremely happy," chuckled Minu. There has been no report of food spoilage so far, as Minu suggests there have been an outpour of local people offering to add on to her initiative by getting their leftovers as well. "I don't allow people to 'buy' food and keep it in the fridge, I wanted to keep a check on food wastage and direct in a way to people who really are in need of it," concluded Minu.
So far there has been no food wastage in Minu's kitchen but happy faces and full tummies all around. People like Minu Pauline and Prajakta Samant, the initiator of a recent water conservation campaign #Jitnipyaasutnaglass, serve as a wave of much needed inspiration and courage. These are baby steps but they help build a road leading to sustainability. "I just hope people and restaurants take food wastage seriously and start acting on it now, it is now or too late." hoped Minu.