The festival of Ganesh Chaturthi is just around the corner, and it is celebrated with tremendous enthusiasm in India. It is an important festival widely celebrated every year in states such as Maharashtra, Gujarat, Karnataka, and Rajasthan. This is a 10-day long festival, which will commence on September 19, 2023, and continue until September 28 this year. People across the country are busy preparing to welcome Lord Ganesha into their homes. During Ganesh Chaturthi, you'll find pandals everywhere, and people also install Ganesha idols in their homes, bidding farewell to Bappa by immersing him on Anant Chaturdashi (the 10th day of Ganesh Chaturthi). Like other festivals, special dishes are prepared on the occasion of Ganesh Chaturthi. If you're planning to install the idol of Lord Ganesha this year, we've compiled a list of 10 special dishes that you can offer to Lord Ganesha. Let's explore these delightful recipes.


Also Read: Love Aloo Corn Cutlet? Now Make It With Less Oil In An Air Fryer
10 Bhog Recipes for Ganesh Chaturthi 2023:
1.Modak
Modak, a favourite sweet of Lord Ganesha, is a dumpling with an outer layer made from rice flour. Coconut and jaggery are used for the filling; this is the classic way to make modak. However, various versions are available. Please Lord Ganesha by offering 21 Modaks in your bhog. Click here for the recipe
2. Motichoor Ladoo
Following Modak, Motichoor Ladoo is the second most popular sweet offered to Lord Ganesha. These delicious ladoos are made by mixing small boondi made from gram flour, ghee, and sugar syrup. You can also offer these ladoos to Lord Ganesha on the following day if you wish. Click here for the recipe
3. Suji Halwa
Suji Halwa is a popular Indian dessert made from semolina and sugar syrup. In India, Sooji Halwa is typically prepared during pujas, and it is also known as Rava Sheera. After roasting the semolina with desi ghee, cardamom powder and sugar syrup are added. Finally, it is garnished with dry fruits. Click here for the recipe
4. Puran Poli
Puran Poli is a popular recipe made on many occasions in Maharashtra. It is made by filling stuffing prepared from gram dal and jaggery into a flour roti. It is prepared in many homes to offer to Lord Ganesha. Click here for the recipe
5. Coconut Barfi
Coconut Barfi is also an excellent choice as bhog on this occasion, and it is straightforward to make. To make this barfi, you need grated coconut, ghee, khoya, almonds, pistachios, and sugar. You can prepare this delicious dessert in minutes. Click here for the recipe
6. Makhana Kheer
Kheer is often made in Indian homes during festivals, pujas, or any special occasion. Today, we're sharing a special recipe for Makhana Kheer, perfect for offering during pujas. To make Makhana Kheer, you'll need milk, makhana, cardamom, and dry fruits. Click here for the recipe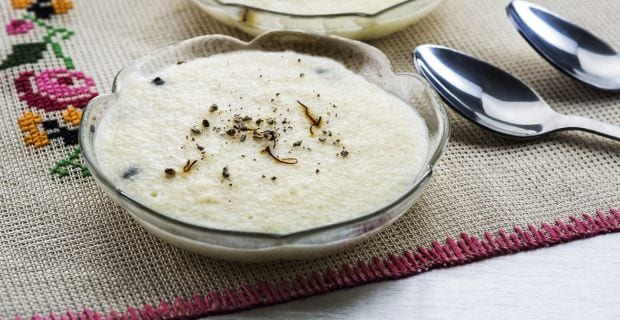 7. Kesari Shrikhand
This is a delectable dessert that can be prepared on special occasions and festivals. Kesar Shrikhand is made with curd, cardamom, sugar, and saffron. After it cools down, it is garnished with dry fruits and served. Apart from Ganesh Chaturthi, you can also make this dessert on the festival of Gudi Padwa. Click here for the recipe
8. Patholi
Patholi is a steamed sweet dish made during festivals, especially during Ganesh Chaturthi. To make it, you'll need turmeric leaves, dosa rice, a handful of flattened rice, coconut powder, jaggery, and cardamom powder. Click here for the recipe
9. Besan Ladoo
You can also make besan ladoo for the celebration of Ganesh Chaturthi. Besides roasting gram flour in ghee, add sugar, cardamom, and dry fruits. You can also store these ladoos for a few days. Click here for the recipe
10. Malpua
To make Malpua, prepare two different batters from flour and khoya. Later, after making both batters, apply ghee and fry them on low flame. After dipping Malpua in sugar syrup, sprinkle almonds, pistachios, and saffron on top and serve.Click here for the recipe


With these delicious bhog recipes, you can celebrate Ganesh Chaturthi 2023 with great joy and devotion. These offerings will surely please Lord Ganesha and add a delightful touch to your festivities.


About PayalFood in the mind, Bollywood in the heart - these two things often shimmer in Payal's writing. Besides penning thoughts, Payal enjoys a playful tango with new and delicious recipes. Roaming around is her jam; whether catching up on the latest flicks or grooving to the beat, Payal knows how to keep her empty moments brimming with flavour and rhythm.