Give a Twist in Taste to Norwegian Salmon
Indo-Asian News Service | Updated: December 09, 2016 14:18 IST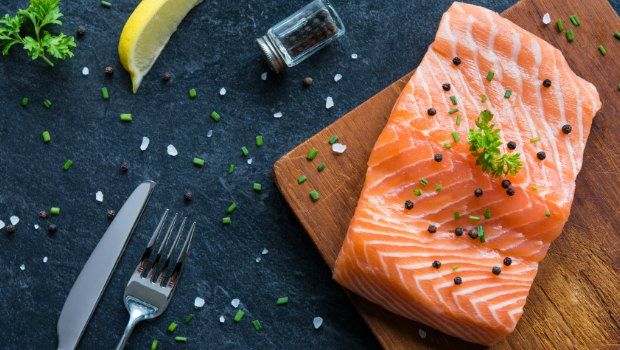 salmon given a desi twist in flavour? How about having Amritsari tawa salmon or Norwegian salmon kebab with coriander yoghurt for a change in taste?

The Norwegian Seafood Council for India in collaboration with lifestyle superstore Foodhall at DLF Place Saket organised a live kitchen event here that celebrated the season of fresh, wild-caught salmon with an Indian twist.

During the session, the chefs came up with some interesting recipes and taught how to cook the Norwegian salmon with Indian spices and masalas and presented dishes like smoked Norwegian salmon with rice salad, tender Norwegian salmon kebab served with coriander yoghurt and Amritsari tawa salmon presented with Pindi chana and onion rings.

Norwegian salmon is prized by chefs and food lovers around the world for its flavour and versatility. It can be steamed, fried, grilled and even enjoyed as a curry - and that is its speciality. Norwegian salmon is growing immensely popular among Indian and Asian food lovers owing to its versatility of cooking.
All the dishes carried a perfect balance of Indian spices and while the taste of Indian spices was evident, it did not kill the salmon's original flavour.

"People are not aware of how easily salmon can be cooked and easily moulded in multiple flavours. More events like this should be organised more to highlight the variety of flavours that can be added to salmon," Yogi Shergill, Vice Counsel, Royal Norwegian Consulate and Director India told IANS.

Shergill further highlighted that Norwegian salmon, which comes in frozen containers, can be easily preserved in a freezer for 18 months at -18 degrees Celsius while if bought fresh - which is usually transported by air - should be completed within eight days.

When it comes to cooking, it is better that salmon is not mixed with too many spices.

"It is better to remain cautious while mixing Norwegian salmon with spices as not all Indian masalas will go with it. This may kill the original flavour of the Salmon," Shergill added.

Norwegian Ambassador Nils Ragnar Kamsvag emphasised that cultural events can contribute in building a strong relationship between India and Norway.

"I liked the dishes very much. It is a great combination of India and Norway. India has got huge potential in terms of trade and also good population of fish lovers. We also hope to get a free trade agreement which will help us to export more fish to India. This will reduce the price of salmon, which is usually expensive," Kamsvag told IANS.

(This story has not been edited by NDTV staff and is auto-generated from a syndicated feed.)


Ever eaten Norwegian