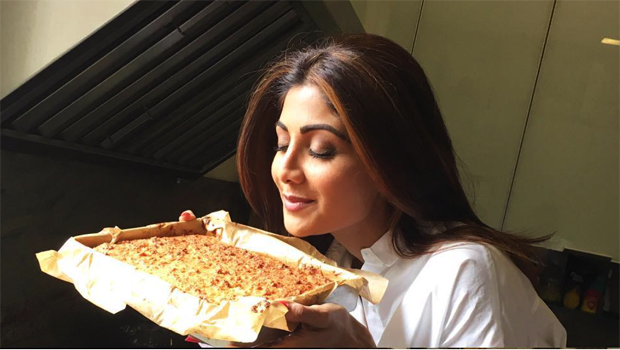 diet tips quite often on social media. A great advice that she's shared with all her followers on Instagram is her idea of the 'Sunday Binge'. According to her, while it is important to follow a disciplined routine regularly, you must give yourself a day off in a week where you can eat and enjoy whatever your heart desires. She feels its a great trick to keep yourself motivated through the week and avoid cravings and we totally agree with her as she's definitely one of the fittest foodies in Bollywood. Sundays are Shilpa's cheat days and you'll find her binging on all sorts of sweets and savouries for her 'Sunday Binge' that she shares every week on Instagram. Shilpa also loves cooking and sometimes she would bake her own dessert to indulge in. We've got you a round up of all the delicious things she's been munching on lately. A word of caution: you may be be tempted to binge. Don't miss out on her videos, they are worth a watch.

Also Read - (We spoke to Shilpa Shetty Kundra & Here Are 8 Secrets She Wants You To Know)1. Mumbai's Aflatoon

With Ramzan festivities in the air, Shilpa enjoyed a famous dessert you'll only find in Mumbai especially in the Ramzan month and is called the Aflatoon. The delicious sweet is made withmawa, rava,desi ghee and milk. Some may even add dry fruits to make it rich. This time around, she was joined by a group of friends and her husband's Raj Kundra who equally enjoyed the Sunday binge.



2. Homemade Ice-Cream Cake

To beat the heat, Shilpa made this beautiful ice-cream cake from scratch at home along with her son to keep him busy during his summer holidays. The lovely cake includes a layer of sponge, strawberry wafers, chocolate cookies, vanilla and chocolate ice cream with crushed honey comb bits. Quite impressive, we must say! Seems like her 5-year-old son, Viaan loved it as she writes "Simple and yummmy! (Children don't lie) Must try it at home".

Also Read - (10 Best Simple Cake Recipe)



3. Waffles with Ice-cream

The aroma of freshly baked waffles is one of the simplest pleasures in life and no one knows this better than Shilpa who enjoyed a plateful of waffles with coconut, salted caramel ice cream and whipped cream on a Sunday at Wenzel's while holidaying in London.


4. Easter Delights

One superstar with another superstar; in this edition of Shilpa's Sunday Binge she is accompanied by Alia Bhatt. They enjoy plate full of irresistible Easter eggs and a carrot and mascarpone cheesecake.

5. Hot Churros

Shilpa Shetty enjoys crisp and deep-fried churros and she's not guilty about it at all because its 'Sunday Binge'. Churros are usually had with hot chocolate sauce but she has them with vanilla ice-cream.

6. Sunday Binge Breakfast

Shilpa's idea of an indulgent Sunday breakfast is a soft Brioche French toast with sticky maple syrup and crispy bacon. Yum, yum.

7. Vanilla Cake and Creme Brulee

Just like Shilpa follows her diet and workout routine obediently, she would never miss her Sunday binge be it anywhere in the world (or rather not!). In this one she enjoys a vanilla cake and creme brûlée in San Jose.


8. Homemade Gluten-Free Coconut and Almond Cake

Another one from her baking days, Shilpa makes a wholesome gluten-free coconut and almond cheesecake along with buttercream and fresh strawberries. Who wouldn't want to binge on this gorgeous looking dessert?


9. A chilled glass of Lassi

"Come to Jaipur and not have the meethi lassi!" Shilpa exclaims as she spoons out the thick malai on top of a tall glass of lassi she gulps down for Sunday binge while in Jaipur.



10. Rasmalai

Shilpa binges on mini Rasmalais in this video and justifies that it's a source of protein since it is made with cottage cheese. 'Just squeeze out all the sweetness,' she suggests. Treat or trick? You decide.


All these delicious foods and yet so fit, we admire you Shilpa Shetty Kundra for living your life to the fullest while not comprising on your health.



Shilpa Shetty Kundra has been inspiring us in many ways. She's been giving us major fitness goals by sharing her yoga, fitness and