Why not eat more of something that is considered to be one of the healthiest foods in the world? This gluten-free whole grain as all the essential nutrients that your body needs like fibre, magnesium, phosphorus, copper, iron, zinc and antioxidants.
Eating oats for breakfast is known to help with weight loss
because of its high fiber content that keeps you full and satisfied for longer.
Perks of Eating Oats
1. They are incredibly nutritious since they contain lots of
vitamins and minerals
.
2. They are a great source of a type of soluble fibre called beta-glucan.
3. They can help lower bad cholesterol levels in the body.
4. They can help in
regulating blood sugar levels
.
5. They are wholesome and very filling.
6. They help with weight loss.
Oats are so versatile that they can easily become a part of any meal of the day. Here are some inspiration and recipes ideas on how to eat oats.
How to Eat Oats for Breakfast
A good breakfast fuels you up and gets you ready for the day. So, here are some of the healthy options to try with oats.
1. Oats with milk and fresh fruits:
One of the easiest way to have oats is with some warm milk, fresh fruits, nuts and seeds. You can even use
coconut milk
and sweet berries. Take a bowl of warm milk then add half a cup of dry roasted oats along with everything that your heart desires.
2. Oatmeal upma:
Add oil to a hot pan. When the oil is hot, add cumin, mustard, roasted
chana dal
and a pinch of
hing.
Then, add some chopped onions and veggies like carrots, beans and peas. Fry them till they are soft. Add a cup of dry oats and fry for about one to two minutes. Sprinkle some salt and pepper and let it cook. Garnish with grated coconut, coriander leaves and lemon wedges.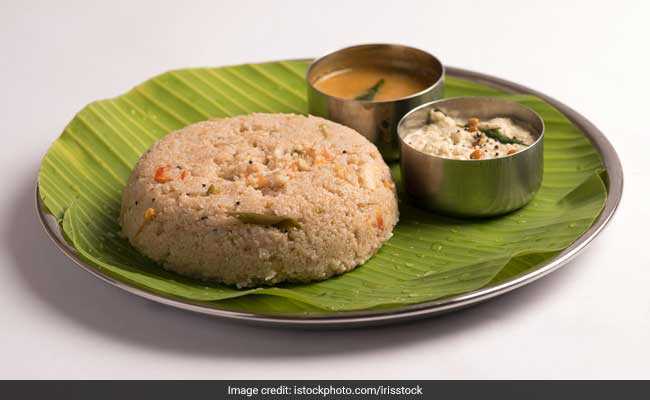 Delicious upma with the goodness of oats.
3. Oats uttapam:
If you use rolled oats, powder them. Make the batter just how you would make a
sooji
or a rice flour batter for a
uttapam.
Add some butter on a greased
tawa
and then pour the batter. Top with veggies, gently press them. Cook until the base is done well. Flip and cook well on the other side as well. Serve with any chutney- either coconut or mint.
4. Oats pancake:
Mix a cup of oats with warm milk, some wheat flour (adjust to get a paste-like consistency), brown sugar, baking powder (a teaspoon), cinnamon and a pinch of salt. Heat two teaspoons of butter on a griddle or skillet over medium heat; pour about 1/3 cup batter and the spread gently. Flip when the base it cooked. You can serve it with
honey
and fresh fruits.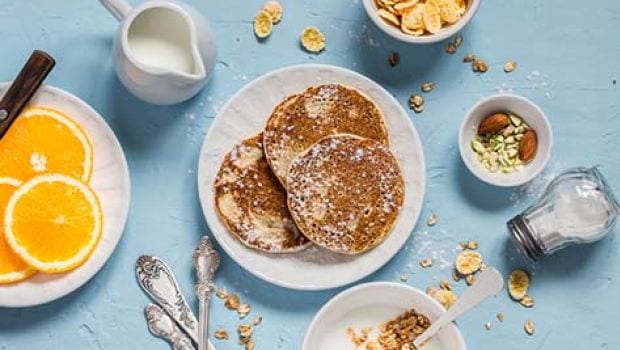 Pancakes turn healthy with oats. Photo Credit: Istock
How to Eat Oats for Lunch
Lunch hour is the best hour of the day! Here are some easy recipes with oats for healthy lunching that you can try.
1. Oats khichdi:
A healthy mix of vegetables, oats and
moong dal.
First, soak the dal in the water for about 10-15 minutes as it will get cooked faster. Then heat a pan add a little amount of ghee or oil. Then add ginger to it and fry until the smell becomes strong. Then add 1 or 1.5 cup of water and then stir it well. Serve it hot. You can have it either with pickle or with curd or any chutney.
2. Oats and chicken porridge:
This recipe makes for the perfect portion of lunch enough to keep unwanted cravings at bay. High on protein, this one is for those looking for both taste and health. The crunch of brown onions, juicy chicken chunks and lots of spices makes it the ideal savoury
porridge
. Try this
Oats Porridge Recipe by Chef Sanjeev Kapoor.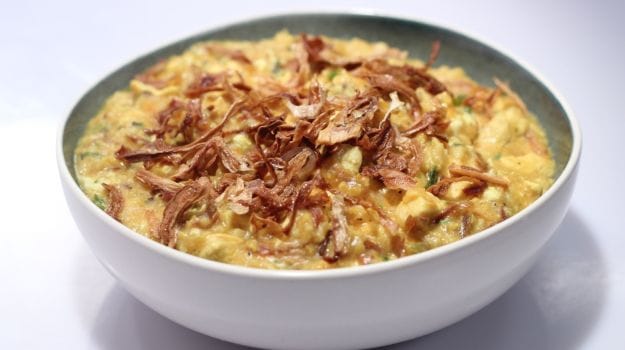 High on protein, this one is for those looking for both taste and health. Photo Credit: Sanjeev Kapoor.
3. Oats idlis:
Low on carbs and healthy, idlis made with oats and grated carrots. Ideal for those who are calorie conscious. Try this
Oats Idli Recipe by Ramya Parameswaran.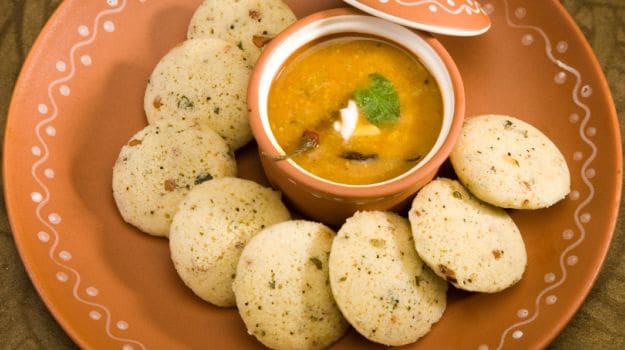 Low on carbs and healthy, idlis made with oats. Photo Credit: Istock.
How to Eat Oats for Dinner
'Don't eat less for dinner, eat better for dinner' - goes a famous saying. Here are few ways to make dinner time healthier and tastier with oats.
1. Oat Crusted Chicken Tenders:
This super easy snack is always a hit with kids - tender chicken smeared with a bunch of spices and fried crisp.
A simple recipe by Rushina Munshaw Ghildiyal​.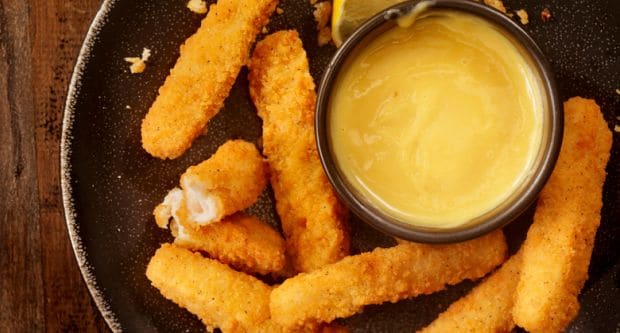 This recipe is a hit with kids.
2. Rosemary mushroom oatmeal:
Cook 1 cup oatmeal along with 1/2 cup water, until thick and creamy. Stir in some low-fat milk, salt and pepper. Keep aside. Heat oil in a pan or a wok, add the mushrooms, sprinkle some salt and rosemary and stir-fry for a few seconds until soft. As soon as you notice the mushrooms give out some water, turn off the heat. Add these sauteed
mushrooms
to the oats and cook for a minute or two. Check the salt and pepper and adjust to suit taste.
3. Yogurt and oats kebab:
Here is a good depart from the traditional kebabs. This healthy version is made with cottage cheese, yogurt, almonds, raisins and oats. The melt-in-your-mouth texture will have you coming back for seconds!
Try this recipe by Seema Chandra.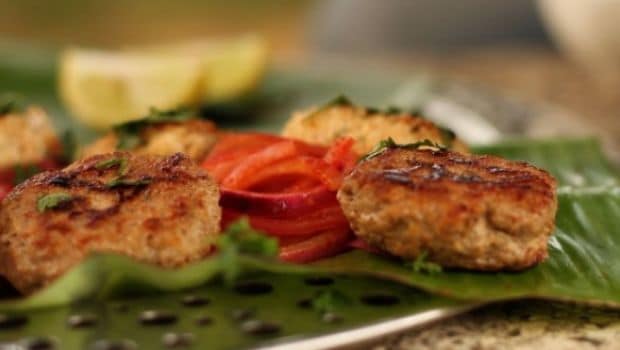 A good depart from the traditional kebabs.
4. Oatmeal soup:
Heat a large deep skillet on medium-low heat. Pour some olive oil, and let it heat up. Add the oats; cook and stir until toasted. In a blender, combine few chopped tomatoes, some chopped onions, 5 to 6 cloves of garlic, 1 cup of water, and some fresh cilantro leaves. Blend until smooth. Now, add this mixture to the toasted oats and let it come to a boil. You can add some water to adjust the consistency along with salt and pepper to taste. You can even stir in an egg to make it more wholesome. Eating healthy doesn't mean you have to skip dessert. There are many healthy oatmeal desserts which can help satisfy your sweet tooth. For instance, you can try this sinful
chocolate fondat made with oats
or even opt for the good old
oats kheer.