If you are a chicken lover, you'd know how important it is to bite into a piece that is flavourful, tender and juicy at the same time. The secret behind a perfectly cooked chicken is its marinade. Marinade refers to a mixture of oil, spice, acids and similar ingredients, in which meats are soaked in for some time in order to flavour or soften them. In simpler terms, the lovely chicken tikka or chicken curry you enjoy is because the chicken was soaked into the perfect blend of these ingredients. The origin of the word 'marination' refers to the use of brine in the pickling process, which led to the technique of adding flavour by immersion in liquid. Learn how to marinate chicken perfectly.


Marination adds flavour to foods and makes them tender by beginning the break down process of tissues of the meat. This is done by adding acidic ingredients like vinegar, juice or even enzymatic components like papaya, guava, ginger and pineapple. Now, that you know how important marination is, we share some important tips on how to marinade chicken perfectly.
Why Is It Important To Marinate Chicken?
It imparts flavour to the chicken, not just from outside, but a good marinade seeps inside the chicken imparting more flavour to the dish.
Marinades are particularly important for grilling, because of high heat produced by the grills. Excessive heat can result in formation of harmful substances while cooking. An acidic marinade reduces the formation of these chemicals.
Marinade prevents the meat from drying out and making it chewy.
It helps in tenderising the chicken and makes it juicier.
It acts as a preservative.
Marinade helps reduce the time of cooking. The longer you cook chicken, the drier it is.
(Also Read: 10 Tips To Keep Chicken Flavourful And Moist)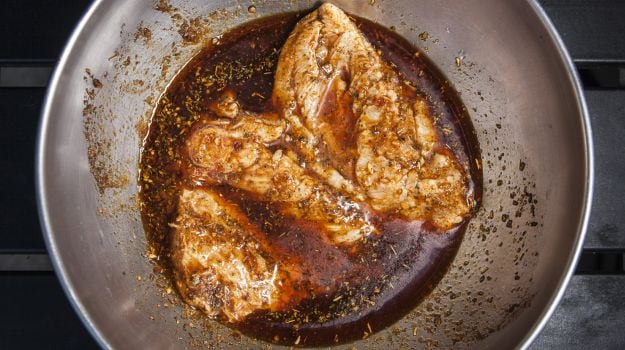 How To Marinate Chicken?
There Are Two Methods Of Marinating Chicken:
Wet marinating
Dry marinating
Wet Marinating: Wet marinating completely immerses a piece of meat in a marinade liquid.


The 3 Types Of Wet Marinades Are:
Enzyme Marinades: Papain or bromelain in fruits such as kiwi, papaya leaves or fruit, pineapple, et al. helps break down muscle fibre.
Acidic Marinades: Wine, vinegar, lemon juice, tomato juice and citrus juices.
Dairy Marinades: Buttermilk, yogurt and hung curds.
Dry Marinating: These include mostly BBQ spices like:
Dried herbs
Spices
Popular dry rubs include Cajun, Tex-Mex and Jamaican.
Tips On How To Marinate Chicken


Here are a few tips and suggestions by Culinary Expert and Food Blogger, Chef Reetu Uday Kugaji:
You can use various marinade recipes. Use honey, lemon, orange juice, wines, vinegar, olive oil, yogurt, tea, coffee, herbs, salt, pepper, chilli, et al.
The ideal marinade is made with an acid ingredient, combined with a fat ingredient like oil, plus additional spices, herbs and syrups to lend a specific flavour to the chicken.
Prefer using fresh herbs over dried herb; however, if fresh herbs are not available, crush the dried herbs properly and rub them over the chicken to get maximum flavours.
The ratio of oil and other ingredients that contain acids should be 1: 1.
Remember, the longer you leave an acidic marinade to work on the chicken, the worse texture will get, making the chicken dry. Give it not more than five to six hours to achieve amazing flavour and taste.
If you are marinating chicken for more than an hour, it's a must to refrigerate the marinated chicken in a glass airtight container and not metal containers. Do not leave it open, instead cover with a tight-fitting lid.
Pierce the chicken with a fork for the marinade to seep into the chicken. Do not pierce, too, much as it may cause tearing of the skin or flesh. You can even slash your chicken with a sharp knife, as this creates more surface area for the marinade to work on. Moreover, it will help the chicken cook quickly.
Use up all the marinade that you have prepared; you can brush the leftover on the chicken and later add it in the curry. Do not keep the leftover marinade for longer period. It's best to discard it once the chicken is prepared.
Marinades without acids can be left longer; but preferably stick to 24 hours maximum.
Do not serve uncooked marinade as it may cause food poisoning, considering it has come in contact with uncooked chicken.
Do not add artificial food flavour, colours and preservatives.
Salt, if added in large quantities, helps loosen the muscle fibres and make the chicken tender.
For better results, give your marinade a quick whirl in a blender to mix the acids and fats into a smooth solution.
Here are 10 amazing marinade recipes and 4 amazing steak marinade recipes that you'd love to try at home.


There! We have enlisted important tips on how to marinate chicken plus some interesting recipes to work these tips on. Do let us know if you have any query in the comment section below.