It is a new day and it brings some new food adventures for actress Jacqueline Fernandez. But wait, something is different this time. Someone just stole Jacqueline's fruit juice during her snack time. Who are we talking about? We are referring to Jacqueline's adorable Persian cat. Yes, the actress was looking forward to a fruity snack break when her furry friend decided to sneak in. A video shared on Instagram Stories shows the cat perched on the table and slurping the drink from a glass. Jacqueline posted the video and said cheekily, "Thanks for having my juice. Now I can't have it."


On the table, we also see two plates with a variety of fruits such as pomegranate, papaya, grapes, and yellow kiwi. Jacqueline seems to love a healthy snack with fruit salads and juices topping the list.
Jacqueline has a plate full of fruits while her cat enjoys the juice
(Also read: This High-Carb Food Is Jacqueline Fernandez's Favourite: Why You Should Eat It Too!)
Jacqueline often indulges in healthy food bowls or fruity breakfast jars. She makes sure that her diet is packed with greens and lots of fresh fruits.


Has Jacqueline's healthy fruit salad inspired you to get a plate for yourself? If yes, you are at the right place. Don't let fruits get boring. Mix them up into fun salads. If you are confused about how to do it, here are five ways to enjoy a fruit salad. Check out these recipes:
Dice the fruits into small cubes for this recipe. Use watermelons, kiwis, and pineapples. You can also include marshmallows. Garnish with mint leaves and a fun salad plate is ready.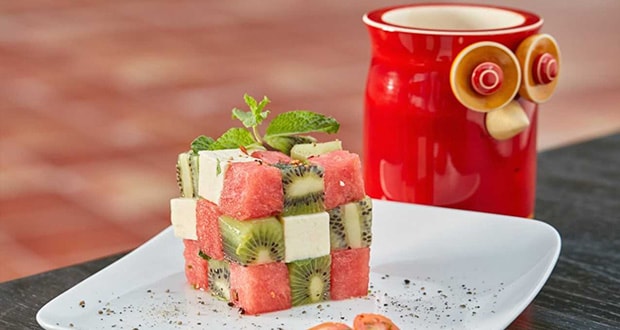 The interesting fruit cube salad
Add a spicy zing to your fruits by using chaat masala, black salt, roasted cumin seeds, and lemon. You can also drizzle the chaat with apple juice and pineapple juice.
Make this salad with cherry tomatoes, olives, feta, grapefruit, sweet lime, and lemon. Drizzle it with olive oil and mix it all together with an addition of baby lettuce. Add crushed pepper to taste.
Try the delicious citrus fruit salad
Want to make your fruit salad healthier? Add paneer to the mix. This yummy salad also includes grapefruits, spring onions, cabbage, oregano, and chili powder.
Mix pomegranate kernels with kiwi, lettuce leaves, and cottage cheese. Dress it with a mixture of garlic, mustard seeds, mint leaves, orange juice, olive oil, and black pepper to taste.


(Also read: This Is Jacqueline Fernandez's Detox Breakfast, Loaded With Good Nutrition And Health!)


Jacqueline sticks to her healthy meals, no matter what. That's enough motivation for us too, isn't it?