Papad
or
poppadum
is undoubtedly one of the most loved accompaniments in an Indian meal. Providing not just crunch, but also a burst of flavour to your plate of rice,
dal
and veggies or meat, the fried treats come in various shapes and sizes. They are usually seasoned, containing a lip-smacking dose of cumin, black pepper, red chilli flakes,
masalas
, herbs and/or other spices, which pair very well with regular home-cooked meals, particularly
dal-chawal
. A common practise is to break the crisp, fried or roasted disc onto the plate using your fingers and mix it with the rice to savour its crunch and flavour. Apparently it is a habit that is being followed since the ancient times, where
papads
or
happalas
are described as "being broken into pieces at a feast for kings."
According to food historian and author KT Achaya, "The parpata (papad) is first mentioned in about 500BC in Buddhist-Jain canonical literature, and the medical authorities note that they are made from pulses like urad, masoor, chana and the like." In Rajasthan one comes across various kinds of papad, both thin and thick called kheladas. In South India too, appalam or pappadam are very popular, and no feast or sadhya is complete without it being served on the plate/ banana leaf.
According to Chef Ashwani Kumar Singh from The Leela Ambience Convention Hotel, Delhi, "Every regional community in India has their own papad - Aloo, Kali Mirch, Garlic, Chillies, Urad Dal, Moong, Masala, Punjabi, Hing, Sabudana, Disco, Appalam, the varieties are endless. Today, chefs are preparing more innovative and colourful papads in their kitchen, and using it as snacks, side dishes or garnishes."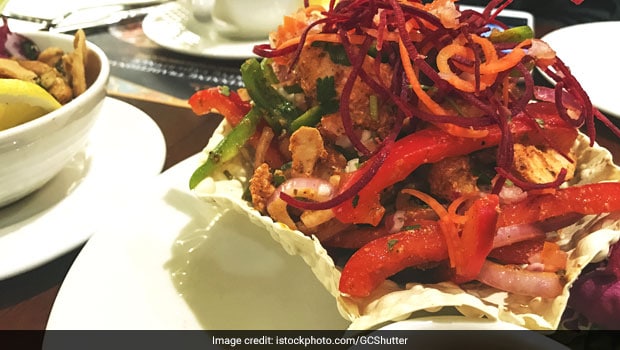 Papad Gets Spruced Up
Well, if you love papad, the good news is that you needn't just use it as a side dish for your meals. You can instead use it in innovative ways to create delicious snacks and munchies. A popular Indian snack is Masala Papad, where a variety of ingredients are mixed and used as a topping for papad, especially onions, tomatoes, chillies and coriander leaves. But why stop there? Tip in mushrooms, corns, broccoli, and other veggies for a healthy spin. For meat lovers, you can even load it up with roasted chicken, spiced keema or chopped pepperoni for some indulgence. For more variation, cut the papad into triangles and use it to make nachos at home!
One incredible property of papad is that it can be easily moulded. So when you are roasting the papad, immediately fold it into desired shape to use as tacos, cones, tokri/basket, etc. You can then fill them up with veggies, meat, nuts, cheese and the like for a relishing treat. Stuffed papads are always a hot favourite during get-togethers. You can even use papads to make rolls and chaats.Chef Ravi Saxena of Dhaba by Claridges says, "There are many interesting ways to use papad. I have made Papad Rolls using samosa filling (aloo and matar) and seafood (a mix of prawns, octopus, squids). Another great usage is as a substitute for bread crumbs. Tear the raw papad into small pieces, and then dip your meat or veggie in batter and coat the pieces with papad crumbs before deep-frying them till golden. You will get a great crunch. Then you can also make nachos, but use the thick moong dal papad and deep-fry it to ensure that when you top it with fillings, it doesn't get soggy. Another favourite is Papad Cup, which I like to fill up with crispy bhendi (okra) and yoghurt dressing."
Chef Ashwani shares, "I was lucky enough to work in Rajasthan, where papad is a common ingredient and even eaten like a curry. Papad ro Saag and Papad Dana Methi ro Saag (green fenugreek seeds whole) are the true examples of it. Goan Papad Rolls are beautifully rolled out too with a spicy mixture of vegetables, meat or seafood, which are later deep fried till crispy."
Interesting Papad Dishes to Try at Home
Here are a few ways you can spruce up papad -
1. Stuffed Papad
Recipe by Chef Aditya Bal
Papad stuffed with a cottage cheese or chicken stuffing. An excellent starter for a dinner party. For the recipe, click here.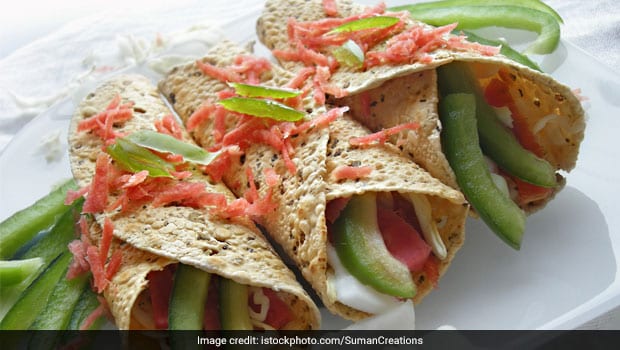 2. Papad Sabji
Recipe by Chef Aditya Bal
Looking for a spicy treat to go with your dal-chawal? How about trying this unique recipe? For the recipe, click here.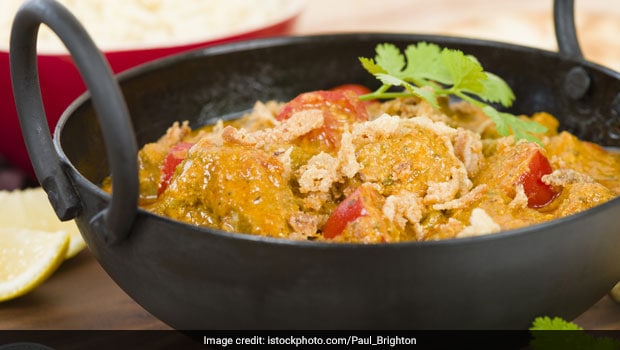 3. Brijnath Masala Papad
Recipe by Chef Thomas Zacharias, The Bombay Canteen
2 nos khichiya papad
For the Aubergine Puree:
1.5 kg eggplant
3 tbsp green chilli chopped
1 cup onion chopped
1 tbsp. salt
1 tbsp. mustard oilFor the Aubergine Kachumber:
350 gm roasted eggplant (recipe below)
4 tbsp. diced tomatoes
1/2 tsp. minced chillies
1 tbsp. cilantro, chopped
1 tsp cumin powder
Salt to taste
1 cup rat tail radish
2 tsp. vinegar
2 tbsp pomegranate
For the Roasted Aubergine:
1/2 kg eggplant, cut into large dice
Salt to taste
2 tbsp Oil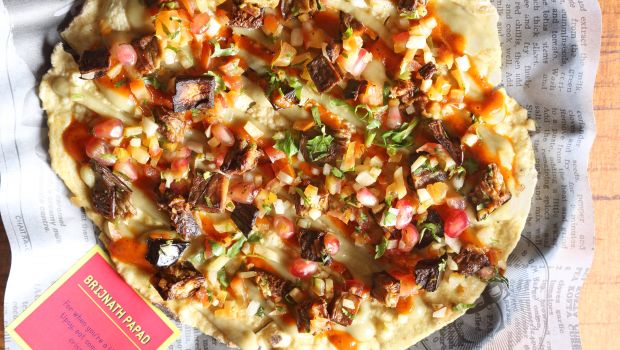 Method:
For the puree: Char the eggplant in the tandoor, peel the skin and reserve the flesh. In mustard oil cook out the onions and green chilli. Add to the aubergine pulp and blend to a smooth puree. Season with lime juice and salt as needed.
For the Kachumber, mix all the ingredients in a bowl and check for seasoning.
For the Aubergine, salt the veggie and reserve for an hour on a perforated tray to lose all moisture . Squeeze the aubergine and lay in an even layer on a roasting tray. Roast at 220 degree C until golden brown.
To Serve: Heat the papad over a charcoal grill or in the oven till crispy. Place the papad on a plate and crush it slightly with your palm. Spread the eggplant and puree, and serve.
4. Masala Papad Bruschetta
Recipe by Chef Kunal Kapur
A quick and easy to way to mute those in-between-meals hunger pangs. Toasted papad topped with a flavourful mix of chopped onions, tomatoes, coriander leaves, lemon juice and olive oil.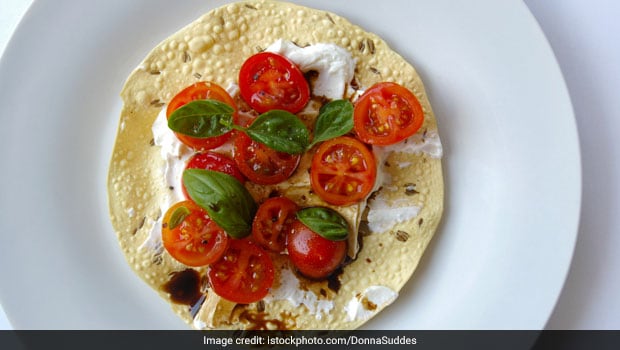 5. Papad Ro Saag
Recipe by Chef Ashwani Kumar Singh
8 papad, fried
100ml ghee
1 tsp asafoetida
1/4 tsp cumin seeds
2 Mathaniya chilli whole
1 tsp turmeric powder
1 Tbsp coriander powder
1/4 Tbsp cumin powder
1/4 Tbsp Mathaniya chilli powder
1/4 Tbsp amchoor powder
100gm curd
15gm ginger paste
3 gm green chillies paste
Salt to taste
1 Tbsp coriander chopped
Method:
In a mixing bowl mixed all together the powder spices, ginger paste, green chillies paste and curd, keep aside.
In a cooking vessel, heat ghee. Add cumin seeds, broke and add Mathaniya whole chillies, add asafoetida.
Put in the spice and curd mixture cooked till ghee separate from the masala.
Add hot water and salt, let it boil.
Now add fried soggy papad and further simmer it for another 5 minutes.
Garnish with chopped coriander leaves and served hot with sogra or rice.
For Papad Dana Methi ro Saag: In a pan, put green methi seeds and double quantity of water and let it boil. After 5 minutes drain the green methi seeds, repeat this process twice and add this to the prepared methi ro saag and simmer till dry.
Here you go! These are just a handful of ideas to spruce up your
papad
dishes and surprise friends and family during get-togethers. There's really no end to using it in different ways. If you have more interesting ideas then we would love to hear them from you. Please share in the comments below.