Once upon a time, every Indian home had a charpoy full of papads drying in the sun. Sadly, the art of making
papad
at home seems to be dying and we've conveniently switched to the store-bought stuff. Still, the crisp treat remains to be one of most loved accompaniments. It can transform a boring meal or can be served as a quick snack.Each region had its own speciality - south Indian rice papads to those made with
gram flour
(besan) that are popular in
Rajasthan
or the Punjabi urad dal papads. Today, people are experimenting with a lot with ingredients and you can find papads in new flavours like those made with yam, tapioca and
jackfruit
. Roasted papad topped with tomato,
onion
and a pinch of chaat masala is often served as a cocktail snack. They are also offered with
dips
as a side. But what's more interesting to note is that somewhere along the way papads went from being an accompaniment to becoming a standal-one dish as a Chaat or even the popular
Papad ki Subzi
.You may think that papads easily qualify as a low-calorie bite but that's before you read the labels. So, let's have a look at their real health quotient.
1 Papad (approximately 13 grams)
When eaten in moderation, about one to two pieces, it makes for a decent snack. But papads cannot be and should not be substituted for
whole grains
in your daily meals. Moreover, you cannot have them freely because calorie wise – 2 papads are equal to 1 chappati. So, don't be fooled that by replacing your meals you are limiting your calories.Another surprising fact that may have easily slipped your attention is the use of preservatives and additives in factory-made papads. A sodium salt called 'Saji' is a common preservative used by many. It is added along with salt to enhance the flavour but at the same time it makes papad a
high-sodium food
not advisable for people with
heart diseases
, kidney diseases and high BP. Store-bought papads are also often loaded with artificial flavours and spices that can take your digestive system on an overdrive causing acidity.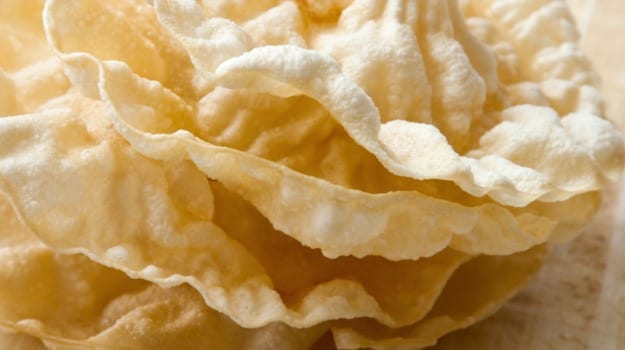 There's more that no one may have told you. Frying papads increases the oil and fat intake. Papads are known to absorb oil while frying. Research has shown that frying and flame roasting papads may produce acrylamide which is a neuro-toxin and also a known carcinogen. Acrylamide also occurs because of rancidity caused due to fat oxidation, which may leads to anxiety and mood swings. Interestingly, it has been found that microwave roasting does not produce the same result and it seems to be a healthier option.All said and done, papads add variety to the palate and of course the beautiful crunch we all love, but it's good to consume them in moderation. Handmade papads in small batches are fresher and healthier but they cannot become a meal replacement.