The Sunny Side: 5 Delicious Parsi Recipes to Making Eggs
Meher Mirza | Updated: July 19, 2017 13:19 IST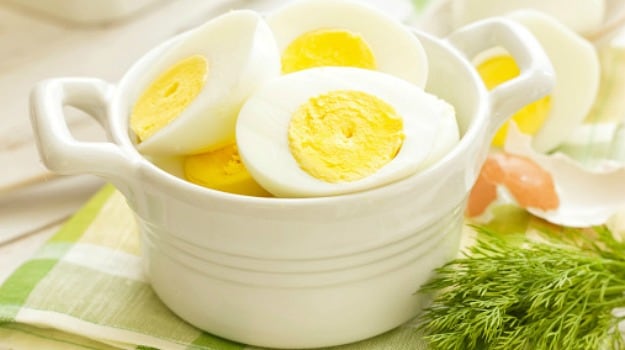 Here are 5 lip smacking recipes to make your eggs the Parsi way.

Reams have been written on the Parsi penchant for eggs. The creamy akuri adorns the patru at every Parsi wedding feast. Those in the know nod wisely at the mention of the poro or the Parsi omelette. The Parsi par eeda dishes are a thing of wonder - we cook eggs over, well, everything - wafers, prawns, brain, nearly all vegetables, bananas (yes!), and even flaky biscuits. We love them so much that we have even concocted a fudgy sweetmeat made of eggs called eeda pak - nuts and an assorted jari booti, all soaked in ghee. But why should we have all the fun? In the paragraphs below, I will supply you with some of my family's egg recipes (all of the dishes serve one or two). Read, cook and enjoy!

(10 Best Parsi Recipes)

Every Sunday morning, we wake up to our beloved weekly treat, thePoro, the Parsi version of the masala omelette. This is made two ways - either with chopped spices or with ground ones. We prefer the chopped version - it's quicker! The doyenne of Parsi cooking even has a version made with brain. Simply clean and cook the brain and add it into the egg mixture, then cook as per usual.

3 eggs, beaten
1 Tbsp butter
Salt, to taste
1/4 green mango
1/2 onion
1 green chilli, deseeded
A teaspoon of garlic and ginger paste
A pinch of turmeric and chilli powder

Chop all the vegetables and them, along with the spices and seasoning, to the beaten egg. Heat the butter in the frying pan or tava and add the egg mixture. When one side is golden, flip it over. When both sides are cooked, toss into a plate and serve hot with pao.

(10 Best Omelette Recipes​)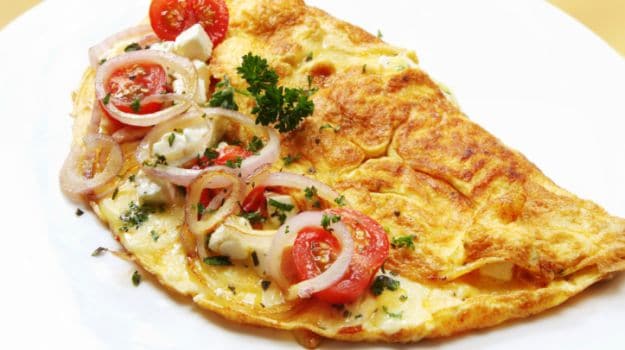 Poro, the Parsi version of the masala omelette

Bhaji par eeda is a dish that is perfect for the tiffin box. Many people make it with spinach, but we prefer methi (fenugreek). You can substitute the methi with any non-leafy vegetable also, including brinjal, okra, gourd, green peas etc.

2 eggs
1/2 Tbsp ghee
Salt, to taste
1 bunch methi, chopped
2 onions, julienned
1 tsp ginger garlic paste
A pinch of turmeric and chilli powder
1 green chilli, slit, deseeded and chopped.

Soak the methi in some salt water to draw out the bitterness and leave for twenty minutes or more. In the meantime, heat the ghee in a saucepan and add onions, cooking until they turn a pale brown colour. Throw in everything but the eggs and the methi, stirring and cooking on low heat for five minutes. Then add the methi (having first squeezed the bitter juice out) evenly in the pan, cooking for a minute or so. Make nests in the mixture and break the eggs over them. Season with salt and cover, cooking on low heat until eggs are set.

10 Best Egg Recipes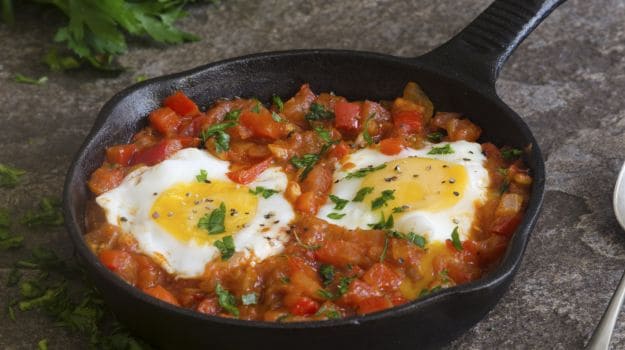 Bhaji par eeda, eggs made with methi or other veggies

How to Cook Eggs Without Cracking Up: Back to Basics

Wafer par eeda is excellent comfort food and absurdly simple to make. The wafers are usually bought from Camy, but you can use any that are fresh, salted and finely cut. This recipe comes via our friend and neighbour, Katy auntie, who often turns it into a quick lunch for one. You can substitute wafers with sali (finely-julienned, crisply-fried potato) or boiled potatoes.

2 eggs
100 gm wafers
1/3 cup coriander, chopped, to taste
1/2 green chilli, slit, deseeded and chopped.

Quickly dip the wafers into boiling water to draw out the oil. (You can avoid the first steam altogether, in which case the wafers will stay crisper). Put them into a saucepan and sprinkle a little water on top, to stop the wafers from sticking to the pan. No need for oil here, obviously. Add the coriander and chilli, break an egg on top of the mixture and cover. Cook on low heat until eggs are done.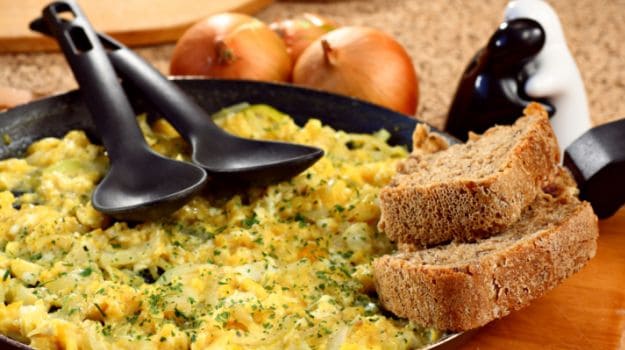 Wafer par eeda, eggs with potatoes

Egg Chou Chou is a recipe that my mum found in an old cookbook called Swadisht Vividh Vaniyo by Shirin Kalapesi. It isn't a wild favourite of the family but I've included it here for the sheer exuberance of its name.

2 boiled eggs, yolks and whites separated
Salt, to taste
Oil, to sauté
1 small potato, peeled, diced
1 onion, diced
1/4 cup coriander, chopped
1 green chilli, chopped
A pinch of turmeric
Worcestershire sauce, to taste (if you wish, you may substitute this with a chutney or sauce of your choice)

Finely chop the egg whites. Lightly fry the potato dices in a saucepan. Remove the potatoes, and add the onions and fry, together with all the chopped ingredients. Stir on low heat. Blend in the sauce and simmer for three or four minutes. Divide it into two and plate each section separately, with the yolks served atop the mixture.

5 Most Shocking Egg Delicacies

Only a true egg lover will appreciate this recipe.Picnic eggs is a strange combination of devilled and Scotch eggs. You can also look at this as a sort of eeda par eedu (egg on egg), since boiled eggs are then fried in an egg batter. You can replace the ham with any meat of your choice.

10 Best Breakfast Recipes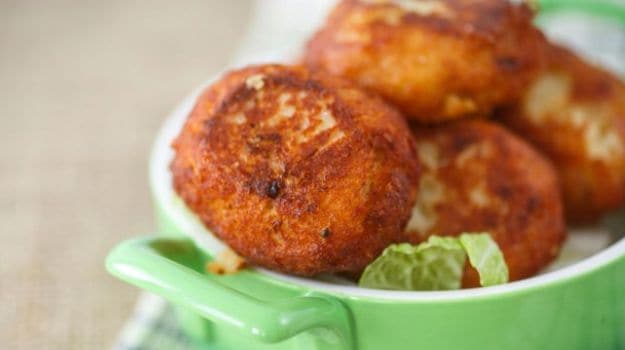 Picnic eggs

250 gm (pre-cooked) ham slices, finely chopped
30 gm cheese, grated
10 boiled eggs, peeled and cut lengthwise into half
2 raw eggs, beaten until fluffy, for frying
7 green chillies, chopped
2 onions, finely chopped and fried into a baghar
Handful of semolina
Hot oil, for deep frying
Salt, to taste

Separate the egg whites and yolks in the boiled eggs. Mash the boiled egg yolks. Mix the ham and onions together and add in the chilli, cheese and egg yolks. Season. Mix it until it becomes malleable. Roll into balls and stuff it into the boiled egg whites. Join the two halves of the egg together. Dip this into the beaten egg and then into the semolina, then deep fry.

(Easy Weekend Recipes: Fried Eggs, Poached Egg With Salmon)

Disclaimer:

The opinions expressed within this article are the personal opinions of the author. NDTV is not responsible for the accuracy, completeness, suitability, or validity of any information on this article. All information is provided on an as-is basis. The information, facts or opinions appearing in the article do not reflect the views of NDTV and NDTV does not assume any responsibility or liability for the same.


For the latest food news, health tips and recipes, like us on Facebook or follow us on Twitter.