Delhi
, more specifically old Delhi is often termed as the culinary capital of the nation and for a good reason. Think
Old
Delhi, and you are immediately transported into the
lanes
of loaded
paranthas
, succulent
kababs
, and absolutely sinful
sweetmeats
. The confluence of
cultures
witnessed by the walled city, has translated into the culinary
heritage
of the
city
and has taken its own distinct identity down the years. Delhi which has been a capital for several
Muslim
kingdoms in the past, has successfully adopted those flavours on its platter. The holy month of Ramadan is here, and Muslims all over the
world
are observing the ritualistic
fasts
ordained for the pious month. Abstaining from food and drink during the day, they gather together in the evening for a lavish
feast
(Iftaar). Giving a strong competition to the meat-y affair of the festive season(Read: Biryani, Kebab, Haleem), are the traditional sweetmeats of the season, like the delectable shahi tukda, a form of bread deep fried in pure ghee and dipped in thick cream and sugar syrup, or phirni, sheermal, and Khaljla, Pheni.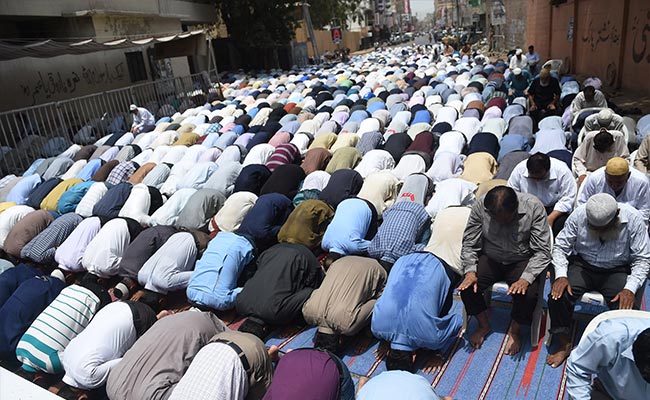 People offering prayers in the Ramadan month
Anubhav Sapra, Founder of Delhi Food Walks, suggests 6 shops and joints in Old Delhi, where you can head this Ramadan to feast your sweet cravings.
Come feast and fall in love with the walled city all over again.
1. Kallan Sweets
Established in the year 1939, by Mohammad Shaan, Kallan sweets thrives on its rich legacy of treating the biggest food connoisseurs of the country for 70 years in a row. The shop opens at 7 in the morning lining its most mouthwatering sweets on display for its loyal customers. But it is the bright orange and thick paneer ki jalebi that is often counted as the USP Of the shop, especially during Ramadan. Using cottage cheese paste in lieu of flour, these jalebis are more dense and savoury, yet retain the crispness we have all come to expect of jalebi. Other festive delights are khoya samosas and keema samosas.
Where: Shop no. 4-5, Opposite gate 1, Jama Masjid
Cost for two: INR 100
2. Ameer sweets
Even older in the business and contributing immensely to the rich culinary heritage of the walled city is Ameer sweets. For over 100 years, the sweetmeat shop has been a favourite pitstop for many during the festivals due to its wide array of desserts and snacks. While the regular favourites like baalushahi, besan Laddoo, and chamcham are a hit year long, their khoya samosas and khajla pheni only adds to the ever bustling queue during Ramadan.
Where: 957, Haveli Azam Khan, Bazar Chitli Qabar, Jama Masjid.
Cost for two: INR 100
3. Sheerin Bhawan
Serving you the best Khalja Pheni in old Delhi is Sheerin Bhawan at chitli qabar. Khalja is a traditional dessert prepared during Ramadan, it is a deep-fried vermicelli pastry. Made of flour and fried in ghee, it is usually eaten during Sehri. One is supposed to crush the flaky pastry and soak it in milk, and eat it like a cereal.
Where:Chitli qabar, opposite gate nuber 1, Jama Masjid
Cost for two: INR 100
4. Cool Point
Famous for its delectable Shahi Tukda and mouth-watering Phirni, this 25 year old eatery, packs the best kesar milk, badaam milk and lassi too. Go slurp while you explore.
Where: 973, Bazar Matia Mahal, Jama Masjid.
Cost for two: INR 100-150
5. Nawab Qureshi's Sharbat
Its not just up to the traditional sweetmeats to make up for the sweetness of the festive season. Try the savoury sharbats of Old Delhi, and you'd be compelled to rethink . Also popular as Pyaar Mohabbat Sharbat wala, Nawab Qureshi's drink is a feast in itself. The thela is run by Nawab Qureshi, a native of Uttar Pradesh. He sells the refreshing cooler exclusively in the summer months. In milk he adds Rooh-afza, chashni and some freshly cut watermelon cubes. The drink gets especially popular during Ramzan. It is a custom to break your fast, and start your Iftar in the evening with a rose flavoured drink.
Where: 1149, Matia Mahal, near Jama Masjid, Delhi
Cost for two: INR 20(Also read:
What is Making the Pyaar Mohabbat Sharbat Such a Popular Drink in Delhi?
)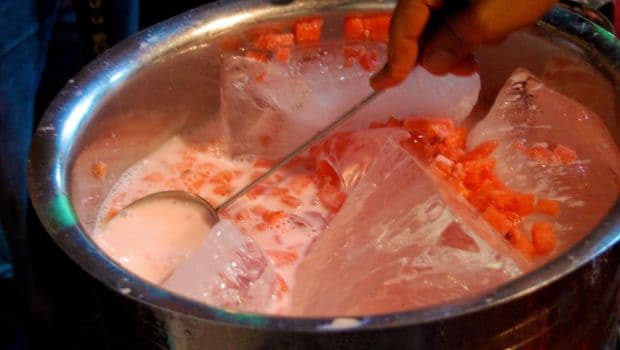 6. Rehmatullah's Restaurant
For the best Sheermaal experience head to this modest eatery in Matia Mahal which opens as early as 5 a.m. in the morning. This Ramzaan favourite sweet bread dessert is a must try this festive season.Where: 105-110, Bazar Matia Mahal, Opposite Jama Masjid Gate 1, Chandni Chowk
Cost for two: INR 100
About the Author:Delhi Food Walks provides a platform for food enthusiasts to share their culinary journey while keeping the rich and diverse culture of Delhi alive through specially curated food trails and food festivals. This year, Delhi Food Walks is organizing the first-ever Street Food Awards which aims to recognize various street food vendors present in the narrow alleys of Delhi and honour them for the delightful services. The winner will be decided from a pool of nominations across 20 categories and a few special mentions by our esteemed jury of food connoisseurs like Marryam H Reshii, Sourish Bhattarcharya and Rahul Verma. If you want your favourite street food outlets to win, do not forget to vote for them!Disclaimer:The opinions expressed within this article are the personal opinions of the author. NDTV is not responsible for the accuracy, completeness, suitability, or validity of any information on this article. All information is provided on an as-is basis. The information, facts or opinions appearing in the article do not reflect the views of NDTV and NDTV does not assume any responsibility or liability for the same.
About Sushmita SenguptaSharing a strong penchant for food, Sushmita loves all things good, cheesy and greasy. Her other favourite pastime activities other than discussing food includes, reading, watching movies and binge-watching TV shows.