Trying to get fit can be a challenge and is more of a daily struggle. You need to achieve a perfect balance between your
diet
, sleep pattern and of course, the amount of calories you are consuming and burning every day. By burning calories, we don't only mean sweating it out by doing cardio, but also by lifting weights and undertaking strength training. It is this perfect blend of cardio and weight training that will take you forward in your fitness journey.
While cardio exercises can mostly be done without any fitness expert's help, weight training is something that must never be done sans supervision. You can also fulfill your daily cardio needs by running, dancing or doing yoga and aerobics.
For those who simply can't find extra time to go to the gym, you could try making the resistance-band a part of your daily fitness regime. You can go for a quick 20-minute morning run followed by sets of exercises that can be done using a resistance band. Resistance bands are portable, handy, easy to use and very effective. They don't burn a hole in your pocket and last long. You can carry them with you wherever you go and set up your personal gym whenever and wherever you wish. You can also continue practicing your regular weight training exercises by just swapping weights and dumbbells with the resistance band.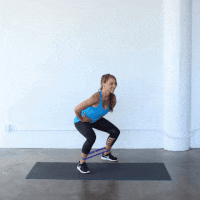 The best thing about including resistance bands in your fitness routine is the fact that they help in strengthening every muscle in your body. From arms and shoulders to the back and thighs and even your core muscles - resistance bands use your own body against you to burn down calories and tone you up.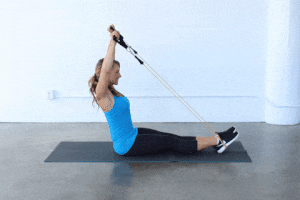 For beginners, we have put together few exercises that will make you comfortable with using a resistance band. Get in touch with your fitness expert to learn about the different variations and how to make the most of it.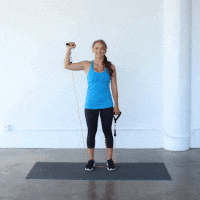 1. Bicep Curls
Remember your standard bicep curl and other arm and shoulder exercises that are done using dumbbells? These can be done exactly the same way using resistance bands Begin with doing three sets of bicep curlandside lateral raises - 10 repetitions each - to pump up your shoulders and arms. Increase the number of repetitions as your stamina increases.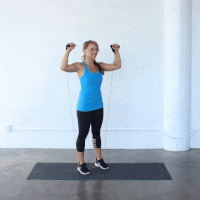 2. Reverse Lunges
Stand with one foot at least 2-3 feet away from your body and placed in front. Put the band under this foot and hold it with both hands at shoulder level. Now, break into a lung, feel the stretch and come back to the position. Repeat on both sides, 3 sets of 10 repetitions each.


3. Push Ups
Lie down on floor and tightly place the band around you. Hold the handles in each hand and push yourself up. You can begin with kneeling pushups before you graduate to the standard version.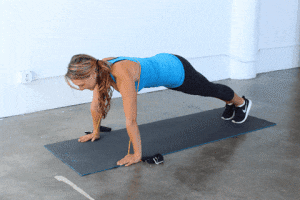 4. Crunches
Lift your legs up in the air and imagine doing standard crunches, now add a resistance band to it. Tie it around your shin area and continue with the exercise. Spread your legs apart while crunching in and come back to the standard position while going down. Again, you should do 3 sets of 10 repetitions each.


5. Kneeling Kickbacks
As mentioned earlier, you can incorporate resistance bands in a range of exercises. From your warm-up routine to even high intensity workouts. A great way to train those glutes is the kneeling kickback. Kneel down on the floor, hold the band in your hand and place it at the sole of your foot. Kick back and feel the resistance. Repeat on both sides, 3 sets of 10 repetitions each.

Resistance bands are a great way to build your stamina. "If you have never been to the gym or are apprehensive about lifting weights, you can begin with resistance bands first. These help you remain fit while you are on a vacation or in case you don't have the time to hit the gym," shares Gaurav Sharma, Fitness Manager at SportsFit gym, New Delhi.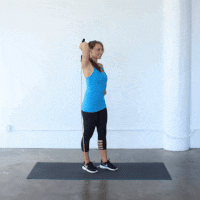 However, do remember the fact that resistance bands cannot outdo or be an alternative to a full-fledged fitness routine. "After a point you will hit a plateau and will need something more challenging and grueling to maintain your weight and stay fit," Gaurav concluded.
All Gifs via giphy