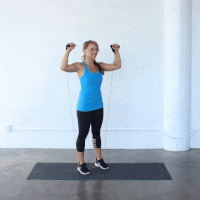 2. Reverse Lunges
Stand with one foot at least 2-3 feet away from your body and placed in front. Put the band under this foot and hold it with both hands at shoulder level. Now, break into a lung, feel the stretch and come back to the position. Repeat on both sides, 3 sets of 10 repetitions each.


3. Push Ups
Lie down on floor and tightly place the band around you. Hold the handles in each hand and push yourself up. You can begin with kneeling pushups before you graduate to the standard version.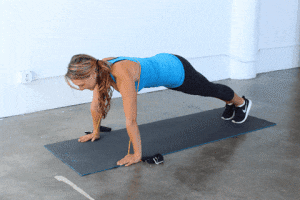 4. Crunches
Lift your legs up in the air and imagine doing standard crunches, now add a resistance band to it. Tie it around your shin area and continue with the exercise. Spread your legs apart while crunching in and come back to the standard position while going down. Again, you should do 3 sets of 10 repetitions each.


5. Kneeling Kickbacks
As mentioned earlier, you can incorporate resistance bands in a range of exercises. From your warm-up routine to even high intensity workouts. A great way to train those glutes is the kneeling kickback. Kneel down on the floor, hold the band in your hand and place it at the sole of your foot. Kick back and feel the resistance. Repeat on both sides, 3 sets of 10 repetitions each.

Resistance bands are a great way to build your stamina. "If you have never been to the gym or are apprehensive about lifting weights, you can begin with resistance bands first. These help you remain fit while you are on a vacation or in case you don't have the time to hit the gym," shares Gaurav Sharma, Fitness Manager at SportsFit gym, New Delhi.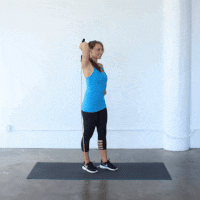 However, do remember the fact that resistance bands cannot outdo or be an alternative to a full-fledged fitness routine. "After a point you will hit a plateau and will need something more challenging and grueling to maintain your weight and stay fit," Gaurav concluded.
All Gifs via giphy