The success of a well-structured
fitness
regime rests on two factors - a balanced diet and exercising the right way. No amount of training will bear any result if not complemented with a
proper diet
. If you train the wrong way, the chances of materialising your efforts into reality gets slashed to half. A lot of fitness enthusiasts also look out for online videos for self-training purposes, but there are heavy chances of you getting most exercises wrong - for what looks easy to pull off may get challenging on the mat. Most fitness related injuries are usually an outcome of faulty execution because you arch your
back
, twist your leg or stress your neck when you are not supposed to. It is time we pay heed to the importance of exercising under supervision and executing a pose exactly how it is supposed to be done.
This piece is not dedicated to the advanced fitness paraphernalia; it aims to get you started on level one. Let's talk about one of the most effective exercises of all time, the one which can help you get enviable, toned arms and work on your entire core as well - planks.
"The best way to start your core training is through body weight exercises, the classic one being the plank position," says a Delhi-based yoga and aerobics expert, Vanita Randhwa.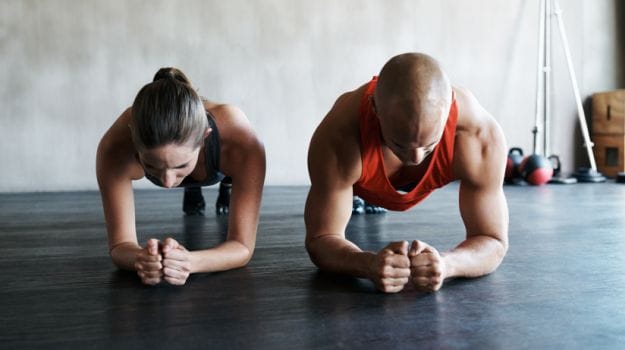 Simplifying Plank
A standard plank position engages your arms, shoulders and your entire core. 'Core' stands for a group of muscles including four large abdominal muscle groups, lower back muscles, pelvic area, thighs, hamstrings as well as gluteus muscles. "When you are in a plank position you are actively engaging your abdominal muscles - rectus abdominis, internal and external obliques, and transverse abdominis. It is a complete body workout as it also involves your lower back and parts of your arms and lower body," shares Gaurav Sharma, Fitness Manager, Sports Fit, Vasant Kunj.
How to Do Planks
1. Get into a push up position.
2. Make sure your entire weight rests on your elbows, forearms and toes.
3. Your elbows should be right under the shoulders.
4. Your body should be parallel to the floor, in a straight line.
5. Suck in your stomach, look in front.
6. Stay in the position as long as you can.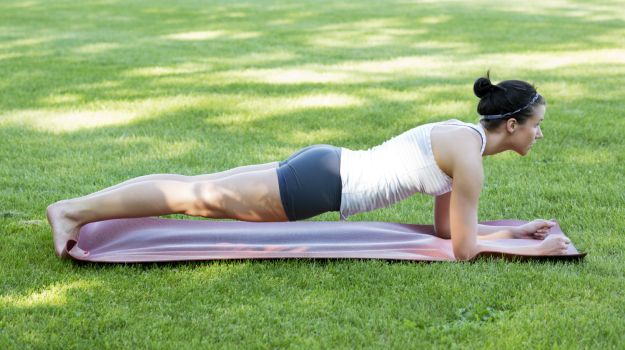 "Those who find it difficult getting into the standard plank position should try doing the knee version instead. Begin by taking the support of your knees, going forward to perfect the standard plank position and take it up to the palm version - where you balance your body on your palms and toes," suggests Gaurav.
The Duration
Beginners can start by doing this for 15 seconds taking it up to a minute and a half or two minutes. "If you plan to hold it for a longer time, make sure you get into the back stretch or the cobra stretch popularly known as the Bhujangasana soon after to release the built-up tension in the muscles," says Prosenjit Biswas, Fitness Manager, Skulpt, Kolkata.
Things to Keep in Mind
"Your posture is of the utmost importance. Ensure that your body is perfectly parallel to the floor and that your back is neither arched nor pushed up. Your elbows should be stationed exactly under your shoulders. One should be able to hold the posture for at least 10-15 seconds, the inability to do so translates to a weaker core and lower back," notes Prosenjit.
"Avoid doing the exercise in case of any abdominal injury or discomfort in the lower back," says Gaurav.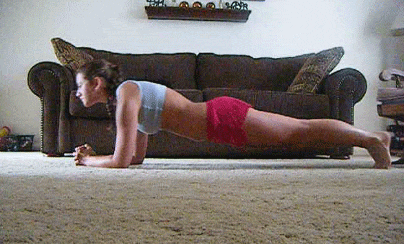 Take it a Notch Up
Once you get comfortable with the standard plank position, try playing around with the duration. The longer you hold, the stronger you become. Experts suggest that after mastering the standard posture you should try out the variations. "You can simultaneously go for the side planks, they are excellent to increase your stamina and train your obliques. Since plank is essentially a core-strengthening exercise, you can complement it with other exercises that target the same area, for example V sit-ups," advises Gaurav.
"Go for plank variations, there are so many of them to give you variety and challenge - commando plank, palm plank, etc" concludes Prosenjit.
No exercise when done in isolation will give you the desired results; opt for a tailor-made fitness plan which targets all muscle groups equally. Don't forget to mix it up with a blend of cardio and resistance training; change your routine fortnightly.
Get fit, #switchtohealth