Magnesium is essential for bone development
With old age, come several risk - weak bone and fractures being one of them. The hip, the thigh bone, spine and the pelvis are most commonly affected in case of old age fractures. A new study, published in the European Journal of Epidemiology, suggests that people who lack magnesium in their diet may be at a higher risk of fractures. Moreover, men may be more prone to
fractures
, especially fractures of the hip region.
Magnesium
is an important nutrient essential for a healthy life and is known to fight
chronic pain
, fatigue and
insomnia
along with several age-related problems. According to this new study, magnesium plays an important role in preventing bone fractures in men which is one of the most preventable causes of disability in the elderly population.
A team of researchers from the University of Bristol and the University of Eastern Finland followed 2,245 middle-aged men over a 20-year period. Their results indicate that men with lower blood levels of magnesium had an increased risk of fractures, particularly fractures of the hip. Moreover, the risk of having a fracture was reduced by 44 percent in men with higher blood levels of magnesium.( Also read:
6 Magnesium Rich Foods that are Good for You
)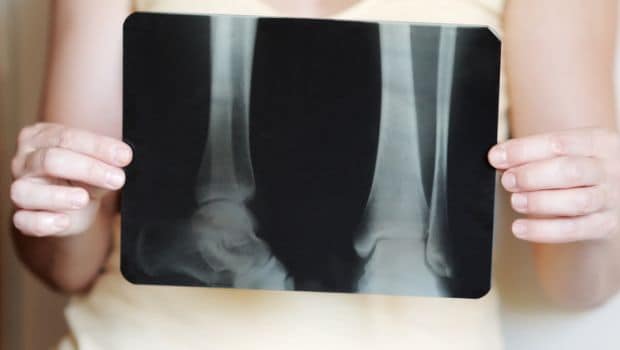 Lack of magnesium may increase risk of bone fractures in the elderly
These findings could help trigger initiatives to include blood magnesium screening in routine blood panels. Magnesium deficiency is very common but people may fail to recognize it. Some of the common symptoms of magnesium include tremors, extreme fatigue, loss of appetite, confusion, insomnia, irritability and poor
memory
. The researchers, thus conclude that having adequate magnesium may protect against the risk of bone fractures. However, further magnesium supplementation trials need to be conducted to prove these potential therapeutic implications.
Generally speaking, we need magnesium to help our blood vessels relax, and for energy production, bone development, and transporting calcium and potassium. As per the Indian Council of Medical Research, the recommended daily allowance of magnesium is 340 mg for men and 310 mg for women. Avocados, cashews, green leafy vegetables like spinach, whole grains, oily fish and pumpkin seeds are some good sources of magnesium that you can include in your daily diet.( Also read: Theres No Magic Bullet For Fitness, But Magnesium Comes Close )