The benefits of consuming a plant-based diet have been brought to the forefront in the recent past. Giving up animal products like milk and eggs is no longer unheard of as many people are opting for such diets citing environmental and health reasons. Plant-based milk is also popping up on supermarket shelves, including varieties like soya milk, almond milk and even oats milk. But is opting for almond milk a healthy choice? What are the benefits that it offers vis-a-vis regular dairy milk or other plant-based milk alternatives? Here's all you need to know about it.
Is It Safe To Drink Almond Milk Every Day?
Yes, you can drink almond milk every day as it is completely safe as an option to regular milk. It is made by blending almonds with water to create a light and refreshing milk that has a sight nutty taste. It is a good idea to consult a dietitian or qualified medical practitioner if you have any nut allergies or doubts about your body's reaction to almond milk. Almond milk is also not suitable for infants or young ones, so keep that in mind.


Also Read: Why Soaked Almonds are Better Than Raw Almond
What Are The Benefits Of Almond Milk? | Health Benefits Of Almond Milk
Milk is touted to be a complete meal, providing our body with all the essential nutrients that it requires for daily functioning. But when it comes to almond milk, is it equally healthy? Does it offer some health benefits for our body? Yes, indeed it does have a plethora of health benefits.
1. Rich In Calcium
Almond milk is a great source of calcium and can provide up to 37% of the daily requirement, which is even more than regular milk. It also has good quantities of Vitamin D, thus helping strengthen bones and improving bone health.
2. Dairy-Free And Vegan
Since almond milk is made using almonds, it is completely dairy-free and a vegan alternative to regular milk. It is also a great option for those who are lactose intolerant to stock up on their essential nutrients.


Also Read: Almond Health Benefits: Pair Your Parathas With Almond Chutney For A Wholesome Meal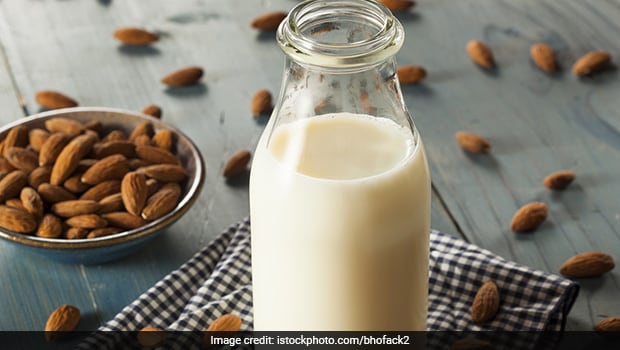 3. May Help Lose Weight
Almond milk is naturally low in calories and has healthy, unsaturated fats in it. This may help in weight loss in the long run. Almond milk can be a great substitute for coffee and tea as well.
4. Does Not Raise Blood Sugar
Since almond milk does not have too many carbohydrates, it does not cause sudden blood sugar or energy spikes. It is also a food which is low on the glycemic index, making it ideal for those with lifestyle conditions like diabetes or PCOS.
5. Rich In Antioxidants
Almond milk is said to be a good source of Vitamin E and antioxidants. This is important to protect our cells against free radical damage, and can also improve immune health.


Also Read: Bored Of Peanut Butter? Treat Yourself With Nutritious Almond Butter
How To Make Almond Milk At Home
Although almond milk is available in the supermarket, you can also easily make it at home. All you need is a handful of ingredients and a quick and easy prep time.
Soak a cup of almonds overnight or for eight hours at least. Peel off the skins and keep them aside.
Blend the almonds with water until they turn to a smooth paste. Add more water to achieve the desired consistency.
Strain out the solids of the almond and enjoy this refreshing drink!
Click here for the full recipe for fresh badam milk or almond milk.


Disclaimer: This content including advice provides generic information only. It is in no way a substitute for qualified medical opinion. Always consult a specialist or your own doctor for more information. NDTV does not claim responsibility for this information.
About Aditi AhujaAditi loves talking to and meeting like-minded foodies (especially the kind who like veg momos). Plus points if you get her bad jokes and sitcom references, or if you recommend a new place to eat at.