Vegetable Soup Recipes: Whether one is trying to ward away the winter chills or just looking for a healthy comfort food, a bowl of soup is almost always the remedy. From New England's chowder and the Spanish gazpacho to the Russian borscht and Italy's minestrone, there are various ways you can combine nutritious ingredients in a pot to create wholesome recipes. Soups are versatile; they make for a quick lunch option or when combined with rice or noodles, it transforms into a complete one-pot meal.
A. Escoffier in The Complete Guide to the Art of Modern Cookery propounds how "Soups of the 19th Century kitchens were in fact complete dishes in themselves and contained, apart from the liquid content and its vegetable garnish, a wide variety of meat, poultry, game and fish. Only the liquid part of these classical dishes continues to be referred to as soup!"
"The ideal soup contains some amount of salt, which stimulates the salty composition (Miso) of the ocean from which primitive life evolved. The first cardinal rule to stimulate your digestion and get you stomach ready for food is the intake of this remarkable aperitif. And if you are following the Macrobiotic path at lunch time then miso or sea salt becomes a must. Vegetable soups have fluid texture -warm, soothing and relaxing," remarks Shonaalii Sabherwal, Macrobiotic Nutritionist and Chef.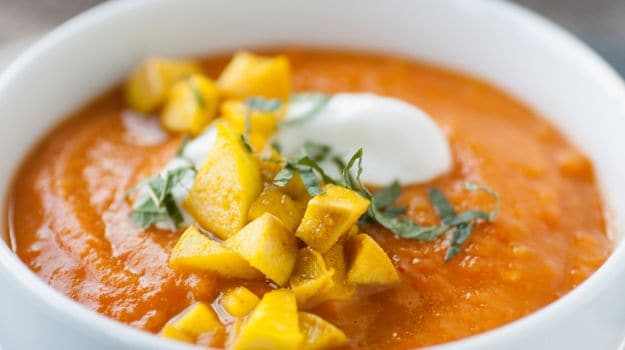 There is nothing like a bowl of hot soup on a chilly winter day.
Shalini Manglani, a Bengaluru-based Wellness Expert says "Simple soups are an easy way to get vitamins and minerals from vegetables into the body. Being easy to digest, they can be consumed by people of all ages. Since they stimulate digestion, pre-meal is the perfect time for consumption."
Some Tips to Remember
1. A strained soup is fiber free. So in order to retain some fiber, avoid straining them for a health boost.
2. Soups can even serve as a great dinner or afternoon snack as far as they do not contain too much salt or preservatives.
3. The base of a good soup is the stock. A home-made stock is a flavored liquid preparation which adds body and depth to soups, sauces, stews and braises. Making it in large batches and keeping it handy works wonders.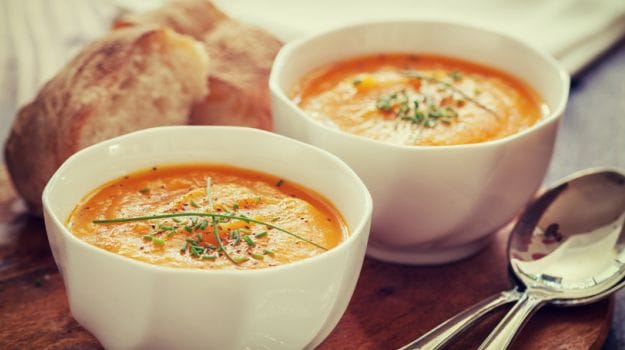 Soups can even serve as a great dinner or afternoon snack.
4. Soups help in keeping the tummy feeling fuller for longer. They become particularly beneficial to those who are trying to lose weight. But what is vital to note is that the soup should contain less or no butter or cream and limited grains and protein.
5. "Usually two bowls of soup a day, each four inch deep is advised. While quick and clear stocks with leafy greens and lighter vegetables is a good alternative in summer, thicker stocks, slow cooked (boiled) on low flame, gain a upper hand in cooler seasons. Round vegetables like beetroot, pumpkin, sweet potato and other tubers can be cooked in the cooler seasons with spices like clove, cinnamon and green cardamom to warm the body," says Shonaalii.
Here Is A List Of 11 Best Veg Soup Recipes

An easy to make pea soup with the goodness of yogurt that can be served hot or cold. This soup recipe is quite easy to make and appetising at the same time as well.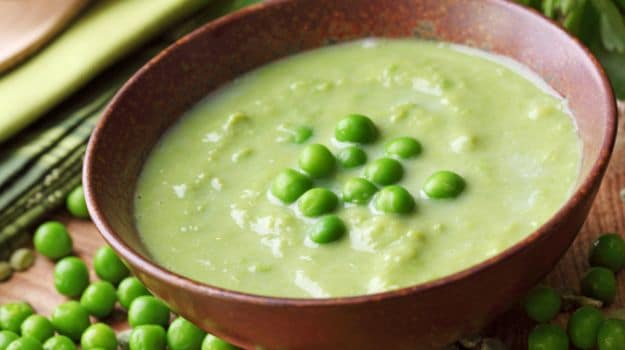 This pea soup recipe is quite easy to make and appetising as well.
Creamy soup made out of radishes, spring onion, celery and vegetable stock, topped off with luscious cream made of tofu, orange juice and honey. This soup contains the goodness of tofu in it.
Tomatoes and carrots blended together in this soup, garnished with basil leaves, olive oil and lemon zest. If you happen to be a tomato soup lover, then this appetiser is sure to tantalise your taste buds.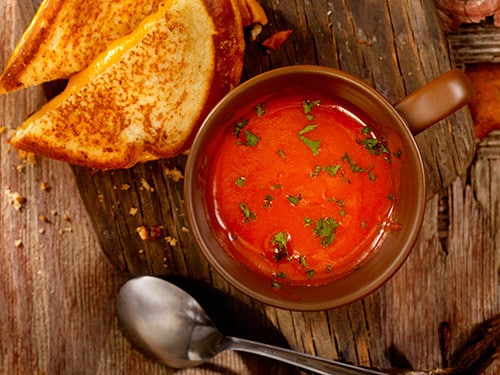 This one's for all the tomato lovers out there.
A baby corn soup with the goodness of cabbage, capsicum and mushrooms. A delight on a wintery night. Add a bit of black pepper in it and you're done for the day.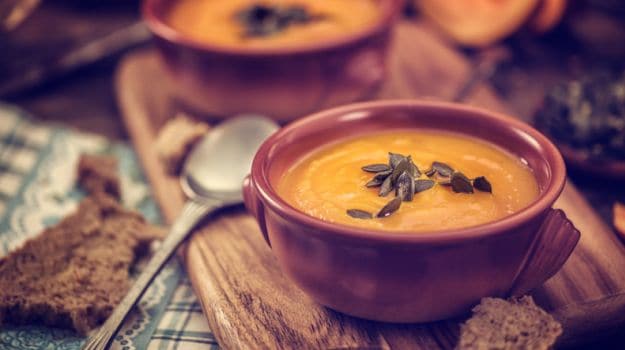 A baby corn soup with the goodness of cabbage, capsicum and mushrooms.
A delicious soup with chickpeas, kidney beans and lots of vegetables that will keep you warm during the winters. This soup is loaded with essential proteins due to the presence of chickpeas and kidney beans.
A delicious and healthy soup made within twenty minutes. This broccoli and mushroom soup is made with a hint of pepper and a dash of cream. Comforting and nutritious, this delectable recipe is sure to be a winner.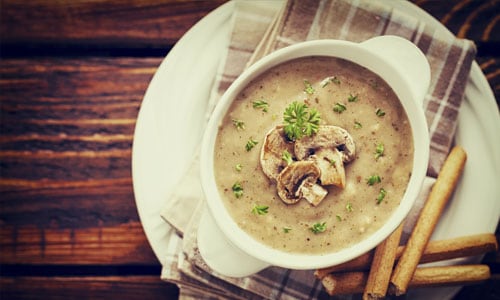 This soup recipe is quite comforting and nutritious.
A hearty and satisfying soup - tastes as good without the bacon. Serve cold in summer or hot in winter. If you are planning to have a get-together at your place, bring this soup recipe to your rescue and impress your guests with your culinary skills.
A very healthy soup with turnips, zucchini and spinach. Makes for a great de-toxifying meal. Turnip and zucchini both are loaded with health-benefiting properties.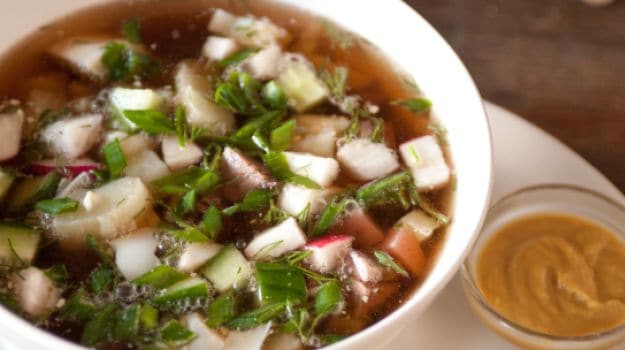 This soup makes for a great de-toxifying meal.
Arjun Gupta of The Piano Man, New Delhi cooks up a healthy, wholesome and filling broccoli soup with cheddar cheese. This one's a meal in itself! Broccoli and cheddar complement each other a lot. Add cream in it and you're done for the day.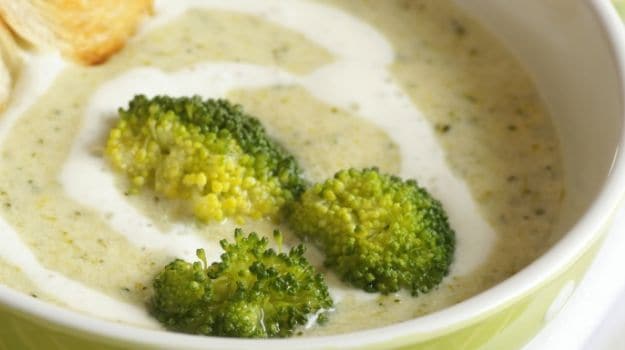 Broccoli and cheddar complement each other a lot​.
Savour the hot and spicy flavours of this Chinese vegetable manchow soup. Manchow soup is a bit high on spice quotient, so if you have a liking for all things spicy, this one's the best soup variety to go for. Manchow soup is a bit high on spice quotient.
This creamy corn soup is perfect for the ones who are looking for a soothing delight. The soup is flavoured with miso and served hot drizzled with chili oil. This creamy soup is flavoured with miso and is extremely delicious.
So the next time you crave for some hot and comforting soups, make these delights and enjoy!