When fresh green vegetables had not been bought for the day, my grandmother often had just onions for dinner.
Pyaz ki Subzi
and
paratha
made for some of the most delicious meals that I ate with her in my childhood. Unlike "Aal ki Subzi" made with what many of us call "spring onions" (green onions or scallions, a cousin of the shallots) — that would be strangely available in only winters in northern India, Pyaz ki Subzi was a year-round recipe. And unlike Aal ki Subzi, where potatoes were added to the greens to give them both more volume and flavour — Pyaaz ki Subzi had some explosive flavours alright, purely on its own merit.To make it was simple enough. Cut
onion
into thin slices and then gently "brown" them, slow-cooking in oil, and then add salt and some basic spices. "Caramelisation" was not a term that my grandmother knew. But she and many cooks before her had instinctive knowledge of this process of cooking to draw out maximum flavour from the most delicious of vegetables.Caramelisation, of course, is the
slow cooking
of a food with sugar used to intensify the flavour. Onions, with a high percentage of natural sugars, are ingredients that benefit quite a lot from this process and Indian cooks have made full use of this to make the base of a number of dishes. In fact, so much of our cuisine is about this simple way of cooking.
Cooking with Onion
One of the most ancient vegetables known to mankind,
onions
have been used in a variety of ways as food and medicine across cultures — ranging from the ancient Egyptian to the Eastern to the southern European, where shallots and the Spanish red onions are both less pungent and sweeter varieties and therefore often
used raw
or lightly cooked with other ingredients.In India too, onions have been used as a food for a very long time. Though it is hard to say when their specific use as a base for "curry" or "
masala
" got popular, especially in northern India. But if home-style gravies use a "kachcha", raw paste of onions and then slow cook it in oil to reduce water and intensify the flavour, before adding a souring agent (tomatoes/yoghurt), other herbs and spices to this base
masala
, richer
Mughal-style cooking
begins with a slightly different onion base.One of the almost magical ways I learnt of adding body and flavour almost instantly to any slow cooked meat dish was by whisking together a handful of fried,
browned onions
with yoghurt and topping the meat-cooking-with-dry spices with this mix. The resulting sauce is so rich and wonderful that it is difficult to describe it as anything other than "silken", however clichéd that may be. This is the secret to a good
qorma
. And I have also rescued many a homely
meat curry
with this two-minute whisk. You can always keep the fried onions stored in an airtight jar in your kitchen as a standard ingredient. That is what many old Delhi Muslim or Kayastha homes would do.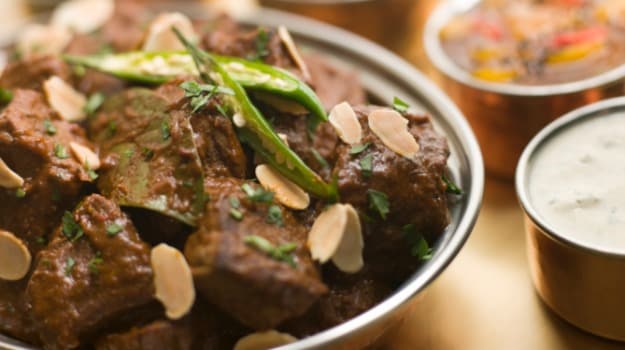 Browning Onions
The browned onions make for plenty of other uses, especially in winter. Brown them in ghee and top them on your dal. Or on your
pulaos, biryani
and
tahiri
. In fact, I once had a version of the
khichdi
at filmmaker Muzaffar Ali's home – whole moong beans and rice cooked together with just enough water to leave the grains separate — where the browned onions completely transformed what would have been a fairly low-intensity flavoured dish to an absolute masterpiece. The
simple khichdi
has never been my favourite. But with
bhuni pyaaz
, it is irresistible.The difference between "browning onions" the Indian way and "caramelising" them, the western way is subtle. But there is a stark difference. While caramelising onions, you could always add a pinch of sugar and balsamic vinegar, aside from salt to the basic recipe. The result is a jammy mix. Even if you don't use the optional sugar and vinegar, the onions are squishy and soft. You could use them to line burgers, to
glaze pork
, as a condiment with a host of interesting dishes, even as a topping for pizza or simply toast. I have in fact used this quite successfully on top of stroop wafels as instant canapés at a party.The Indian browned onions, on the other hand, are crunchy at their best. There is a texture to them. You need to fry the onions in much more
ghee
, at higher heat and let them "get some air" post that. The flavour plus texture makes them invaluable in the kitchen.
Raw onions, on the other hand, are so ubiquitous that they don't need similar elaboration. Eat them with
kebab
, as salad, as the vinegared symbol of pan-Indian
butter chicken
restaurants, as you like… They will protect you from everything from a heat-stroke to cold and flu. They have properties that are anti-diabetic, anti-mutagenic (preventing cancer), anti-inflammatory and even anti-neurotic! But the best is also that at 100 g, onions contain just about 40 calories. Pyaaz ki Subzi may thus be answer for your weight loss woes too. Grandmom, after all, knew best.
Disclaimer:
The opinions expressed within this article are the personal opinions of the author. NDTV is not responsible for the accuracy, completeness, suitability, or validity of any information on this article. All information is provided on an as-is basis. The information, facts or opinions appearing in the article do not reflect the views of NDTV and NDTV does not assume any responsibility or liability for the same.