They are not as trendy as
sweet potato
or
cassava
, but yams have a fascinating part to play in Indian culinary stories. As children,
zimikand
(elephant foot yam, as it is quite colourfully called) was one of our least favourite
vegetables
. After all, we were all a little wary of getting an "itchy throat" thanks to any rogue, untreated piece that floated up in the gravy. And yet the household persisted in having it on the table - particularly in winter, when the yam was more easily available.It would be treated like a delicacy, often as a substitute for meat. This was a vegetable lavished with much care: it would be cut into rectangles,
deep fried
and then put in salt water to take care of any alkaloids that could cause mild poisoning/ itching in the throat and such reactions. Then the tuber would be put into a thick curry; the end result resembling a meaty mass (or so our palates were trained to taste). This would be eaten with hot
rotis
or
pooris
, more often. To cook
zimikand
was a special task.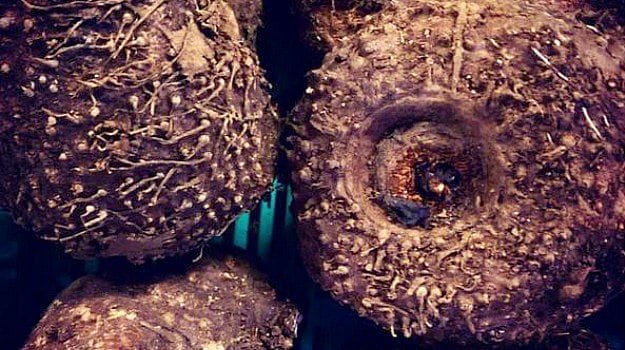 Image Credits: instagram.com/vishnuratheesh

Yam - the Significant Tuber
One of the strangest eating rituals in the family was eating zimikand-mandatorily-on Diwali. The main Lakshmi Puja meal always had a fixed component every year: Yam and poori. Everyone had to eat this. It was much later when reading on the ingredient that I conjectured upon the religious significance. As a hardy tuber that can grow anywhere, even in adverse conditions, as well as a plant that does not die easily (let the tuber lie in the ground and the next year, a new vine will sprout), the yam was associated with the goddess of wealth. It was one of those magical foods, symbolic of everlasting plenty, and ritualistically consumed to maintain that plenitude in the year to come.
Interestingly, there are many elaborate rituals in Africa too accompanying the cultivation of the yam. And in some tribes, the biggest one grown must go to the tribe's chieftain. Clearly, it is a food that has always been associated with food security-and hence prosperity and strength of a community. In Kerala, where the yam is also commonly used in cooking, this becomes even more important. The yam began to be cultivated on a large scale in the area after rice production apparently declined. So much so that the old recipe, Kaavathu Kizhangu, is cooked and eaten as a replacement for rice.

Yam - The Powerhouse of Nutrients
In the world's poorest regions, yams have been traditional and cheaper sources of carbohydrates and energy. And though their popularity-and gourmet chicness-has been on the rise in the last few years with chefs and trendy bars, especially in America, experimenting with these (as well as cassava and sweet potato), fact is that those ugly looking unseemly vegetables are a powerhouse of nutrients at a low cost.
Yams contain high carbohydrate, protein, vitamins, antioxidants, minerals, and dietary fibers. They are known to help the digestive system, being high in fiber, can be used for weight loss because of this, but have also other known benefits. They help reduce LDL (the bad cholesterol) and are thus good for heart health. They are effective against hypertension, apparently also have anti-ageing properties and help maintain the hormonal balance in women. Moreover, they are even credited with increasing the production of red blood cells.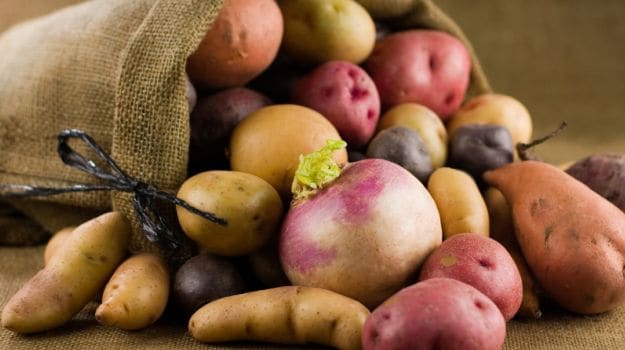 Cooking with Yam
Once you take in all these benefits, eating them on a ritualistic occasion like Diwali does not seem like such a bad idea at all. In fact, in northern India, zimikand has quite an established use as a meat substitute. The curry, where the tuber is cooked in yoghurt like goat meat, is of course one way to cook it. But then there is also the prevalence of faux kebab made with the starchy vegetable. So you have Zimikand ke Shami Kebab now being served up in some restaurants, primarily using the starchiness and the texture of the vegetable, as also the fact that it has little flavour of its own and can thus be easily used in "pretend" dishes.
An interesting preparation is also the "qabuli" from Rajasthan-a rice dish, where yams are layered with Basmati and cooked almost like a biryani. Obviously, this one is a little more sophisticated take on the all-pervasive phenomenon of the "veg biryani" with French beans and carrots that we find in our midst. Undoubtedly, as the name itself suggests, this must have been some kind of an earlier attempt at approximating the Kabuli Pulao.
Finally, one word on the difference between sweet potatoes, cassava and yams. The former are not the latter. In America, sweet potato is often confused with the yam and the confusion thus persists in the global restaurantscape too. But these are biologically distinct plants. The yam is a hardier tuber, not yet as fashionable as the others-though it is getting there!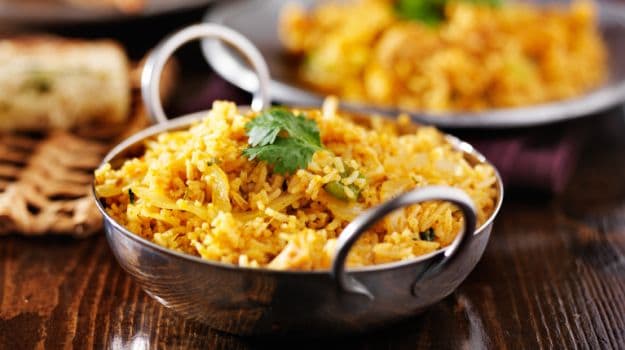 About the Author:
Anoothi Vishal is a columnist and writes on food for The Economic Times and NDTV Food, and runs the blog amoveablefeast.in. She tracks the business of restaurants and cuisine trends and also researches and writes on food history and the cultural links between cuisines. Anoothi's work with community-based cuisines led her to set up The Great Delhi Pop-Up three years ago, under which she promotes heritage, regional and community-based cuisines as well as researched and non-restaurantised food concepts. She has also been instrumental in reviving her own community's Kayastha cuisine, a blend of Indo-Islamic traditions, which she cooks with her family and has taken across India to a diverse audience.
Disclaimer:
The opinions expressed within this article are the personal opinions of the author. NDTV is not responsible for the accuracy, completeness, suitability, or validity of any information on this article. All information is provided on an as-is basis. The information, facts or opinions appearing in the article do not reflect the views of NDTV and NDTV does not assume any responsibility or liability for the same.