No one really confesses to liking it anymore, but
poori
has to be India's favourite breakfast dish across the board. From the
nagori
(with
halwa
) of old Delhi — small fried bread seasoned with salt and cumin – and the various versions of
kachori
served piping hot with potato curries all through the Indo-Gangetic belt to the
luchi
of
Bengal
and the festive
shrikhand-poori
of the Western states,
poori
is a pan-India bread, found in almost all kitchens of the Subcontinent.It is also inevitably linked to festivities and rituals of the Hindu calendar. No auspicious day can be complete without the frying of the bread in a
kadai
full of hot ghee or oil. You may not have thought much about this practice, but it is one rooted deeply in the Vedic way of cooking.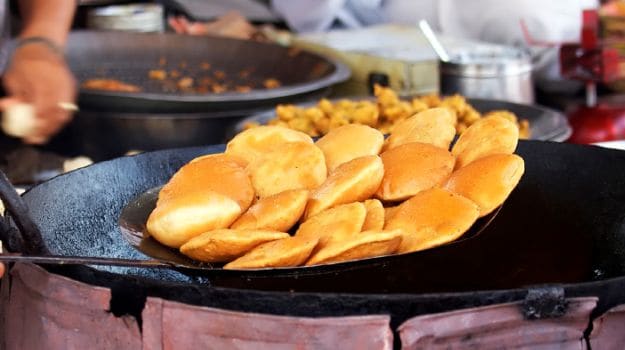 Vedic Cooking
The ritualistic and bound-by-strict-rules traditional
Vedic kitchen
had some rather strange practices. Treating food as "pucca khana" and "kachcha khana" was one of them. Ghee, as a medium through which sacrificial offerings reached the gods, was always revered as a valuable ingredient in Vedic cooking. Anything cooked in ghee thus became "pucca" or "saccha"
khana
—pure food, the highest category of all that could be consumed by Vedic society.
Kachcha khana
, on the other hand, was food, not dipped in
ghee
. It could be raw foods or food "partially" cooked—like
roti
, the flat bread cooked on a griddle.
Kadhai-chadhana
, putting the wok on the flame literally (or
frying
) thus became part of the ritualistic way of cooking in early Indian society. And
pooris
found their way on to our plates during each festival and as part of morning meals, where fried food was preferred also as a way to preserve it in the absence of refrigeration.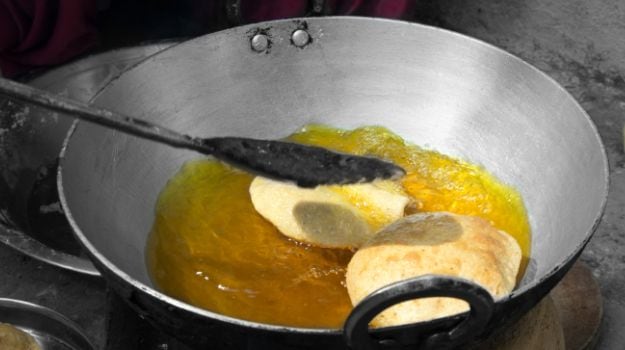 The Breakfast Favourite
Poori Aloo has to be the all-time favourite combination across regions in India. The potatoes are curried with different combination of spices depending on the region—in old Delhi, for instance, the potato curry is cooked with a dash of
fenugreek
, while in Agra, the spice mix is dominated by black pepper. This was typically served in donas, cups made with
sal
leaves and covered with the fresh
poori
, in the bazaars at single-dish shops specialising in the business of breakfasts. In Punjab,
bhatura
, a version of the
poori
, made from refined flour and fermented, is the breakfast dish of choice, eaten with chickpeas. It was a snack brought to Delhi, post partition and is now indelibly associated with the street food culture of the Capital.But
poori
also made for a convenient snack, especially while travelling, since it would not spoil. So dry preparations of potatoes, tempered with just a little
cumin
and
asafoetida
became convenient, to be rolled into the
poori
and eaten in one go.
Sprucing it Up
Poori
can, of course, be turned exotic. You could add natural colour (beetroot or spinach) to the dough and serve it during festive occasions like
Holi
, the festival of colours. Or, you could season the plain dough with a variety of spice mixes to make it into a
kachori
—the stuffed
poori
.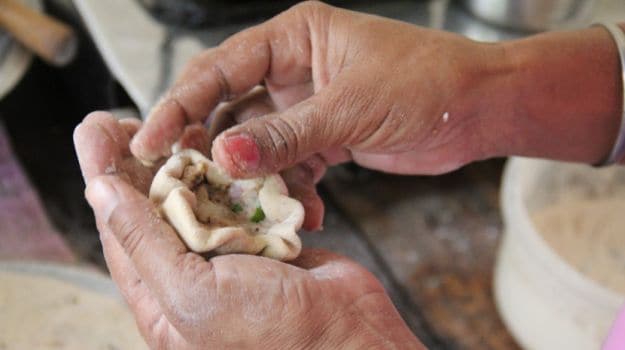 The traditional stuffing for
kachori
has always been lentils, more specifically the white
urad
, soaked and ground. This is tempered with asafoetida,
ginger
and green chillies for a much-needed bite and stuffed into the
poori
dough, before being rolled out and fried. Like the
poori, kachori
is predominantly eaten with a gravy of potatoes although it may be entirely satisfactory to eat it solo, or with a crisp
namkeen
and some red
chilli pickle
.When palates seek something sweeter, the savoury-sweet combination works too.
Kachori
with
jalebi
or
poori
with Shrikhand—during Diwali in Gujarat and Maharashtra—work on the same principle. As does the famous Nagori Halwa of Delhi and the
poori-halwa
tradition of the Navratras.But stuffed
pooris
or
kachoris
turned inventive too. Green peas, which only came in with Colonial trade to India, became the exotic "English" vegetables of the Indian elite. They started being increasingly used in Indian dishes, in combination with
keema
(
Keema Mattar
), with khoya (Khoya Matar) and much later with
paneer
, the cheese that came from Punjab. They also started being stuffed in
samosas
and
kachoris
. And thus we have traditions such as the
matar-stuffed
kachori
of UP, Rajasthan and Radha Ballabi of Bengal.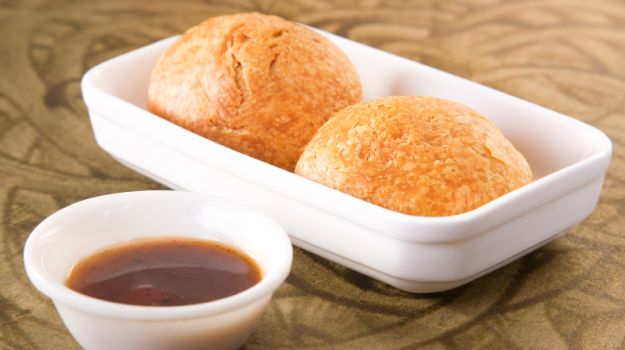 Finally, though
poori
may be ritualistic food, it is a mistake to think of it only as part of a combo with potatoes, peas and other vegetarian side dishes.
Poori-kebab
or
poori
-meat curry is a fairly established tradition amongst the Kayasthas of UP and old Delhi, the community to which my family belongs, and that exhibits even today the unmistakable imprint of India's Ganga-Jamuni culture. The Vedic fried bread coming together with the Persian-influenced kebab is a befitting metaphor.
Disclaimer:
The opinions expressed within this article are the personal opinions of the author. NDTV is not responsible for the accuracy, completeness, suitability, or validity of any information on this article. All information is provided on an as-is basis. The information, facts or opinions appearing in the article do not reflect the views of NDTV and NDTV does not assume any responsibility or liability for the same.