I don't think I can sing enough paeans to
undhiyu,
the Gujarati winter dish that marries plantain, baby
potato
, brinjal,
vaal
beans,
suran,
and
kand,
in a warm, comforting stew with coconut and
muthias.
Often, my kind Gujarati neighbours send over a bowl, or I might pootle across to Soam restaurant, or trudge to Bhuleshwar's Hiralal Kashidas Bhajiawala, who supplies perhaps the best
farsan
I've tasted out of Gujarat.The Gujaratis are just one community that plays so effectively with root vegetables (their
kand na bhajiya
, and
suran batata nu shak
were contrived effectively as fasting food, but I could eat them anytime). My grandmother, who grew up in Gujarati and Rajasthani villages used to tell me tales of how her family would roast sweet potatoes over a wood fire, the charred, blackened skin providing the perfect counterpoint to the sweet flesh within. We've tried replicating this on our piddly gas flame, and although it is really quite delicious, nothing can quite compare with cooking these over wood and charcoal fires!.
Sweet potatoes
, smeared with a sprinkle of
chaat masala
and lime, are a popular street food snack. Hyderabadis cook
arbi
with peanut into a sort of
seekh,
in a tandoor. And on the smorgasbord of the Onam Sadya, yam is often a key component.(Also read:
Undhiyu - Gujarat's Signature Winter Dish
)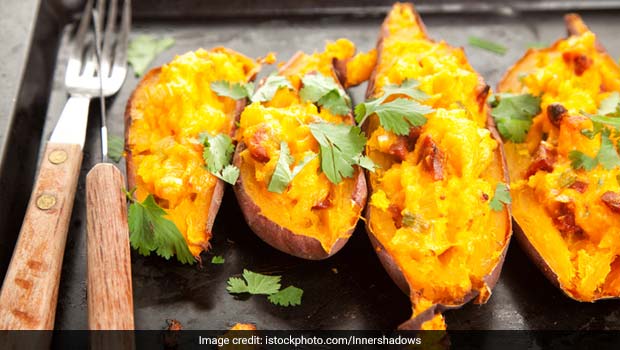 The Gujaratis are just one community that plays so effectively with root vegetables
This is all to say that Indians know their way round root vegetables, there are a myriad recipes that almost every community boasts of. We're especially lucky in that we have such tremendous biodiversity, such a wide variety of
root vegetables
. Even better, many of them have edible leaves, such as the colocasia (arbi). Parsis twirl these into patrel, the Assamese cook them with seafood, Mizos dry them and use them as an aid to seasoning, and
Maharashtrians
pulp them into a curry called aluchi patal bhaji. Almost all of these are indigenous plants; yet the one root crop that rules them all is the potato, which is in fact, a South
American
import. Yet, it has taken root (sorry!) so firmly in our food as to almost displace its sisters and brothers. For instance, I cannot recall the last time I stepped into a restaurant to see
kand or arvi
on a menu!
The Bigger Picture
In the book, Tuber and Root Crops, Mari Sivaswani Palaniswami, Kuruppacharil Varkey Peter write about the dazzling variety of root vegetables that are now an indelible part of our
cuisine
, most of which are easy to grow, thriving across the country's multitude of climates. They have also helpfully enumerated about 25 species of root and tuber crops, everything from cassava, sweet potato, yams, arrowroot etc. "Tropical root and tuber crops are known as the energy banks of nature serving either as primary or secondary staple to meet the calorie needs of about one-fifth of the world's population," they explain. Also, "Their adaptation to marginal environments, their contribution to household food security, and their great flexibility in mixed farming systems make them an important component of strategies to help improve the welfare of people, especially rural and semi-urban populations.
Eating Tubers
1, Koorka Stir Fry
The koorka is small tuber (sometimes called shemma or
Chinese
potato) that is widely available in South India in the winter; this recipe comes from Kerala where the vegetable is widely beloved.Koorka 1/4 kg
Shallots / small red onions 4, chopped finely
Kashmiri chillies 2 tsp, chopped
Curry leaves 2 sprigsClean and peel the skin off the koorka, then slice them into small pieces. Next, season and pressure cook them for about two whistles. Meanwhile, heat up some oil (preferably coconut) in a kadhai. Then add in the red chillies and curry leaves and onion, stirring until onions are lightly browned. Then add the koorka, cover, stirring occasionally, for about five to10 minutes, until koorka are golden-hued.
The koorka is small tuber​ from South India
2. Kand Bhaji
This is a recipe that comes to me from my Gujarati neighbours — it is a sort of chaat made with potatoes and purple yam.1 cup chopped diced
kand
, parboiled
1 cup diced potato, parboiled
Amchur 1 tsp
Chaat masala 2 tsps
Dhania powder 2 tsps
Kashmiri chillies 2, finely chopped
Salt, to tasteSaute the chillies in hot oil, in a saucepan, then add in the kanda, the potato, and the remaining spices, cooking for about ten minutes, and stirring ever so often. When potatoes turn a little crisp and golden, take off the pan and serve.
3. Kochu Jhol
This recipe is kochu (or arbi) cooked in a light gravy, the Bengali way.Arbi 3, sliced into discs, skinned and parboiled
Panch phoron masala 1 tsp
Ginger - garlic paste 2 tsps
Turmeric powder 1 tsp
Cumin powder- 1 tsp
Red chili flakes 2 tsps
Green chilies – 1
Mustard oil, to cook
Salt, to tasteMake a dry rub of salt and chilli flakes and
turmeric
, and massage into the arbi. Then upend them into a saucepan of hot mustard oil, frying for about five minutes. Remove and keep aside. In the same pan, heat the oil, and add the remaining ingredients. Add a little more oil if required, and then add the pre-fried arbi. Add 1 cup of water, simmering for about 10 minutes, until it is cooked. Serve with rice.Now that we have spun around India with our tuber recipes, let me tell you my favourite way to eat tubers. The simplest thing would be to toss them into the oven to roast with a few herbs and spices, and while that is an excellent way to understand the textures and tastes of each tuber, my favourite recipe involves making a large, creamy bowl of mash — I pop them into a pressure cooker until they have softened, blend them in a food processor with a little butter (or mash them), and stir a little fried
garlic
and
onion
through them. Superb!
About the Author:Meher Mirza is an independent writer and editor, with a focus on food and travel. Formerly with BBC Good Food India, she loves anime, animals and artsy things but also comics, technology and death metal.Disclaimer:The opinions expressed within this article are the personal opinions of the author. NDTV is not responsible for the accuracy, completeness, suitability, or validity of any information on this article. All information is provided on an as-is basis. The information, facts or opinions appearing in the article do not reflect the views of NDTV and NDTV does not assume any responsibility or liability for the same.