Picture Courtesy: Instagram/Amarkande
I don't run away from winter, I embrace it. As the air outside becomes crisp and my feet turn cold, I eagerly wait to celebrate the
joys of winter
. It's not just the comfort of the elusive rays, it's also the aroma of
smoked meat
rising from the kitchen, free hours spent stirring
soup
, streets lined with vendors selling the good old
Shakarkandi ki Chaat
and a divine dessert that only this weather will bring.
You can call it Daulat ki Chaat in Delhi, Malayo in Varanasi, and Nimish in Lucknow but I've always known it as Malai Makhan. I remember it from my childhood in Kanpur, when Munna Makhanwala would bring dainty earthen pots packed with a frothy, foamy treat which was a part of every feast and celebration. It's probably the best that I've had and arguably the best you'll ever get. I don't blame you if you never knew this - few do.
For years, he managed to tightly guard his secret recipe and tricked me into believing that this pillowy dessert is a cross between a snow flake and a cloud. 'You don't make it wait', he'd smirk, while I would stuff my face with a spoonful and gulp down my curiosity. It was only a few years ago that I coaxed him to reveal the mysterious making of the dessert and what made it so special. It's a long process - one that needs to be appreciated for its complexity and beauty.
It all starts a day before, in the evening around 5 pm, when milk is boiled, mixed with some cream and then cooled. He uses fresh buffalo's milk, which is then placed in a clay pot and left out in his garden under the winter sky to set and soak in the dew. After about six to eight hours, sometime around dawn, the milk is churned constantly using a mathaani. If folklore is to be believed, it could only be prepared on chilly, full moon nights. But Munna Makhanwala explained that the dew drops add lightness to the milk and help in aeration while blending. It takes about three to four hours of whisking to transform the milk into a whimsical froth, solid enough to hold in soft peaks.
The cottony pile is scooped out delicately and topped off with sugar, green cardamom, almond flakes and pistachios. What I love the most are the bits of malai, added later, that simply melt on your tongue. It is then embellished with 'Chandi ka Warq' (silver leaf) as a final touch. Nimish, the variety from Lucknow is more dense and fragrant with rose water while the Malai Makhan from Kanpur offers a buttery mouth feel.
Back in the day, people used cow's milk but most of them have now shifted to buffalo's milk as it contains more fat which lends the creamy texture, he tells me. Given that the preparation is such a laborious task, there's something heroic about its survival.
I've never had a reason to be unfaithful when in UP but renowned food critic, Marryam Reshii told us how she fell in love with Mallayao in Varanasi. "I think it's a real treat. You'll find a number of hawkers selling it on the way to the Krishna Mandir. It is served as an offering to God, being Krishna's favourite. Here, they use a lot of saffron which gives it a nice yellowish tinge and adds a sweet aroma. The one thing that I'd go back to Varanasi for is to overdose on malai which is rich and delicious," she chuckles.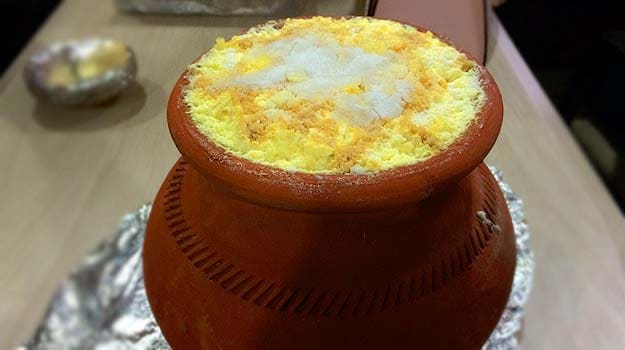 After moving to Delhi, I've been trying to find something familiar that reminds me of home, and only last winter I located a few reliable spots. Daulat ki Chaat, as it is known here, is also one of the many wonderful secrets of the Old City. Babu Ram sets up his stall at Dariba Kalan and Sitaram Bazaar and he inherited the skill of making Daulat ki Chaat from his grandfather, this is his 'khandaani kaam' and he originally belongs to UP. On hearing this, I was struck by nostalgia but the taste was new to me. It was different, far sweeter and creamier, yet worth every bite.
Here, they use raw milk mixed with cream which is cooled on an ice slab overnight. Later, gallons of sweetened milk are whisked by hand till frothy and then enriched with kewra, khoya, mawa and crumpled chena also known as karare, shared Babu Ram. Another one of my favourites is Khemchand Adesh Kumar's Daulat ki Chaat and you'll find him mostly parked at Nai Sadak.
It's little surprise that today there are not many vendors around who will serve you authentic fare as the time-consuming process does not really compliment the returns. Most of them either deviate from the original recipe by using a dose of cream tartar as a leavening agent or electric blenders to get the texture right.
While it takes almost a day to prepare it, you need to sell this sweet dish as quickly as possible before it collapses in the heat of the day and turns into a milky puddle. This can be quite challenging because the day's produce cannot be reused or stored and needs to be discarded if not sold, says Babu Ram. He makes five thaals of Daulat ki Chaat everyday and each require about two to three hours of churning. A dona (a big plate) fetches him nothing more than Rs.50 and Rs.600 for a kilogram.
Under the pale winter sun, hawkers wheel their carts into the shades of Old Delhi's by-lanes. As summer steps in, they quietly melt away only to make a fleeting appearance once again from November to the end of January.
This is where Manish Mehrotra steps in with his gastronomic delight that's available all year round. Even though the process of making it is not the same, it's still a gem. I'm talking about the Daulat ki Chaat which he's recreated at Indian Accent. "Our dessert is inspired from Malai Makkhan in UP. In olden days, there were no means to refrigerate or chill and this is why milk was left to cool by the dawn dew. To survive, the recipe has to change with time. Today, it's possible to create the same texture and taste without making it complicated," he says.
"Not many people know about old delicacies like Daulat ki Chaat. That's what we're doing at Indian Accent, to try and give you the same experience and keep them alive," he says. At his restaurant, he makes this unique dessert with cow's milk and uses nitrogen capsules to cool the milk before whisking up the foam. Nuts and rose petal chikki are added for a nice crunch. The Daulat ki Chaat comes fancy in a terracotta pot, circled with fake paper currency notes and smoke to add drama (an ode to its name). The texture is beautiful and fragile but as far as the taste is concerned I'm biased. Or maybe I still believe that the perfect milk puffs require some assistance from the angels by the light of a full moon.Nevertheless, don't miss the cruelly short season. This time of year is definitely about enjoying the feather light foam that disappears as quickly as it hits your palate while the sublime sweetness lingers on. There is something incredibly comforting about it.