Restaurant Review- Pa Pa Ya, the New and Edgy Pan-Asian Bistro in Mumbai
Harnoor Channi-Tiwary , NDTV | Updated: July 13, 2017 13:51 IST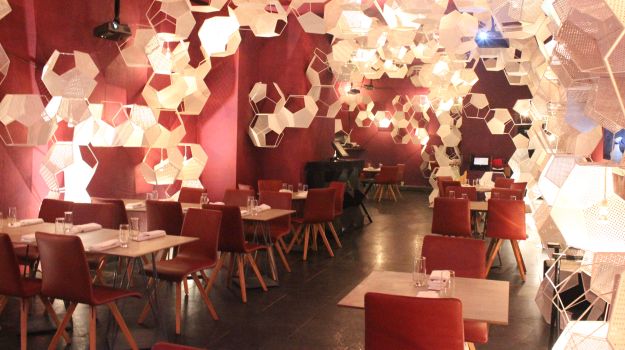 A restaurant located inside a shopping mall is much of a dampener. This perception is difficult to break, especially for a fine-dining establishment. Even if the mall is as high-end as Palladium itself, and the clientele as glamorous as they come. Perhaps it is for this reason that the newly opened Pa Pa Ya tries too hard with the décor, in an attempt to create a characteristic space. The interiors are edgy and funky alright, but they seem to go over-the-top. If only they had allowed the food to speak for itself. Because it does, and how.

From the culinary house behind the exceptional Masala Library, the innovative Farzi Café and the popular Made in Punjab, Pa Pa Ya is their first step outside of Indian cuisine. And a baby-step this is not, rather a leap of faith. Instead of sticking to the tried-and-tested popular oriental dishes, the restaurant decides to take a step off the path well-trodden. The menu is a delight, ranging from sushi, dimsum and small plates to main course dishes that are not often found in Pan-Asian restaurants in India.

We started off with Horenso Gomae (wilted spinach in a chilled roasted sesame sauce; Rs.550). The spinach itself was well seasoned and delicious, the toasted sesame seeds adding a crunch to the same. However, the sauce was overwhelming, both in flavour and quantity. Perhaps a drizzle of the same would have worked better than the puddle. This was followed by Crab and Scallop Ravioli (Rs.545) which was delicate but did not make much of an impression. Thankfully, this is where the mediocrity ended and the food just kept getting better hereon. The Har Gao (Prawn Dumpling) in Green Curry Farce (Rs.335) was a hit and perhaps one of my favourite dishes from the entire menu. The prawn was succulent and the dumpling wrapper did not disintegrate when cut with a knife. The green curry lent it a unique twist and did not overwhelm the dish.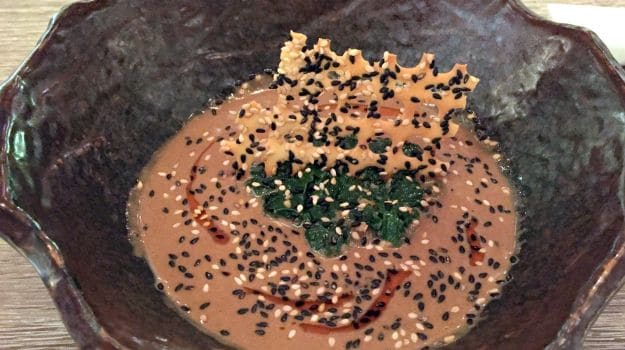 The sushi at Pa Pa Ya is much talked about and we set off to discover why. Ebi Tempura being a common dish in many sushi menus in India, we decided to try its cousin, the Soft Shell Crab Tempura Roll (Rs.595). Well plated, the maki roll was served with soy sauce (made in-house and therefore not too salty), ginger and wasabi. The flavours were well balanced and the sushi delicious. However, the pieces were fairly large and thus difficult to eat. I would have loved it if the pieces were bite-sized.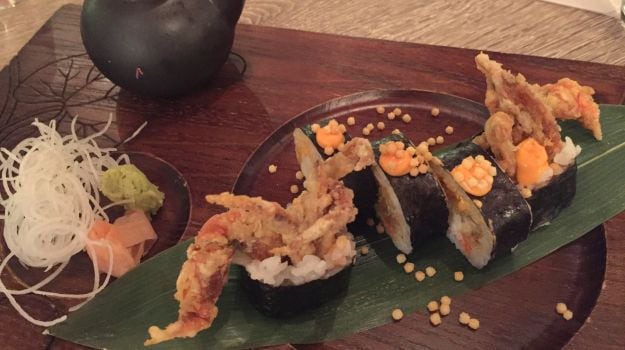 On being quizzed about his favourite dish on the menu, Zorawar Kalra said that if he must pick favourites, it would be the Tuna Pizza and Chorizo Takoyaki served with Negi Tare and Parmesan Tuile (Rs.395). And we couldn't agree more. These two quickly found their place in our list of favourites too. The Tuna Tataki Pizza (Rs.750) is pure genius. A paper-thin crispy corn tortilla topped with fine slices of seared tuna and a drizzle of jalapeño mayonnaise, this one is a winner. Light and delicious, this is what you must order if you want a bite with your drinks. The Chorizo Balls were stuffed with grilled octopus and were scrumptious as well, as was the melt-in-the-mouth Pork Belly (our favourite remains the one at Fatty Bao but this comes a close second).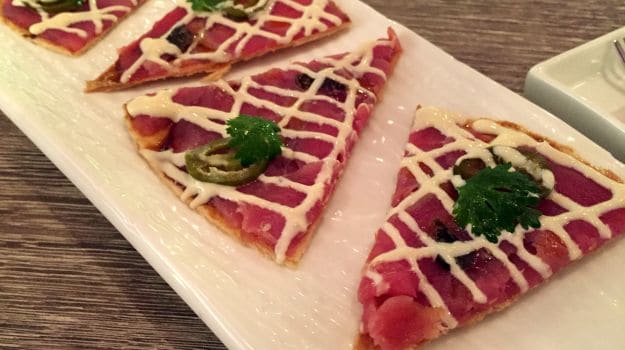 For mains, we tried the Lamb Rendang Curry (Rs.495) and Singaporean Chili Crab (Rs.695). If there is one dish you have at Pa Pa Ya, let it be the Lamb Rendang. The meat literally fell off the bones and the gravy blew our minds. Lapped up with some Roti Prata (similar to lachha parantha), it was difficult to not go back for seconds. The Chilli Crab paled in comparison, not due to any limitation of its own, but solely because of the excellence that accompanied it. The mantao buns served with the crab however, were freshly baked, fluffy and lovely.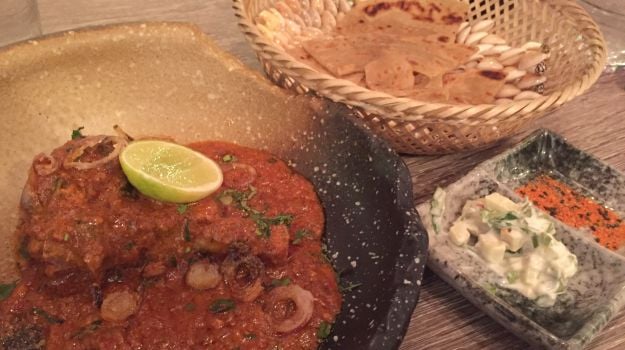 With barely any appetite left for desserts, we tried a spoonful of the Liquid Hazelnut fondant cake with Matcha and White Peppercorn Quenelle (Rs.325) and quite liked the interplay of flavours. The presentation was ingenious, which is what sets the dishes here apart from those in other restaurants. Each dish is plated painstakingly and garnished like a work of art.

Pa Pa Ya manages to break stereotypes in its attempt to deliver a dining experience within a shopping mall. The food is a feast for the eyes as much as it is for the taste-buds. Great for a lunch meeting, a special occasion or even catching up with friends after a tiring day of shopping.

Rating: 3.5 on 5
Meal for 2: Rs.2500
Must Have: Har Gao with Green Curry Farce, Tuna Tataki Pizza and Lamb Rendang Curry (a special mention to the apple slaw with paan leaves served as an accompaniment).
Location: Level 3, Palladium Mall, Senapati Bapat Marg, Lower Parel, Mumbai


For the latest food news, health tips and recipes, like us on Facebook or follow us on Twitter.