There's nothing quite so rabble-rousing as deciding on a restaurant that'll please the whole family at the same time. Luckily, we've put together a list of some of our favourite buffet options that should please even the most difficult diner - everything from Asian to European food, and poolside dining to
rooftop views
, so there's something for all diners. Time to eat like a champion!
1. Sea Lounge at the Taj Mahal Palace for Afternoon Tea
At the heart of Mumbai's tourist trail lies the grand dame of all Mumbai hotels - the Taj Mahal Palace, Mumbai. Ensconced within is the sea-facing Sea Lounge, perfect for a steaming cup of
chai
and pastries. Bolster your tea with their vast, rather delectable buffet of eats that includes everything from fish fingers to
freshly-made chaat
, while a kindly pianist plays cheery tunes nearby. It's the quintessential Mumbai experience.
Address:
The Taj Mahal Palace, Apollo Bunder, Mumbai, Maharashtra 400001
Photo Credit: instagram/mikeisinnyc
2. Indigo for a European Buffet
Indigo was once voted one of the top 60 restaurants in the world and it's where all of Mumbai's well-heeled congregate for a taste of Europe. Plunge into its excellent
egg concoctions
(as befits a brunch buffet), choose from the ravioli or the risotto, delicately disembowel the catch of the day that comes infused with herbs and wrapped in a pandan leaf, and finish with the decadent croque madame, made with emmenthal, ham, arugula and egg. Pro-tip: it has an excellent wine list.
Address:
4, Mandlik Rd, Colaba, Behind Taj Mahal Hotel, Mumbai, Maharashtra 400001(Also read:
8 Best Buffet Restaurants in Pune
)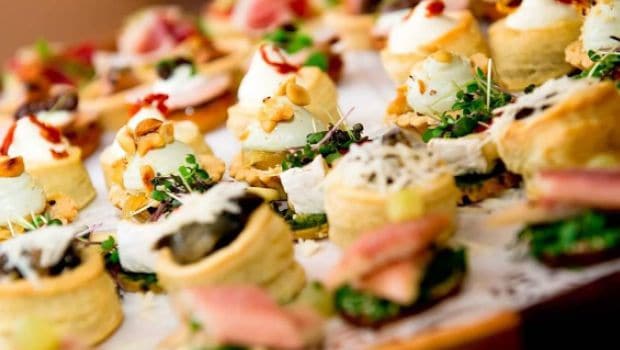 Photo Credit: instagram/foodindigo
3. San:Qi at Four Seasons for Fancy Asian dining
Another delightful Sunday buffet option, San:Qi is a scrumptious ode to everything Asian. Try the dim sum or the Chinese barbecue, stock up on the fresh sushi, enjoy some teppenyaki, or eschew it all for some elegantly-plated tandoori grub. The buffet is spread over two cavernous levels, guaranteeing a truly sumptuous brunch buffet experience. Pair with Veuve Clicquot Ponsardin, spirits, beer and Indian wine for a truly decadent meal. There is even a children's menu available.
Address:
No.1/136, Dr. E. Moses Road, Worli, Mumbai, Maharashtra 400018 (Also read:
Know the Difference Between Dim Sum and Dumplings?
)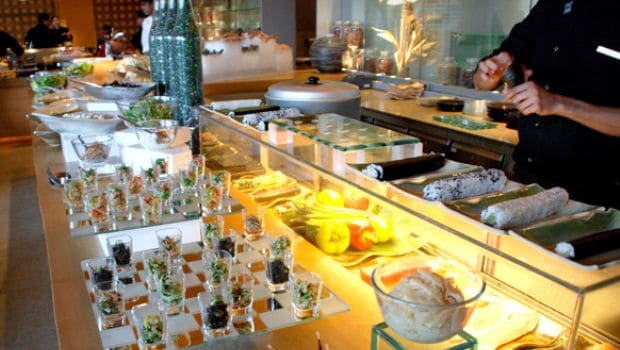 Photo Credit: instagram/travel

4. The Barking Deer for a Beer-y Buffet
Wander on until you reach Lower Parel for a Sunday buffet at the Barking Deer Brewpub. Helping to raise Mumbai city's spirits from 2015, The Barking Deer offers some of Mumbai's most delightful brews-- an IPA, a pale Belgian Wit, a malty Bombay Blonde and a delicately sweet Honey Bee Braggot. With wines, cocktails and beers on tap, the food is almost beside the point. Go only if a nap is guaranteed afterwards.
Address:
Mathuradas Mill Compound, Senapati Bapat Marg, Lower Parel West, Mumbai, Maharashtra 400013(Also read:
India's Most Popular Microbreweries
)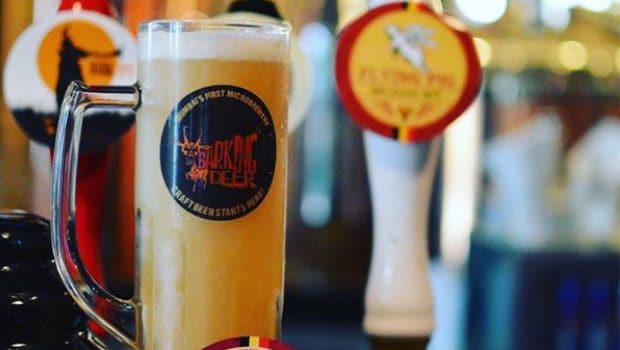 Photo Credit: instagram/craftbeerstarshere
5. Seven Kitchens at the St Regis for a Champagne Brunch
When seven world cuisines coalesce into one brunch buffet, the experience is guaranteed to pique your taste buds. At the Seven Kitchens buffet, you get everything from puris to
poha,
Chinese congee to bangers and mash, and an enormous cluster of sweet treats; that's everything from syrup-drenched pancakes to carrot cakes to gelatos. For a spot of extra money, you can enjoy your buffet with a bottle of Moët Magnum, as part of the Sparkling Brunch. This one is strictly for the deep pocketed.
Address:
The St. Regis Mumbai, The St. Regis Mumbai, Floor 9M,, 462, Senapati Bapat Marg, Mumbai, Maharashtra 400013(Also read:
How to Drink Champagne
)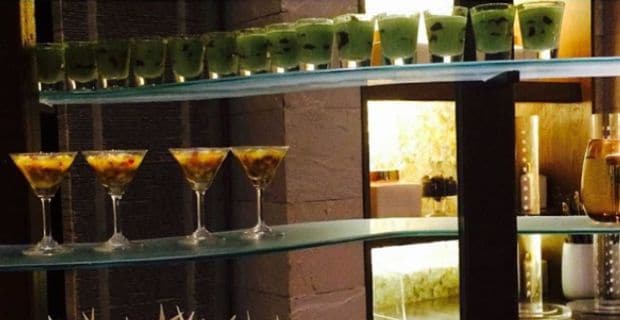 Photo Credit: instagram/culinarycarousel
6. Asilo at the St Regis for Rooftop Views
Teetering on level 40 of the St Regis is Asilo with breathtaking views of Mumbai and azure-and-white Mediterranean-inspired decor. Asilo's European-style buffet isn't half bad either, with everything from
pancakes
to cold cuts and its famous Robata grill station, churning out everything from truffle- flecked asparagus to tamarind- flavoured prawns. We'd recommend anything from the grill (the blackened fish was excellent), and for those with a sweet tooth, the crisp, freshly-made
waffles
heaped with fresh cream and chocolate. Bonus? There's often live jazz music playing.
Address:
St Regis Mumbai, Level 38,, 462, Senapati Bapat Marg, Lower Parel, Mumbai, Maharashtra 400013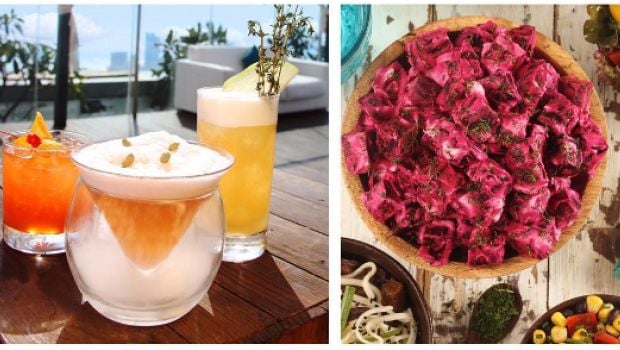 Photo Credit: Instagram/asilomumbai
7. Global Fusion for a Family Pleaser
When it opened its doors for the first time, Global Fusion's elaborate sushi, sashimi,
dim sum
and tempura counters were the delight of all South East Asian food lovers. It has since expanded its range to include all manner of Indian food, including the ubiquitous tandoori. There's also pasta, live pizza counters and a rainbow of
Continental food
available, so everyone gets to go home happy. Regulars swear by the starters and desserts; skip the mains, if you must.
Address:
Times Square building, 1st floor, Near Sakinaka Junction, Sir Mathuradas Vasanji Rd, Marol, Andheri East, Mumbai, Maharashtra 400059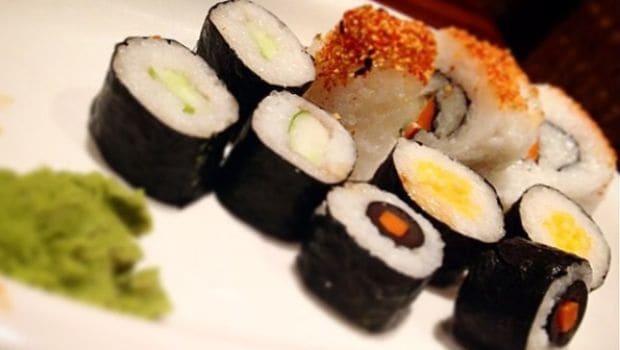 Photo Credit: instagram/globalfusionrestaurant
8. The Square-Pan-Indian All Day at the Novotel for a 24-hour Buffet
At Novotel's The Square-Pan-Indian All Day, the name of the restaurant gives the game away. This is an all-day buffet, offering a pan-Indian and international food spread, with all the usual buffet suspects. You can choose to take your meals by the pool or inside the air-conditioned, pool-facing room. Afterwards, you can work off all those calories with a vigorous swim in the pool (for a price, of course).
Address:
Novotel, Juhu Beach, Balraj Sahani Marg, Juhu, Mumbai
Photo Credit: instagram/novotel_juhu
9. All Stir Fry for a Customized South East Asian Experience
This one's an oldie but a goodie. All Stir Fry's claim to fame isn't a vast banquet of offerings; instead, it keeps its buffet menu rather sparse. Where it excels however, is in its customization. You can pick exactly what type of
noodles
, meat, vegetables, and sauces you want; you can even decide how long you want your meal to be cooked for. Plus, since it's a buffet, you can go back and try as many combinations as you like!
Address:
5, Battery St, Apollo Bandar, Colaba, Mumbai, Maharashtra 400039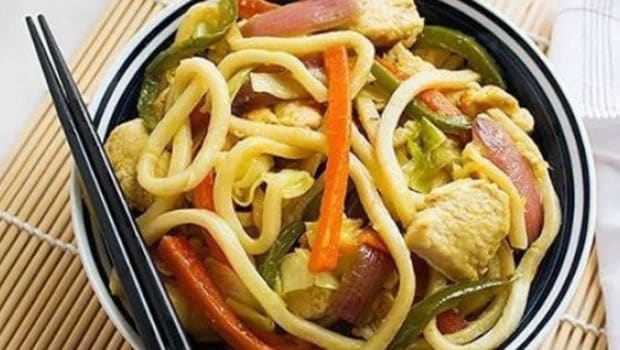 Photo Credit: instagram/allstirfry
10. Sigree Global Grill for Indian and Middle Eastern Delights
At Sigree Global Grill, you have all the excitement of a grill on your table, burnishing your lamb, chicken, fish and prawn kebabs, until perfectly smoky and delicious. Vegetarian options are plenty, although the meat section does take precedence. Its buffet offers up quite a mixed bag of cuisines - North Indian,
Greek
, Lebanese, and Turkish, with a smattering of Italian (a live pasta station, for example). It's all well worth the money.
Address:
101, 1st Floor, Ventura Building, Hiranandani Business Park, Central Avenue, Next to D-Mart , Powai, Mumbai, Maharashtra 400076(Also read:
9 Arabic Foods You Must Try
)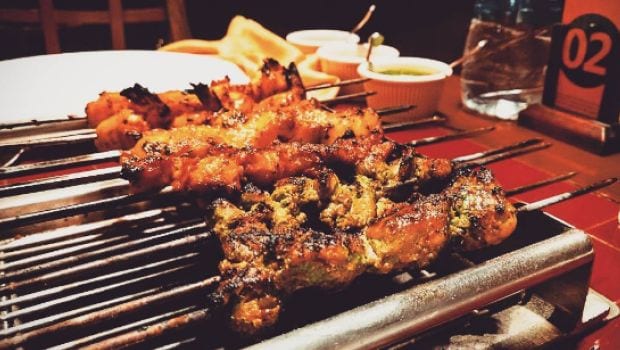 Photo Credit: instagram/joygraphy
About the Author:
Meher Mirza is an independent writer and editor, with a focus on food and travel. Formerly with BBC Good Food India, she loves anime, animals and artsy things but also comics, technology and death metal.
Disclaimer:The opinions expressed within this article are the personal opinions of the author. NDTV is not responsible for the accuracy, completeness, suitability, or validity of any information on this article. All information is provided on an as-is basis. The information, facts or opinions appearing in the article do not reflect the views of NDTV and NDTV does not assume any responsibility or liability for the same.