It would be fair to say that 2016 has been quite a strange year. And while some wonder it's being directed by filmmaker Quentin Tarantino, we're still determined to make the most of these last few days in the best way we know how... Eating our way through the best
restaurants
that opened in India this year
(obviousl
y)! Good food makes everything better, no doubt.I'm mighty glad for some of the great things that happened this year, particularly in the gastronomic landscape of the country.
Sanadige
has been successfully playing coast whisperer in
New Delhi's
otherwise sleepy market, Malcha Marg, after its grand success in Bengaluru. While
Tashan
at GK II is making quite an impression with their nouvelle menu - the crispy
Baingan ki Chaat
is a stroke of genius, really. And let's not forget
Fable
in
Mumbai
, and its white walls that transport you right back to the fantastical world of Alice in Wonderland.As much as we love the long-time establishments and neighbourhood standbys, we obsess over what's new, what's hot right now and what's going to be the next big thing. Luckily for us, the food scene in
India
provides ample activity to satiate our short attention spans. Presenting: 11 exciting restaurants in Delhi,
Bengaluru
, Mumbai, Pune and Chennai that have swooped in and raised the bar this year. They will wrestle for your attention and set your taste buds aflutter. Here we go, in no particular order:
New Delhi1. Masala Library
Grandeur, that's the first word that comes to mind when you walk into
Masala Library
, New Delhi. I couldn't take my eyes off the chandelier initially and when I finally did, I couldn't help but ogle at their beautiful ceiling-high bar. The tables stand out in their simplicity though, ensuring that the food is the real hero. Their 19-course Tasting Menu (Rs. 2300++ per person) goes highly recommended, with signature creations that will keep you captivated through the two hour journey (Curry Leaf Prawns, I'm looking at you!). But in case you want to go
a la carte
, order their Deconstructed Samosa which is served as a sliver - delicious and crisp. The Naga Pork topped with burnt chilli beans is to die for. But according to me, their Braised Mutton Champ glazed with kokum and maple is in a league of its own. The best I've ever had. Oh, and how could I forget the Levitating Dark Chocolate Balls and Orange Candy Tree? It's perhaps the most snapchat-ed
dessert
of the year.Where: 21 A, Janpath
​Price for Two: Rs. 5000 (exclusive of taxes)
Timings: 12 pm to 2:45 pm, 7 pm to 1 am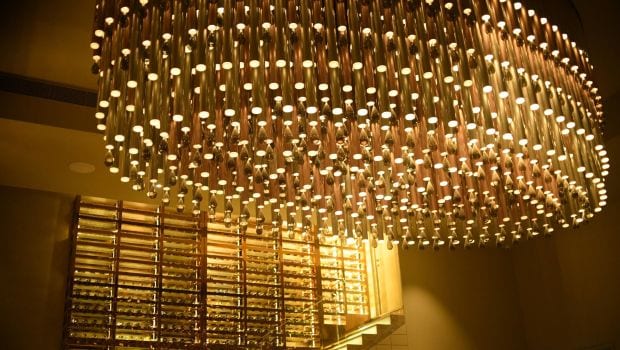 2. Ping's Cafe Orient
Okay, I have a confession to make. When Ping's first launched, I probably dined there four times in three weeks. There were times I'd drop in for a
cappuccino
and their heavenly Sticky Toffee Pudding served with a scoop of Coconut Jaggery Ice Cream. Then there were times I went for post-work drinks or for a full-fledged meal and stuffed myself silly. And the best part? It's equally abuzz at 12 pm and 1 am. That's actually what Rakshay Dhariwal, who also owns PCO and ATM, had in mind. He wanted to open something that was more accessible, where people would just walk in. And boy, did it work!I don't know if it was the bright red walls and comfortable wicker chairs or the gimmicky 'Ping Your Server' switch on the wall that kept compelling me to go back. But knowing me, it was probably the food. The kitchen focuses on
Asian
Street Food and also has a Low-Calorie and Healthy Menu. So what should you order? Spinach Gomai Salad (Rs. 265), Philadelphia Cream Cheese Dumplings (Rs. 275), Tenderloin Bulgogi (Rs. 645), Smoked
Bacon
Wrapped Prawns (Rs. 495), Wok Fried Sliced Lamb (Rs. 495), and Red Curry with
Chicken
(Rs. 545). Coming from the PCO family, the cocktails unfortunately (and surprisingly) disappoint but the Head Bartender makes a mean Old Maid with
gin
, cucumber and mint (on request).Where: 13, Main Market, Lodhi Colony
​Price for Two: Rs. 2100 (exclusive of taxes)
Timings: 11:30 am to 1 am
3. Burma Burma
Burma Burma was on the radar for so long, but we were apprehensive about entering a completely
vegetarian
Burmese restaurant (and we bet we're not the only ones). The restaurant surprised us though, in the best way possible. The food is fundamentally flavour driven and their extensive menu pushes the envelope with each dish, right from the unassuming Chickpea Tohu to their Samuza Hincho (Samosa Soup - no, seriously). Each
salad
is different from the other. They have the usual Raw Mango Salad, as well as a Real Tea Leaf Salad. They even have a few dishes with
no onion
or
garlic
, specially catering to Jains. If you haven't worked up an appetite or just want to get a taste of the place though, don't miss their Oh No Khao Suey and dreamy Coconut Panna Cotta with grilled
pineapples
, round kernels of caramel crisps and a quenelle of thick toffee ganache.Where: Ground Floor, DLF Cyber City, Gurgaon
​Price for Two: Rs. 1500 (exclusive of taxes)
Timings: 12 pm to 3 pm, 7 pm to 11 pm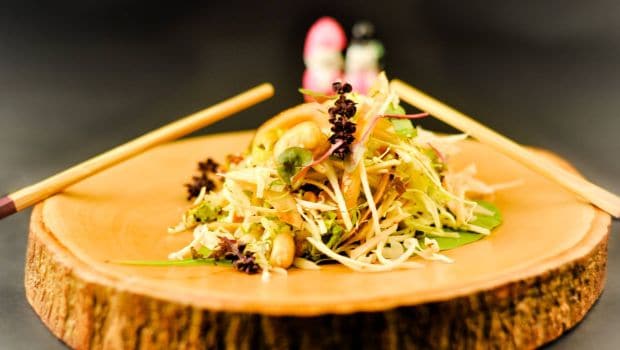 Image Credits: Facebook/Burma Burma
Mumbai
4. Goila Butter Chicken
Chef, TV Show Host, and Author Saransh Goila told NDTV, "When I moved to Mumbai, I quickly realised that the city was starved for good North Indian food. Good
butter chicken
, in particular. I started hosting closed group dinners at my place, where I would whip up butter chicken and invite people whom I had been interacting with on Twitter and yet hadn't met." Several #GoilaButterChicken nights later, Saransh opened his first takeaway outlet in Mumbai. The small menu includes home-style dishes such as Sindhi Style Mutton (Rs. 335), Dal Makhni, Mumbai Anda Ghotala with Pav (Rs. 225) and Desi Ghee Wale Rajma Chawal (Rs. 25)). Needless to say, Goila Butter Chicken (Rs. 275) is the star of the show. Would you be surprised if we told you that this dish was initially Goila Butter Paneer, as Saransh comes from a vegetarian family! It was modified to chicken when he realised the void of good butter chicken in Mumbai. It hits all the right notes thanks to its charred, smoky flavour and tastes different from any other Butter Chicken we've tasted (and that's no mean feat).Where: Sai Kanwal Complex, Indira Nagar, Near DN Nagar Metro Station
Price for Two: Rs. 700 (exclusive of taxes)
Timings: 12 pm to 3 pm, 6:30 pm to 12 am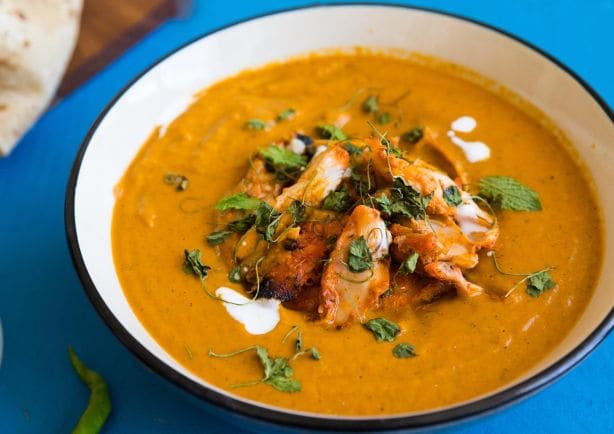 Image Credits: Facebook/Goila Butter Chicken
5. NRI & Lima
Twice Michelin-Starred
Chef Atul Kochhar
made a mark in the global culinary world and came back to
India
to showcase his expertise. His idea behind NRI (Not Really Indian) was to change the way the Indian diner perceived and experienced Indian cuisine. Chef Atul wanted to recreate
Indian dishes
that traveled abroad with NRIs and transformed there - demonstrating flavours rooted in centuries of tradition. It's almost as if you can taste the nostalgia in each dish. The menu shines in some areas so you need to know what to order and that's where we come in. The Bunny Chow (Rs. 575) and Caribbean Goat Curry (Rs. 625) pair beautifully with their Curry Leaf Martini. If you're in the mood for an after-work drink, you can instead head to Lima next door for a drink. Minimalistic in decor, the menu has no more than 10 tapas dishes, and is as no-nonsense as it can get. And for that, we are grateful. Note: They've got
Happy Hours
everyday from 6 pm to 9 pm and Ladies Day every Wednesday. Cheers to that!Where: 2 North Avenue, Maker Maxity, Bandra Kurla Complex
​Price for Two: Rs. 2000 (exclusive of taxes)
Timings: 12 pm to 12 am (NRI) and 12:30 pm to 3 pm, 6:30 pm to 12:30 am (Lima)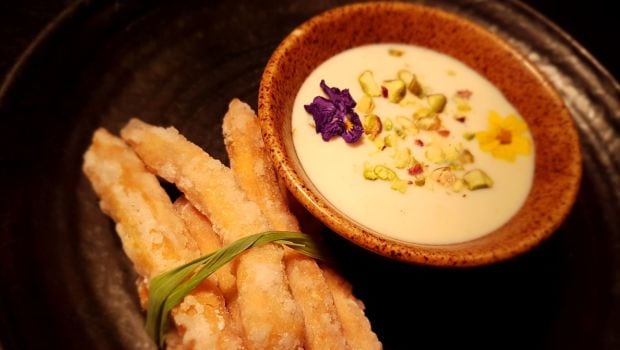 6. MasalaBar
Just how each dish at Masala Library tells a story with scientific flamboyance, Masala Bar does so with its futuristic concoctions. This swanky, sea-facing space that's cleverly located on Carter Road in
Bandra
, intends to change the way
Mumbai
drinks. Each one of their 10 signature cocktails is inspired by famous locations in Mumbai and each
cocktail
is an experience of its own. Take for example, Sunset @ Carter, which is infused with
rosemary
and
orange
fumes, or An Evening at Chowpatty, served with coconut fizz that's created in their very own High Octane Lab. And did you know: It's the world's first fully candle-lit culinary concept? You heard that right. No harsh lit bulbs, just candles and the setting sun. As far as Zorawar Kalra is concerned, we expect nothing less.Where: Level 1, Gagangiri Apartments, Carter Road, Bandra West
​Price for Two: Rs. 2500 (exclusive of taxes)
Timings: 12 pm to 4 pm, 5 pm to 1 am
Bengaluru
7. Third Wave Coffee Roasters
Third Wave Coffee Roasters is basically every
caffeine
addict's dream come true. And when you spot the massive coffee roasting machine propped up next to the counter, you know they mean business. They give you the option to choose
coffee
beans and a brewing method of your preference. But in case you get intimidated, you can just order their daily special. We're talking Lavender and Rosemary Sea Salt Mocha, Cappuccino with Rosewater, Organic Honey and Cardamom, the works. They've taken coffee preparation to the next level, and their food? Think: Shakshuka with Cheese (Rs. 165), Open Bagel Pizza (Rs. 135), S'mores Crepes (Rs. 220), Belgian Waffles (Rs. 155). In case you're jumping on the
calorie
-conscious bandwagon, try their Multigrain Mediterranean Sandwich (Rs. 160) spruced up with basil pesto hummus.Where: 80 Feet Main Road, Koramangala 4th Block
​Price for Two: Rs. 800 (exclusive of taxes)
Timings: 9 am to 11 pm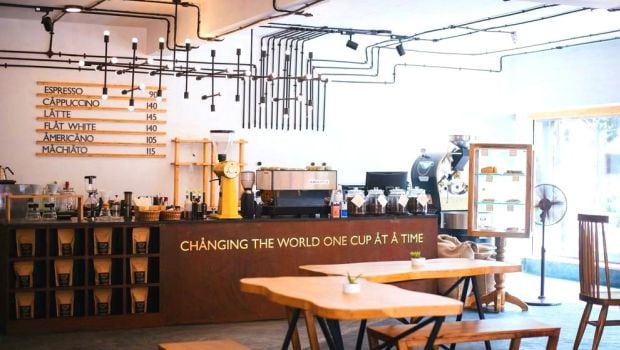 Image Credits: Facebook/​Third Wave Coffee Roasters
8. Toast & Tonic
Note: Any place that's known for its G&T's has got my attention. And while it was difficult to locate, their Rose Petal and Cucumber Gin and Tonic was definitely worth the wait. This restobar (with Chef Manu Chandra behind it) is always buzzing, and sort of transports you to another world where worries don't exist. Their Au Revoir Colonel Sanders may seem like regular fried
chicken
at first glance, but when you bite into it - it's juicy, succulent and so sinful. The Spicy Radish Cake Bites tossed in
Sriracha
, and Pastrami and Tuna Tataki Toastada are both refreshingly different. Even its
vegetarian
counterpart - The Jackfruit Toastada - is nothing short of fantastic. Still not impressed? We've got three words for you - White Chocolate
Cheesecake
.
(Enough said!)
Where: Wood Street, Ashok Nagar, Richmond Road
​Price for Two: Rs. 1500 (exclusive of taxes)
Timings: 12 pm to 3 pm, 7 pm to 12 am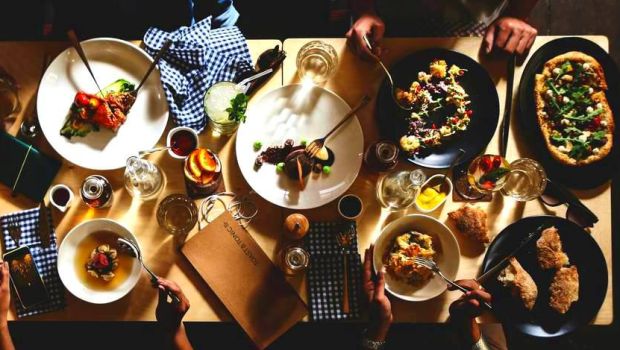 Image Credits: Facebook/Toast & Tonic
Chennai
9. The Velveteen Rabbit
The newest restobar in town! Food Writer and NDTV Food columnist Ashwin Rajagopalan says, "The Velveteen Rabbit is a cozy small format bar cum restaurant" that's located in the basement of L'amandier. It feels like a rabbit hole as you enter, but the moment you step in, a whole new atmosphere emerges (very different from the
French
cafe right above). It's small and yet doesn't feel cramped, with board games like Scrabble and Monopoly on each table. Their Pineapple and Cardamom Collins and Sherlock & Watson go highly recommended. And if you need a little sustenance while sipping on their outstanding
cocktails
, opt for the Prawns Ajillo (Rs. 345), garlic-y Patatas Bravas (Rs. 195), Glazed Beef Skewers (Rs. 255) or Pepperoni and Fresh Fig Pizza (Rs. 395).Where: 2nd Main Road, RA Puram
​Price for Two: Rs. 2100 (exclusive of taxes)
Timings: 12 pm to 11:30 pm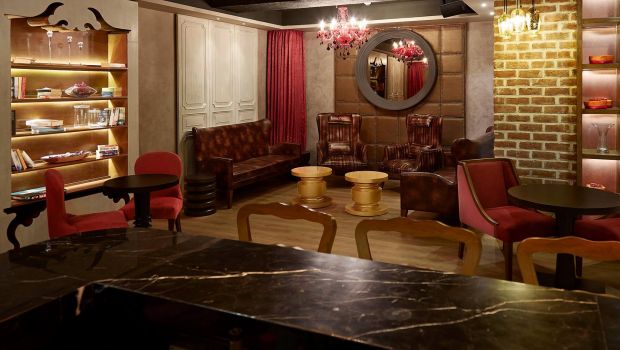 Image Credits: Facebook/The Velveteen Rabbit
Pune
10. Koji - Conrad
Any notion you have of the conservative Pune palate needs to be dismissed as you walk into Koji. The Temaki
C
ones (Rs. 925) come hand-rolled while the Koji Experience Sushi and Sashimi Platter comes on a bed of liquid nitrogen smoke, and the chef keeps experimenting. Yes, in
Pune
. This spanking new Pan Asian diner is at the Conrad, the new Hilton property that screams luxury. The restaurant dishes up flavours from
China
,
Japan
and
Thailand
- puritan as well as pop
American
. In case you're heading there in a big group, you can be seated in their Private Dining Room which seats up to 14 people and even request the chef to whip up something off-the-menu.Where: Conrad Hotel, Mangaldas Road, Bund Garden Road
​Price for Two: Rs. 3100 (exclusive of taxes)
Timings: 7:30 pm to 11:30 pm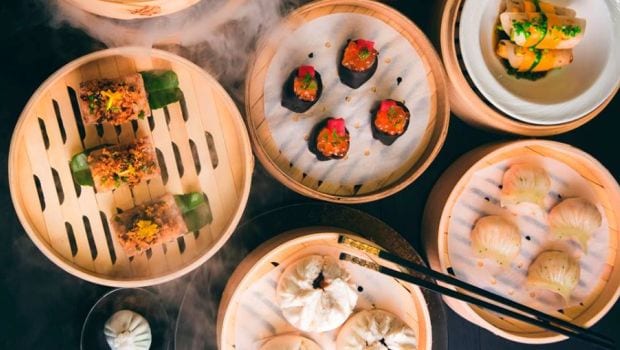 Image Credits: Facebook/Conrad Pune
11. Mineority by Saby
It is difficult to keep count of the number of restaurants that have surfaced in Koregaon Park, Kalyani Nagar in the last year or so. Mineority is Chef Sabyasachi Gorai's latest contribution to
India
's culinary scene, and the most colourful kid on this block! It's a young and interesting concept restaurant for miners, so that they can kick back after a grueling day of working underground and just have fun. A tribute to the mining community, if you will. Their menu is divided into two sections, one showcasing indigenous dishes from the pan Indian mining map and the other from the world-mining map. What to order: Keniyan Suya
Kebabs
(Rs. 350), Jhanjwala Prawns (Rs. 450), Guwahati Gateway Pork (Rs. 450), My Litti Choka and Ghugni (Rs. 420), and Chingri Malai Curry (Rs. 590). And if that wasn't enough, they make a creamy and fluffy Jurassic Cheesecake (Rs. 320), topped off with crisp shavings of Chenna Poda. Did I mention that it's downright divine?Where: Fortaleza Complex, Kalyani Nagar
​Price for Two: Rs. 1000 (exclusive of taxes)
Timings: 12 pm to 1 am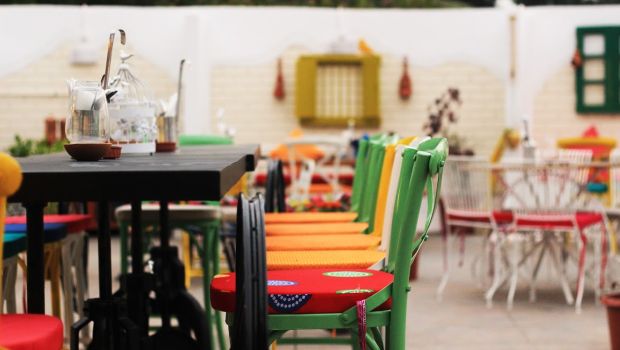 Image Credits: Facebook/Mineority by Saby