Pancake Recipes- Also known as the 'Shrove Tuesday', Pancake Day always falls 47 days before Easter, immediately preceding Ash Wednesday (First day of Lent). In many parts of the world Christians, celebrate 'Shrove Tuesday' by consuming pancakes. In countries like U.S where it is more popularly known as Mardi Gras, it is celebrated as a carnival marking the last day of "fat eating" before the fasting period of Lent. 'Shrove' comes from the word shrive which means 'absolve'. Hence, Christians in an attempt to be 'shriven' before the start of Lent consume all indulgent foods like eggs and milk and have pancakes as a symbolic gesture.In Briton, Christians also host large pancake races, where people run while flipping their pancakes in a pan. The tradition is said to be borrowed from an episode way back in the 15th century where a woman in Buckinghamshire rushed to confess her sins, mid-way through making pancakes.
Interesting isn't it? Plus we have a day dedicated to our favourite pancakes! While we give you some healthy and delicious alternatives for your regular pancakes, here are some quick tips to make your pancake handling business a whole lot easier.
Tips and Tricks To Make The Perfect Pancake
1. Take all dry ingredients together in one bowl, and whisk the wet ones in another. Make a well in the dry ingredients, and pour the wet ones into it gently. Stir only till the ingredients are just moistened. The gluten in the floor tends to develop as soon as it comes to contact with liquid. With over mixing, the gluten becomes tough, which results in tougher pancakes. 2. The pan needs to be very hot for the pancakes that it'll eventually turn brown. You can use minimal coating of butter, rather than bunging a spoonful into the pan. Unsalted butter, for its whey content doesn't burn so easy. A mix of butter and oil is also less likely to burn so easily.
3. For even heat distribution, it is recommended to use a heavy nonstick griddle or well-seasoned cast-iron skillet. 4. Heat griddle or pan over medium heat before pouring your batter onto the pan.

Now that you've got all the knowledge, let's get into into action. Here are our 11 most favourite pancake recipes - each one so different from the other so that you're never bored.

Give your regular banana pancake an apple punch. Topped with golden caramelized apples these fruity pancakes are the healthiest way to kick start your day.

(7 Wonderful Benefits of Banana: How to Include the Fruit in Your Daily Diet)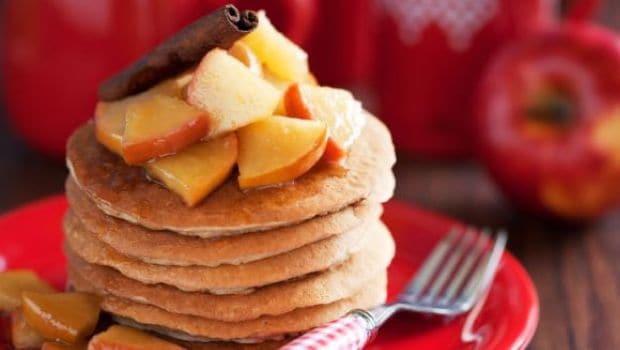 Easy to make banana pancakes topped with golden caramelized apples.
2. Sour Dough Pancakes


Ingredients:For the sour dough starter:Refined Flour 200 grm
Yeast 3grm
Warm water 120 mlPancake:Sour dough starter 1 cup
Refind Flour 1 cup
Baking Soda 1 tsp
Salt 1/2 tsp
Butter 2 Tbsp
Egg 1
Castor Sugar 2 Tbsp
Milk 3/4 cup
Blueberry compote for garnish 1/2 tbsp
Whip cream 1/2 Tbsp
Honey 1/2 tspMethod:For the Sour Dough Starter:1. Mix all ingredients together. Leave in a warm place for ferment 4 to 8 days.2. when mixture is bubbly and has a pleasant sour smell, it is ready to us.For the Pancake:1. Mix all ingredients in a batter form except honey and blueberry compote.2. Warm a pan and make a pancakes on low heat to ensure cooked properly with light golden colour.3. Arrange on a plate, drizzle with honey, spread blue berry compote and topped with the whip cream.4. Serve with maple syrup.
A novel way of making your kids have their due fill of spinach. Don't believe us, let the sumptuous cheese and mushroom filling do rest of the talking. Here is a healthy savory whole wheat spinach pancake that are best to prepare for kids due to ample amount of Iron.(10 Healthy Spinach Recipes)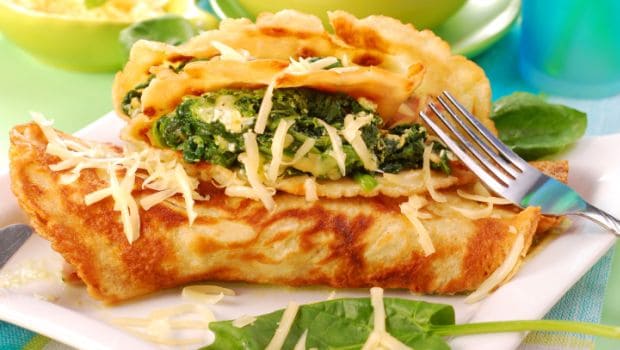 You wouldn't be disappointed with these heavily stuffed pancakes served with fresh tomato salad.
Looking for a breakfast that keeps you full till lunch? Look no more! These healthy pancakes made of ragi flour, stuffed with sausages, button mushrooms, baby corns and bell peppers are all that your hungry mornings are seeking for.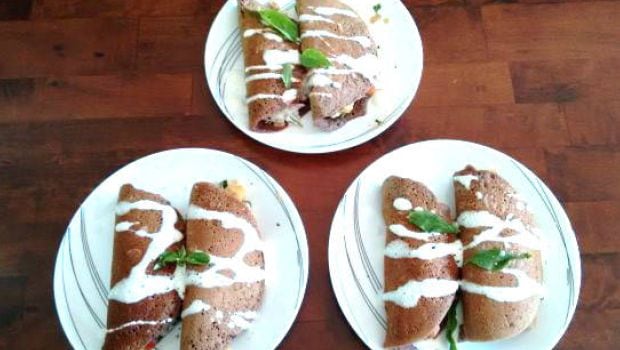 A delicious pancake made with ragi flour is the perfect start to the morning.

Also known as Allebelles, these traditional Goan pancakes are made with a coconut and jaggery filling. They are easy to make, and a perfect treat for your sweet buds.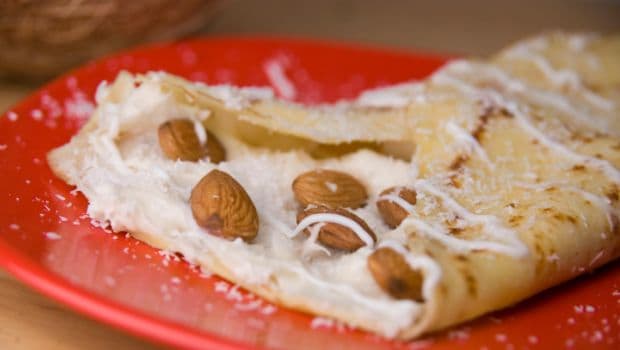 A simple and quick pancake preparation packed with the delectable coconut-jaggery filling.

There is a reason we find pancakes as a common fixture for breakfasts around the world. They are easy and and just so delicious. And this one is glutten free too! Made with a healthy range of ingredients, and oodles of marmalade syrup, these golden wonders are set to rule your heart.

(10 Best Buckwheat Recipes)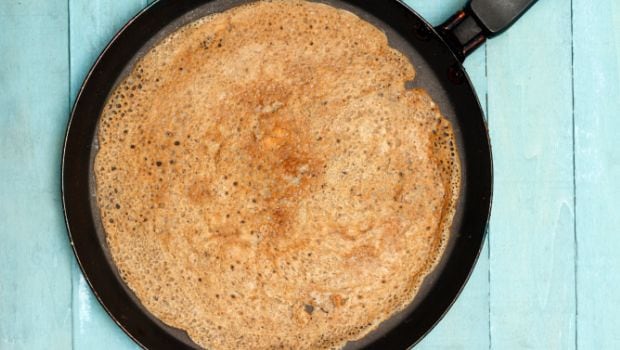 Sizzling hot golden pancakes made with a range of healthy ingredients, served with oodles of marmalade

Stuffed with chicken, shrimps, and bean sprouts, these rice-flour pancakes are an experiment you'd love to embark upon.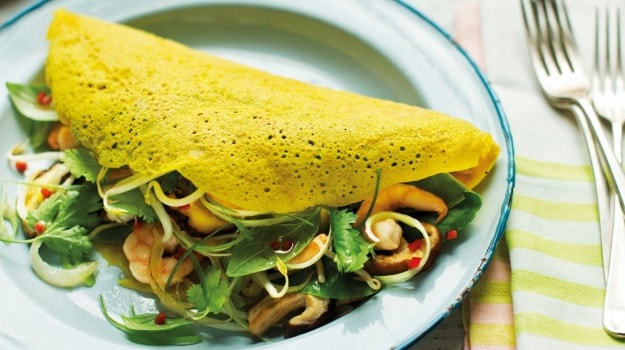 These savoury pancakes stuffed with chicken and shrimp are a delight to devour.
Eggless, quick and super easy. We sense a huge sigh of relief already! Let some sweet or a savoury sauce do rest of the business for you.
(10 Best Eggless Cake Recipes)
Sweet, fluffy and delicious pancakes that are eggless too!

While your soft and fluffy pancakes turn out to be both a gastronomical and visual delight and add a tinge of cinnamon to give them that perfect aroma too.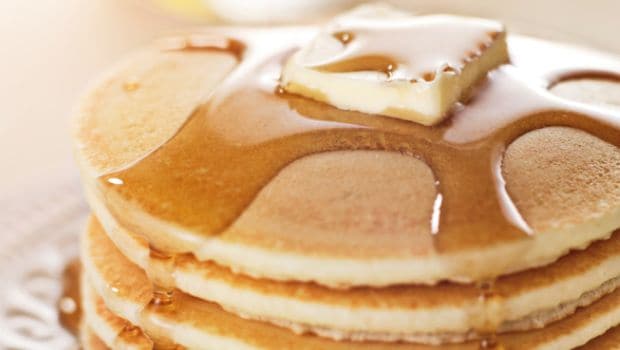 These cinnamon pancakes are the perfect Sunday breakfast option.

Try these pancakes for a healthy vegetarian start to your day. Made with a handful of oats and soya flour, these pancakes are low on ingredients, but high on energy.
(10 Best Oatmeal Recipes)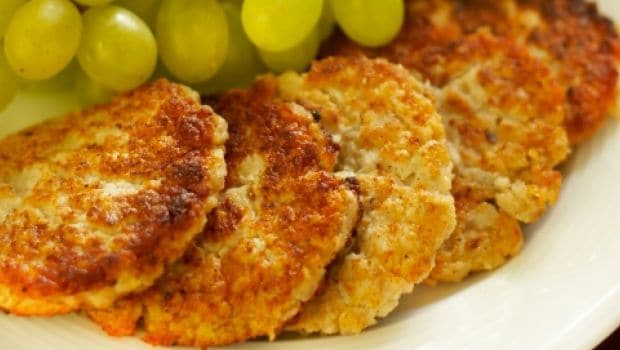 Give your day a healthy start with these savory soya and oat pancakes.
Give a healthy spin to your morning breakfast with this easy-to-make quinoa pancakes. Top it with some fresh fruits and indulge!
A perfect combination of healthy and tasty!
About Sushmita SenguptaSharing a strong penchant for food, Sushmita loves all things good, cheesy and greasy. Her other favourite pastime activities other than discussing food includes, reading, watching movies and binge-watching TV shows.